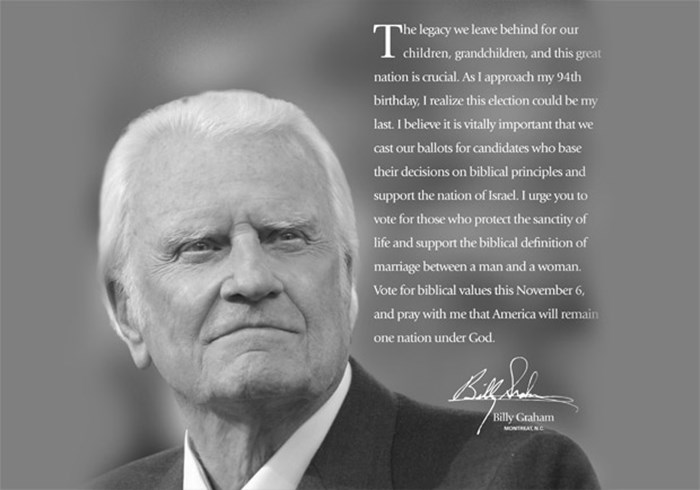 The Billy Graham Evangelistic Association (BGEA) launched a major ad campaign last week encouraging Americans to "vote for biblical values" this November.
The ads convey one of two messages from evangelist Billy Graham:
The legacy we leave behind for our children, grandchildren and this great nation is crucial. As I approach my 94th birthday, I realize this election could be my last. I believe it is vitally important that we cast our ballots for candidates who base their decisions on biblical principles and support the nation of Israel. I urge you to vote for those who protect the sanctity of life and support the biblical definition of marriage between a man and a woman. Vote for biblical values this November 6, and pray with me that America will remain one nation under God.
Or:
On November 6, the day before my 94th birthday, our nation will hold one of the most critical elections in my lifetime. We are at a crossroads and there are profound moral issues at stake. I strongly urge you to vote for candidates who support the biblical definition of marriage between a man and woman, protect the sanctity of life, and defend our religious freedoms. The Bible speaks clearly on these crucial issues. Please join me in praying for America, that we will turn our hearts back toward God.
The ad campaign is the latest in a series of public statements this year that have prompted questions on whether they truly reflect Billy Graham's concerns or whether they were initiated by his son Franklin Graham, who has been more outspoken than his father on political matters in recent years.
Earlier in the week, the BGEA removed an articlelisting Mormonism as a "cult" from its website. The move came after Graham ...
1