As the father of four daughters, J. Lee Grady realized early on that "God put all those girls in my life because he has a special message he wanted me to give," he says.
Grady, an ordained pastor and Charisma magazine's editor for 11 years, addresses questions of women in Christian leadership and ministry at conferences around the world; his new organization, the Mordecai Project, confronts the abuse of women, and his books address Ten Lies the Church Tells Women (Creation House, 2000), 25 Tough Questions About Women and the Church (Charisma House, 2003), and Ten Lies Men Believe (Charisma House, 2011).
In his new book, Fearless Daughters of the Bible: What You Can Learn From 22 Women Who Challenged Tradition, Fought Injustice and Dared to Lead (Baker, 2012), Grady turns his attention to biblical and historical women who challenged tradition, disrupted status quos, and stood up for themselves and others. Each of the book's 15 chapters discusses a woman or group of women whom Grady sees as role models. Each chapter highlights a specific character trait—for example, Miriam, Moses' sister, represents "the courage to lead in a man's world," and Ruth represents "the courage to forsake the past." Short chapters are designed to prompt further group discussion, with a handful of discussion questions and a short "Message from Your Heavenly Father" with the chapter.
Grady talked with Her.meneutics contributor Ruth Moon about women and ministry in the contemporary church.
Some of the women you mention are well-known Bible characters, but others I hadn't heard of. How did you choose them all?
All of the chapters are different messages that I've been preaching on for the past eight or nine years. For example, the daughters of Zelophehad, who are in chapter 2, [offer] a fundamental message, because of the whole revelation of women taking their inheritance. Hardly anybody preaches about them, even though they're in the Bible in five places. It's such a powerful message, yet most women never hear it.
You point out women in the Bible who take charge, some with actions that could be interpreted as overbearing. Is there a model for women today to do this well?
We've done such a disservice to women in the church [by saying] that in order for you to be a good Christian woman, you have to be quiet, demure, and all about domestic duties. That is tragic. I don't want my girls to be that way. I want them to be assertive and to stand up for what they believe and be bold when they need to be. There's nothing brash or wrong with a woman doing that. We've elevated timidity to a virtue. The Bible says timidity is a sin. Why do we think that women are being Christlike or virtuous by being silent or quiet? There's a time to be quiet. There's a time for all of us to keep our mouths shut. But there's also a time to speak, and we have plenty of examples of women in the Bible who were bold enough to speak.
What women in modern culture exemplify this boldness?
I tell about women whom I've worked with over the years. A lot of them are women overseas, because in some of these environments, because of whatever challenges they've faced, they just had to be courageous. I give the example of a lady I've worked with in Indonesia who started a church several years ago in Jakarta that has 3,000 members now. She's an amazing lady.
If you look back through history, so many single women went on the mission field. We had the Amy Carmichaels and the Mary Slessors and the Lottie Moons—women who were brave and very much examples to women today. Their legacy is amazing. I believe we're on the verge of seeing something like that happen again. That's another reason I wrote the book, to fuel that passion in women. And for those who are sitting around waiting for Prince Charming to come along, maybe they need to just go and not worry about that.
What are you hoping the book accomplishes?
I believe there's going to be another very explosive movement of women in 21st-century Christianity. It's one of the missing ingredients in global revival. As women tap into their spiritual gifts and their spiritual callings, they're going to be mobilized. There are so many things women could be doing right now, but they've been conditioned to think, Well, I'm just going to go to church and sit and participate in prayer group. Prayer is great, but every person's created by God with potential and gifts and callings. We haven't done a good job of equipping women to discover who they are and what they're called to do. I hope this book unleashes that in women.
Are there things the church should change to equip women?
Church leadership is going to have to wrestle with what women will be able to do. We've been debating this for so long; I realize that some churches are not going to just all of a sudden announce that women can be pastors. But at least we can encourage women to discover their spiritual gifts and use them [in ways] they haven't been afforded before.
What do you as a man bring to the conversation writing about women and leadership?
Women need to hear some of these things from a man. When you're talking about women in leadership or pastoring, so many women in ministry have come up to say, "Thank you for defending us," and "Thank you that we don't have to be the ones saying this." Some people don't like the concept of men opening doors for women; some people think it's antiquated or old-fashioned. I was raised in the South, and my parents taught me to do that when I was a little kid. To me, that's normal—you do that not because she's weaker and can't help herself, but out of kindness.
In some ways what I'm doing is helping to open the door. I'm helping to usher some women into their place. Not because they need a hero, but simply because I'm being a good brother.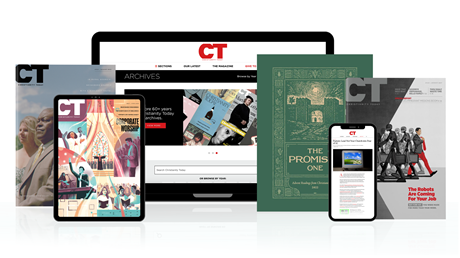 Subscribe to Christianity Today and get access to this article plus 65+ years of archives.
Home delivery of CT magazine
Complete access to articles on ChristianityToday.com
Over 120 years of magazine archives plus full access to all of CT's online archives
Subscribe Now
Lee Grady Opens the Door for Women
Lee Grady Opens the Door for Women