true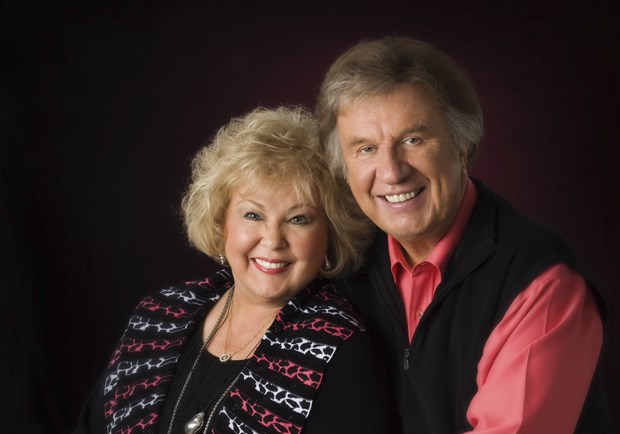 The last thing Bill and Gloria Gaither wanted was another niche Bible.
In a market that already had a Precious Moments Bible, a Chicken Soup for the Soul Bible, a BattleZone Bible (with a "weathered metal" cover!), a Surfers Bible, a Thomas Kinkade Lighting the Way Home Bible, and even The Holy Bible: Stock Car Racing Edition, this classy couple didn't want to add to the glut.
So when publisher Thomas Nelson asked if they'd like to do a Gaither Homecoming Bible, their first reaction was, "We don't need another Bible out there," says Gloria. Adds Bill, "We want to emphasize the fact that this wasn't our idea. We were rather reluctant because we take the Bible very seriously."
But as the conversations continued, the Gaithers—who celebrate their 50th anniversary in December—saw that "it would be a great way to help people pick up the Bible that might not otherwise do that," says Gloria. With the popularity of their Homecoming television broadcasts and videos, the outreach potential was too great to ignore.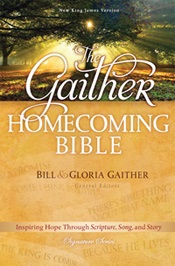 And so The Gaither Homecoming Bible releases today, complete with 230 devotionals written by Homecoming artists, 89 articles by Gloria, 75 mini-essays on great hymns and gospel songs (including many Gaither tunes), 20 poems by Gloria, and five features on the importance of music. (Download a free sample of Psalms here.)
We caught up with gospel music's First Couple to discuss the project.
You were at first reluctant to do this Bible. What changed your minds?
Bill Gaither: Thomas Nelson's vision is to get the Bible in as many hands as possible. They thought that because we're on TV and in a lot of areas that a regular church program would not go into, and because of our platform of entertainment/ministry, there was a possibility of getting some people's attention to read the Word who normally would not read it. That appealed to us.
There's a perception that the Homecoming specials are mostly for an older audience, but you believe it's connecting with a younger generation now.
Gloria Gaither: Yes. Since 1990, we have had 27 funerals in the Homecoming family, so the majority of our artists now are young families. Most of the singers are in that middle generation—the generation I think is really grateful for their heritage, that they have been given this great body of hymns and gospel songs from an older generation. And it's the generation that is worried that this might not be passed on to their children.
That is the generation that contributed to the making of this Bible. We travel with these people and we love these people. They're regular people trying to work out marriages, parenting, taking care of aging parents at home, lots of issues that we all deal with.
What did each of you contribute to the project?
Bill: I had about 15 contributions, all on topics that were tied to Scripture. For instance, I don't think we have a very good theology on loss. We have such a competitive mentality in America—we've got to win, we've got to be first. We have a great theology of victory, but not for loss. We need to be better at teaching our children the reality of loss.
It's a broken world. One of my topics was tied to a Scripture about "For me to live is Christ and to die is gain." That's what the Scriptures are all about—getting your life in perspective and, as Kipling said, being able to meet both triumph and disaster and treating both of those impostors the same.
How does music tie into all this?
Bill: The great hymns and the great gospel songs have lines—biblical truths—that we can live by forever. Gloria and I were married on the 22nd of December, and I remember our first Christmas Eve, holding her in my arms, and hearing the phrase from "O Little Town of Bethlehem": "The hopes and fears of all the years are met in Thee tonight." For a newlywed it's hopes, dreams, and the possibility of life to come. Forty-nine Christmas Eves later, there have been plenty of hopes and fears. And there is no night in the whole calendar year emotionally as moving as Christmas Eve. If statistics are right, there are more suicides on that night than any other time. So the writer must have known what he was saying when he said that the hopes and fears of all the years were met in that one little Baby that night. A great line from a hymn that is tied into Scripture.
When did the Bible became a vital factor in your life?
Bill: I grew up in a home that was morally sound, but my parents were not church attenders and the Bible was not part of our tradition. I started going to church with my grandparents in the Holiness-Wesleyan tradition. Music was very important, and the mystical presence of Christ. I came to Christ through being drawn to the mystical message of Christ in the songs at church.
At around 18 or 19, I started zeroing in on what the music was saying, especially when the old saints would sing, "I will praise him! I will praise Him! Praise the Lamb for sinners slain / Give him glory, all ye people / For his blood can wash away each stain." That started the process for me saying, "I've got to come to grips with this theology." That is where Scripture started to become a reality to me.
What about for you, Gloria?
Gloria: Scripture has always been a part of my life. My dad was a pastor. My mother was a speaker, writer, and teacher. I memorized Scripture from the time I was little. I grew up loving the Word of God and having it be a very real part of our lives, very much applied in our home. The teaching of it was not ecclesiastical. It was very daily and real.
How does Scripture come into your songwriting?
Bill: I wrote a few songs before I met Gloria, but I would not have written as long as I've written without her. I did not marry this sweet lady because she was a great lyricist. That was a bonus. But God must have been looking down on us because I think we are both stronger in communicating the gospel because we have had each other. She tends to be more philosophical, more cerebral, more intellectual. I tend to be more practical: Okay, how does that make sense on Monday, Tuesday and Wednesday?
Jesus prayed, "Father, may they be one." But on any given day, we do anything in the Christian church but love each other. So we've written a lot of songs on the church and the body of Christ, including "The Church Triumphant." A lot of our songs are about unity. We also look at Scripture like Paul saying, "I press on toward the prize." We wrote a song—I think it's one of the best we've ever written—called "I Will Go On" that I think it is theologically very sound. It says:
I repent for moments I have spent
Recalling all the pain and failures of my past.
I repent for dwelling on the things
Beyond my power to change the chains that held me fast.
I will go on, my past I leave behind me.
I gladly take his mercy and his love.
We wrote this because we would talk to people who just could not put the past in the past. It just came back and haunted them every day, and they became bitter because of it. So the second verse is all on this Scripture about forgetting those things in the past:
I give up the bitterness and hate
The blaming man in fade
For all my discontent
The guilt and pain I am emptying from my cup
So God can fill it all with peace and sweet content.
I will go on, the past I leave behind me.
Gloria, how would you address the same question?
Gloria: I think Scripture comes into our songwriting process in two ways, as in all learning. I've always told our kids, "You can't take anything in school that you're not going to use." I feel that way about the Bible. I don't think you "cram" to write a song. I think you need a daily familiarity and applying of the Scripture in order for it to come out in a song. So for us it is more a part of our daily practical lives and when we write a song, a whole lifetime of Bible informed that lyric. We have written 700 songs, and I don't think you could find one that doesn't have a scriptural base.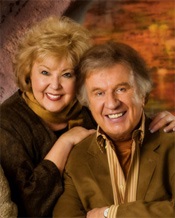 Often the Bible is lying open on the piano when we write, because we'll say, "Exactly how can we say this?" And we'll go back to the original and say, "Okay, here's what it says. How do I turn that into poetry? How do I make a twenty-first century statement of that concept?" We are both highly philosophical and I think our approach to almost everything is What's the big idea here? Neither of us likes to see the Bible used as a switch on people's legs to prove a certain point. I believe that if we ask God to reveal himself in the Scriptures, it's going to be in the big, overall picture.
I don't think we choose a passage and say Let's write a song about this as much as the passage chooses us and we can't avoid it. But in 700 songs, Bill and I always ask each other, "So what?" Take all the big theological concepts—salvation, sanctification, substitution, the second coming, the lordship of Christ—but our big question is "So what? What does that have to do with me on Monday morning?" We see our job as songwriters as building bridges to people's Monday mornings.
Gloria, one of the articles you wrote for the Homecoming Bible is titled "The power of music to heal." Tell me a story about that power.
Gloria: Oh, there's so many! I remember one letter from a girl who had grown up in a horribly abusive situation. She wrote, "I had this wallpaper border in my room where my dad came to molest me, and I would look at that border—a river with willows growing beside the water. I would pretend that my mind was not where my body was, that I was in that place by that river." It was such a graphic letter. But then she wrote, "Then I heard about the Homecoming singers, and I'd watch them love each other and hear these songs about God's love. I pretended that my history was not my history, but that these people were my family."
That's a very practical application of the family of God, is it not? Isn't that our real blood family, when we get to know Christ and his promise to put his blood in our veins? It becomes very literal when you are substituting a new life, a new family, a new concept of being loved and accepted and worthy for something that has told you that you are trash and unworthy. There have been many songs like [she starts singing "Something Beautiful," which she wrote with Bill]:
Something beautiful,
Something good
All my confusion
He understood
All I had to offer him was
Brokenness and strife,
But he made something beautiful
Of my life.
We've gotten many letters about "I Am Loved." [Again, she starts singing]:
I can risk loving you
For the One who knows me best
Loves me most
I am loved you are loved
Won't you please take my hand
We are free to love each other
We are loved.
I said, "If you knew; you wouldn't want me
My scars are hidden by the face I wear."
He said, "Child, my scars go deeper,
It was love for you that put them there."
What are your hopes for this Bible, for those who end up with it?
Gloria: There is a huge middle generation that have helped make the Homecoming thing happen. Now almost all of the old Homecoming people are gone, so now the Homecoming people are young families. They have teenagers, a few kids just starting college. And I think for that generation, there are two things. They want to say thank you to the people who taught them the Word of God and filled their lives with these amazing songs that have rescued them time and time again. When we're in trouble, it's usually a line from a song that saves us. I wish it was sermons, but, I'm sorry, it's not. When you're in crisis, what comes to mind is "O love that would not let me go." You know?
But that middle generation is also really concerned about the generation coming on, their kids who are now high schoolers and in college. I think they are afraid that they didn't do the job as well, that maybe they didn't teach them to love the Word as much. They're concerned that their children don't know the hymns, that they don't have these contextual songs to bail them out. A lot of the praise-and-worship stuff, I think we are throwing a lifeline to somebody—and the line's not tied to the boat. So the kids are just learning these punch lines, but they're not learning the content. I think this middle generation is saying, "I want these kids to have these great lyrics, I want them to have these gospel songs, maybe these Gaither songs and these hymns. I want them to know the stories of what gave birth to these hymns, all of which are in this Bible."
Photos by Nancy Bailey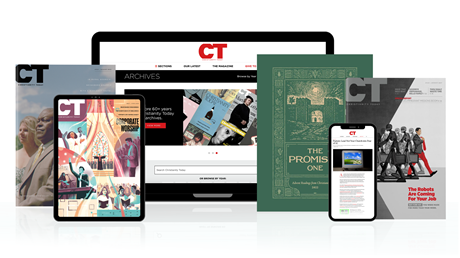 Subscribe to Christianity Today and get access to this article plus 65+ years of archives.
Home delivery of CT magazine
Complete access to articles on ChristianityToday.com
Over 120 years of magazine archives plus full access to all of CT's online archives
Subscribe Now
We Gaither Together
We Gaither Together