Ever since social media invaded our personal lives—and the delivery room—postpartum photos have created a new pressure on expectant mothers. In an instant, hundreds if not thousands of people can look in on the joy of the moment. That's not always a bad thing; however, when private moments become public, it's tough to ignore the watching eyes. When we have an audience, we are far more likely to perform.
The Jersey Shore's Nicole "Snooki" Polizzi recently told expectant mom Kim Kardashian that to look her best post-delivery, she should to stay away from nude lipstick and "remember to bring an extra pair of eyelashes in your purse in case you are not at home when your water breaks." Both Polizzi and Kardashian make a living presenting a certain image, but the pressure to perform isn't reserved for reality TV stars. As much as I would like to say that I'm above such vanity, I'll confess—like many moms—I am sympathetic.
On a Sunday afternoon in late August, I was nine days past my due date. I sat curled around a wingback chair, my eyes clamped shut and my face buried in the cushion while my dad looked on with a furrowed brow. I tried to relax my body and breeeeathe while another contraction washed over my body. I'd been having contractions all day long, and while they had increased in strength they had not increased in frequency, which meant I couldn't yet check into the hospital. My parents were in town to await the delivery, and my dad was especially anxious. As I sat there groaning on the chair, my dad finally he said, "It's time."
I packed my bags for the hospital with everything I needed: a nightgown, a change of clothes, slippers, hair ties, a toothbrush, and a camera. I also threw in some items to help me relax during labor: a lavender-scented heating pad, and a sock full of tennis balls for massaging my back. Before I zipped up my things and hopped in the car, I made sure to pack one final thing: makeup. I grabbed some cover-up, blush, eyeliner, mascara, and pink lip-gloss. Only then was I ready to go have a baby.
Long before that day, I had been concerned about how I would look post-delivery. I'd seen countless Facebook photos of postpartum mothers who looked like they'd been run over by a truck. In contrast, I saw pictures of Beyoncé soon after giving birth, looking flawless and serene. Between the two options, I wanted to look like Beyoncé. But how?
I perused the Internet for tips, and soon discovered that I was far from being the first woman to worry about how she'd look in her post-delivery photos. I found discussion boards counseling women to have their hair done before checking into the hospital, or recommending taking photos from a high angle, which is more flattering.
My postpartum beauty regime may not have ascended to Snooki-level heights, but the heart of my concern speaks to my reliance on makeup. In a sense, makeup allows women to hide and to be less vulnerable. For some, appearance is not just about vanity, but also security, power, and control.
Between the pressure of social media and the power of makeup, what's a new mother to do?
For starters, some of us might consider scaling back on social media. If Instagram, Twitter, and Facebook threaten to interfere with the beauty and intimacy of the moment, then save the memory for you and your loved ones alone.
Second, we need to reclaim the beauty of the post-delivery moment. Postpartum photos are rarely beautiful in the traditional sense. Labor and delivery can get pretty ugly, and any woman who has gone through it has experienced the terrible "pain of childbearing" (Gen. 3:16). I was in labor for well over 24 hours, developed pre-eclampsia, and retained an enormous amount of fluid. The picture my husband snapped just after the delivery is perhaps the worst picture ever taken of me in my entire life.
When I first saw that photo, I was embarrassed. I did not see beauty. But my husband did. He loves that photo and always comments on how beautiful I look in it. Although my face and body were puffy distortions of his wedding day bride, he saw beauty in that moment, and he saw beauty in me. That's the funny thing about the post-delivery moment. In it co-mingles a blessing with a curse. The brokenness of our world is written all over our bodies, and yet those marks are the signs of a marvelous new life.
In that respect, the post-delivery moment echoes the paradox of the cross. Jesus' crucifixion is both hideous and glorious. In Christ's death we witness the terrible consequences of sin and the radiant love of God. The cross is both ugly and beautiful, all at the same time.
Likewise, mothers literally lay down their bodies to bring new life into the world. The beauty of that moment conforms not to earthly standards, but to that of Christ's sacrifice. It is a different kind of beauty, one that is faintly cruciform.
When I look at that post-delivery photo of myself, that's the kind of beauty I hope to see. I want to relish in the splendor of that moment. I want to recognize the beauty of new life coming out of physical sacrifice. And I want to glory in the scars that gave me my son.
In the spirit of that desire, I join with several other Her.meneutics contributors in sharing our own postpartum photos. In doing so, we want to celebrate the beauty of life springing forth from formidable sacrifice, and to claim those physical costs as glory. We hope you will pull out your own postpartum photos and do the same!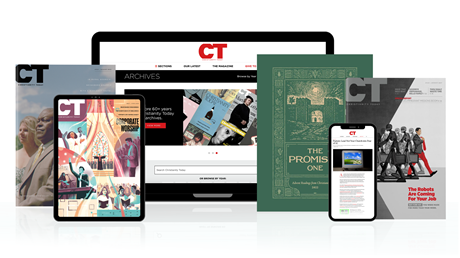 Subscribe to Christianity Today and get access to this article plus 65+ years of archives.
Home delivery of CT magazine
Complete access to articles on ChristianityToday.com
Over 120 years of magazine archives plus full access to all of CT's online archives
Subscribe Now
Hey Brand-New Mom, Ready for Your Close Up?
Hey Brand-New Mom, Ready for Your Close Up?