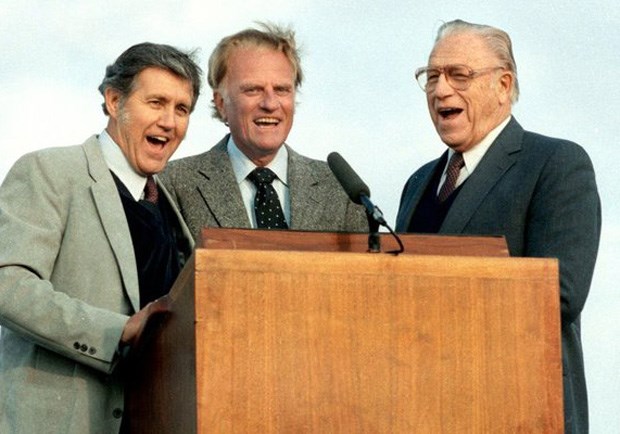 Image: Courtesy of Billy Graham Evangelistic Association
Editor's note: Billy Graham's biographer, William Martin, offered CT his reflections on the life of George Beverly Shea, who died Tuesday at 104. CT offers an obituary with commentary, photos, and videos here.
I can't claim to have known George Beverly Shea well, but several memories—some reported by others, some my own—readily come to mind to provide glimpses of his personality, his character, and his influence.
Billy Graham remembered when he had brought Shea with him on a trip to visit the troops in Vietnam at Christmas time 1966. Graham remembered the trip as a harrowing one:
"Much of the time we were there, it was cloudy and rainy, and we had to fly into these little places where they didn't even have an airport—just a grass strip. Once, conditions were so bad that we couldn't get anybody to fly us. They said, 'you shouldn't fly in this weather,' but I was scheduled, and I said we should go, no matter what the risk. We finally found this colonel who was guts enough to fly us. Several times, it looked like a bad mistake. Once, we came straight toward a mountain in dense clouds. We were in one of those two motor planes with the big hole in the back, and this colonel pulled it up as hard as he could in the backend scrape the trees. I looked over at Bev [Shea] and he was just sitting there. He's never afraid of anything, nothing ever bothers him—no nervousness at all."
During the several crusades I attended while doing research for A Prophet with Honor—The Billy Graham Story, I often had dinner after the service in the restaurant of the hotel where members of the crusade and a number of the ministry's longtime friends were staying. Shea, of course, was known to all and could easily have played the celebrity, waiting for people to come to him. But on numerous occasions, I saw him rise from the table and cross the room to greet someone who had just arrived.
When I first met Shea, he was 78. Over the years, I marveled at how he seemed always to be much the same. After a crusade service in Dallas in 2002, when he was 92, I complimented his singing and marveled at his ability to still sing with such simple beauty and resonance—as if he were rolling out a warm blanket over the congregation. He thanked me, but said with a twinkle, "I think I sounded better when I was 90."
Shea did indeed seem to defy aging. A couple of years ago, I had occasion to talk by phone to Stephanie Wills, Graham's longtime secretary. I asked her how she and the people I knew at the Montreat, North Carolina, office were doing. She said, "Mr. Graham has good days and bad days. Some are doing better than others. And Bev Shea is fishing and riding around in a speedboat in Michigan—at 102."
About 15 years ago, a woman I did not know wrote to tell me that her father had died and to say that, since both her mother and father had always loved to listen to Shea sing, she wondered if I might ask him to drop her a note. I felt a bit awkward, but I asked. Almost by return mail, Shea sent a lovely note, a cassette of a recent album, and—best of all—an autographed and decades-old piece of the sheet music to "How Great Thou Art." It was a small act of grace that brought great comfort to two grieving women.
Though he recorded more than albums, won a Grammy, and was honored with a Lifetime Achievement Award by the Recording Academy that administers the Grammys, Shea's most lasting musical achievement is undoubtedly his having introduced "How Great Thou Art" to America by singing it regularly during the Billy Graham Crusade in New York's Madison Square Garden in 1957. The song became such a standard that churches whose hymnals did not yet contain it often pasted copies into the inside front cover.
In that 1957 crusade, Roman Catholic authorities warned parishioners not to attend Mr. Graham's services and provided priests with information to help counter the evangelical message. Over the years, of course, that divide was crossed in both directions, and Catholics eventually came to attend and participate in the campaigns in substantial numbers. I witnessed a symbolic grace note to this mutual warmth about a decade ago when I attended the funeral of a Catholic uncle. The closing song was "How Great Thou Art."
I thought, "This would make Bev Shea smile." It makes me smile to remember.
William Martin is the best-selling author of 10 books, including A Prophet with Honor—The Billy Graham Story.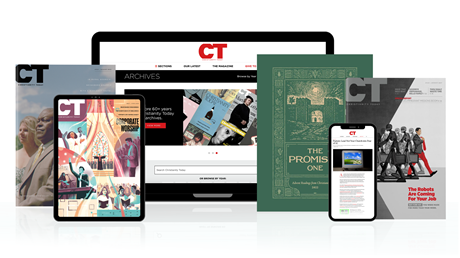 Subscribe to Christianity Today and get access to this article plus 65+ years of archives.
Home delivery of CT magazine
Complete access to articles on ChristianityToday.com
Over 120 years of magazine archives plus full access to all of CT's online archives
Subscribe Now
Remembering George Beverly Shea
Remembering George Beverly Shea