Antidote to Poison
I was haunted by failure to the edge of suicide—and then came life.
Ravi Zacharias
| April 26, 2013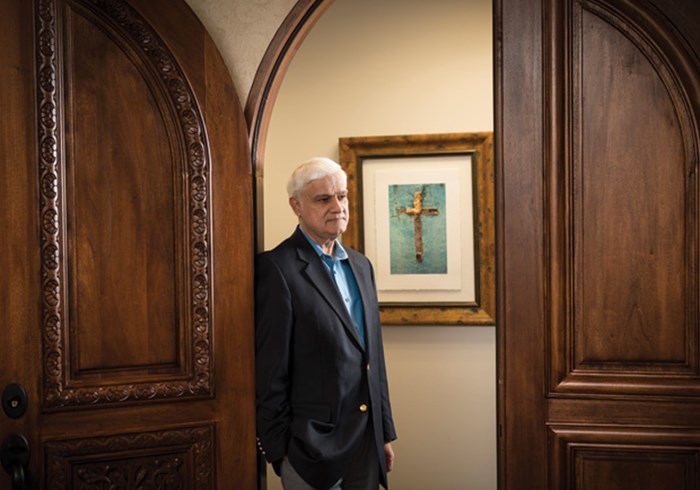 Image: Photo by Gary S. Chapman
"If you want to know what water is, don't ask the fish." So goes an old Chinese proverb. In other words, total immersion deprives the mind of a counterperspective and, for that matter, an honest evaluation.
To be born in India is to arrive into the world swimming in religion.
I was born in the southern city of Chennai and raised in the northern city of Delhi—more correctly New Delhi. My father was from Kerala, located in the deep south, my mother, from Chennai. My ancestors belonged to the highest caste of Hindu priests called the Nambudiris. When we read of the apostle Thomas going to India, he seems to set out with the goal of reaching the Nambudiris, since reaching the priests would reach the people. Thomas paid with his life. In Chennai stands a memorial to Thomas, and Kerala hosts other landmarks of his work. Despite the fact that only 6 percent of Indians today identify as Christians, the gospel arrived in India very early in church history.
Growing up, I knew nothing of this tradition. My family and I went to church, celebrated Christmas, and observed certain rituals on Good Friday, but I was never taught the gospel or its significance for my life. I attended more Hindu festivals and celebrations than I did Christian ones. Only many years after coming to Christ did I learn, from a grand-aunt, the backdrop to our ancestral story: Several generations ago, through the work of German Swiss missionaries of the Basel movement, a young woman was the first from our branch of the Nambudiris to profess Christ as Lord. I like to think that the missionaries gave the new surname Zacharias to represent and honor her priestly background.
My earliest encounter with "holiness" was watching ...
1