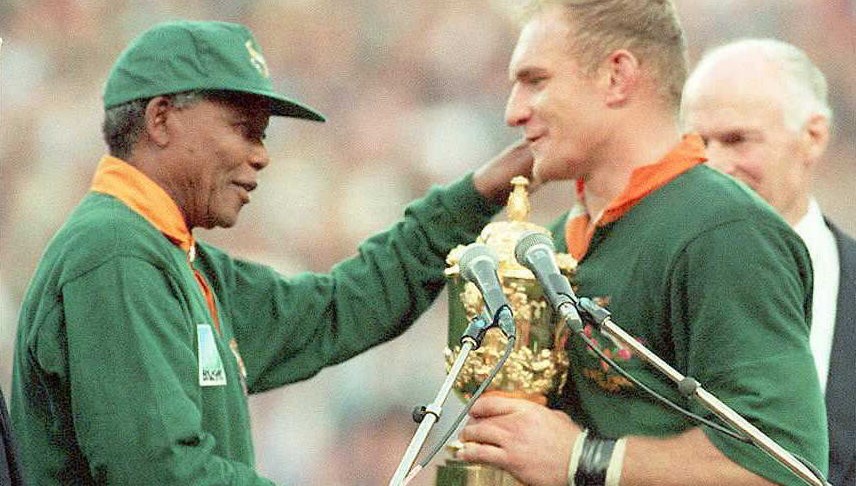 Image: JEAN-PIERRE MULLER / AFP / Getty
In pondering the words and life of Nelson Mandela this morning, a strange thought experiment filled my imagination. I quickly dismissed it as impossible, but then realized the Mandela moment that inspirited the thought experiment was also considered impossible in its day. So maybe, just maybe …
The event took place in 1995. Mandela had been president of South Africa for about a year, and he had been working for national reconciliation, but with half a century of brutal apartheid fresh in everyone's memory, it was slow going, as one can well imagine. But the Rugby World Cup would give Mandela an opportunity to put his money where his mouth was.
This was the first World Cup that South Africa had been allowed to participate in since the end of apartheid—a boycott that Mandela himself had helped orchestrate. But the occasion was a mixed blessing, to say the least, for black South Africans. Rugby was considered the sport of Afrikaners, the despised oppressors, and the national team, the Springboks—and especially their green and gold jerseys—were the symbol of that hated and bloody era. Whenever the Springboks played at home, the blacks who would come to watch were confined to a restricted area, and they always rooted for the opposing team.
Ironies abounded now, since the World Cup was hosted in South Africa, and further, when the dust had cleared from all the preliminary matches, only the All Blacks from New Zealand and the Springboks of South Africa were left standing. Mandela had given the Springboks a new slogan, "One team, one country," but the reality was far from the slogan.
Mandela had given the Springboks a new slogan, "One team, one country," but the reality was far from the slogan.
On the day of the final game between Springboks and the New Zealand All Blacks, the crowd—with millions of black South Africans watching on TV—held their breath in shock as former victim of apartheid Nelson Mandela walked on the field dressed in a Springbok's green and gold jersey and a Springbok cap. The crowd rose in respect for Mandela's stunning symbol of reconciliation.
No serious sports commentator believed the Springboks had the chance to win; the All Blacks were clearly the most formidable team in the league. But in an ending worthy of a Hallmark movie, South Africa defeated New Zealand 15-12, with Joel Stransky scoring a drop goal in extra time to win the match. (In fact, the event did become a movie, Invictus.)
Immediately following the final whistle, a TV commentator asked Springbok captain Francois Pienaar what it felt like to have the support of 65,000 people.
Pienaar replied, "We didn't have the support of 65,000 South Africans today. We had the support of 43 million South Africans."
When Mandela handed the Webb Ellis Cup to Pienaar in what has become an iconic photograph, the crowd, consisting mostly of white South Africans, chanted, "Nelson, Nelson!"
"Francois, thank you very much for what you have done for our country," said Mandela.
"No, Madiba, you got it wrong," replied Pienaar. "It is nothing compared to what you have done for our country."
Archbishop Desmond Tutu later reflected on that moment: "Quite unbelievable, quite incredible, what happened," said Tutu, according to The Guardian. "It had the effect of just ... turning around the country. It was an incredible transformation. An extraordinary thing. It said, yes, it is actually possible for us to become one nation."
Evangelical Dream
Now for the fantasy.
There is much that divides us in the evangelical world, and those divisions are not to be taken lightly, any more than we take lightly the differences between whites and blacks. History, culture, memories, and aspirations will forever separate the races, and these should be honored in their uniqueness. God did not make us each unique only to have us meld the differences into some boring shade of gray.
The differences among evangelicals are not to be taken lightly, but that is no reason to suppose that they must keep us suspicious of one another and divided.
In the same way, the differences among evangelicals are not to be taken lightly, for often they hinge on matters of truth. On this side of the kingdom, we're not going to be able to settle many of these differences, but that is no reason to suppose that they must keep us suspicious of one another and divided. After all, we all are citizens of one kingdom, and we all serve one Lord. Perhaps once in a while we ought to don the uniform of our theological enemies in a symbolic act that shouts "We are one in Christ."
So here's the fantasy: That John Piper would put on a T-shirt that says "N.T. Wright is my home boy"; and that Roger Olson and Scot McKnight would run a series of blogs on the positive impact of the Gospel Coalition. That Evangelicals for the Environment would drive in a SUV to a Christian factory farm and have a chicken lunch with the owners, and that Christian members of the Tea Party would treat some Christian illegal immigrants to a fine dinner in San Diego. That the Sojourners community would gather at Dulles with signs that welcome home Christian soldiers from Afghanistan; and that Christian vets would stand guard at the next peace march, to make sure their pacifist brothers and sisters in Christ are not troubled by angry hawks. You get the idea. Maybe even Christianity Today could invite the editorial teams of The Christian Post, Christian Century, World, and Charisma to a day together at Disneyland to thank them for their journalistic work for the kingdom!
As I said, it's a fantasy. Then again, no one imagined in the summer of 1995, that Nelson Mandela would walk onto that field wearing the green and gold, and that a nation would be transformed.
Mark Galli is editor of Christianity Today.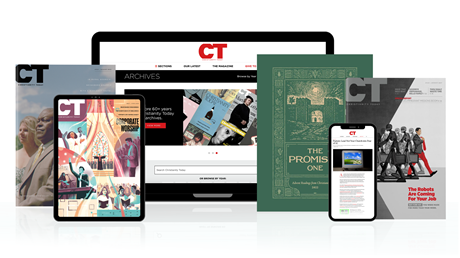 Subscribe to Christianity Today and get access to this article plus 65+ years of archives.
Home delivery of CT magazine
Complete access to articles on ChristianityToday.com
Over 120 years of magazine archives plus full access to all of CT's online archives
Subscribe Now
A Nelson Mandela Inspired Fantasy
A Nelson Mandela Inspired Fantasy