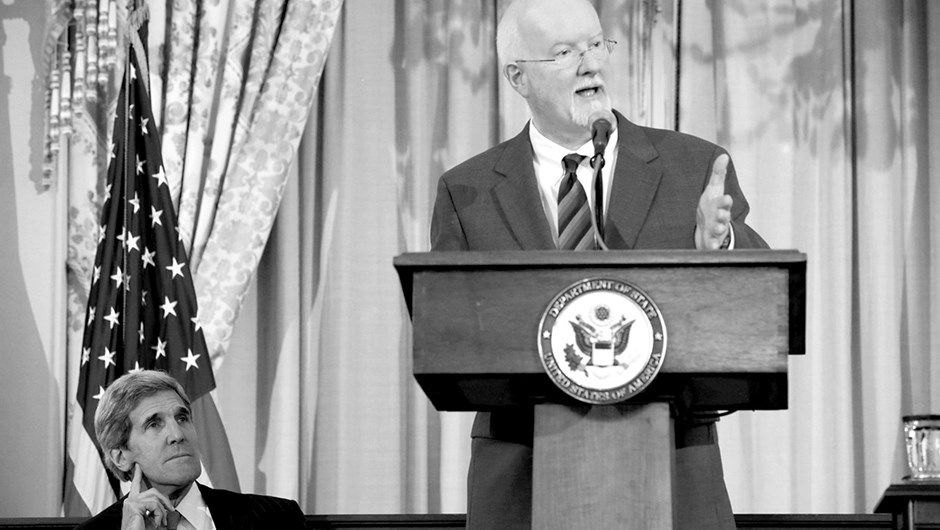 Image: Chip Somodovilla / Getty
If Secretary of State John Kerry were heading to college today, he'd study comparative religion. "That's how integrated it is [into] everything," he remarked in August.
Redoing college isn't an option for Kerry, who studied political science at Yale. But he's serious about religion. Kerry didn't waste any time launching the State Department's faith-based initiatives office just months into his appointment. To lead the office, Kerry selected his friend Shaun Casey, a professor of Christian ethics at Wesley Theological Seminary.
"My understanding is, in that first meeting, Kerry leaned over to a staff member and said, 'Let's get Shaun in here,' " said Casey, who grew up in the Church of Christ and previously coordinated evangelical outreach for President Obama.
Appointed through the end of Obama's term, Casey will be the first adviser to the secretary of state on the religious dimension of foreign affairs. He told ct that his new office will advise the secretary, help diplomats engage people of various religions, and teach faith-based groups to bring their views to bear on U.S. foreign policy.
Diverse groups from the Chicago Council on Global Affairs to the International Religious Freedom Roundtable have been suggesting such an office for years. In 2012, a white paper from the Interagency Working Group on Religion and Global Affairs made recommendations that appear to have been used as a blueprint for the office.
Before this summer, the State Department had its own Office of International Religious Freedom and worked with the U.S. Commission on International Religious Freedom (USCIRF), an independent advisory body. It also had an ambassador-at-large for international religious freedom until the presidential appointee, Suzan Johnson Cook, resigned in October.
Yet none of these offices examined issues beyond religious freedom. Nor did they report directly to the secretary of state, says Institute for Global Engagement president Chris Seiple. He said the fact that Casey directly advises Kerry on a wide range of religious topics is a good sign that the State Department is taking religion seriously.
The new office is a clear conduit for religious communities to speak into broader issues—such as peace and development—that fall outside the issue of religious freedom, says Knox Thames, director of policy and research at USCIRF.
But not everyone is optimistic about Casey's appointment. Thomas Farr, who teaches religion and international affairs at Georgetown University, says the new office perpetuates an existing problem: American foreign policy—characterized by "the appearance of motion" on religious issues—is still not promoting religious freedom.
"There is ample reason to wonder why the goal [of engaging religion] cannot be achieved by a vigorous, effective IRF policy," said Farr, who directs the Berkley Center's Religious Freedom Project.
But Judd Birdsall, a former U.S. diplomat and current PhD candidate at Cambridge University, says religious freedom policy doesn't encompass the whole picture. He says religious freedom and religious engagement are like overlapping circles: distinct but complementary, and mutually reinforcing if executed properly.
"If engagement is done well," he said, "it can foster greater respect between religions and governments."
Other critics say the office blurs the line between church and state. Casey says there's no conflict because faith-based groups don't seek funding from his office.
Still, he understands the nervousness. He says leaders are being scrupulous about the First Amendment and not discriminating against any groups—200 have visited the office in the first 12 weeks.
"No one has been angry that we opened up shop," he said. "They now feel like they have access, and they understand how we might partner to advance diplomacy."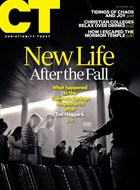 This article is from the December 2013 issue.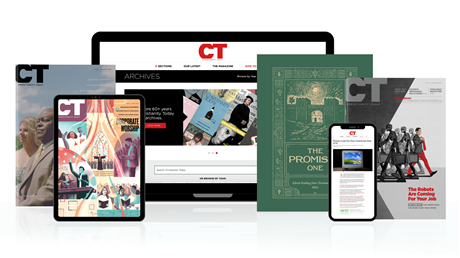 Subscribe to Christianity Today and get access to this article plus 60+ years of archives.
Home delivery of CT magazine
Complete access to articles on ChristianityToday.com
Over 120 years of magazine archives plus full access to all of CT's online archives
Subscribe Now
Church and State (Dept.): John Kerry Gets Religion
Church and State (Dept.): John Kerry Gets Religion