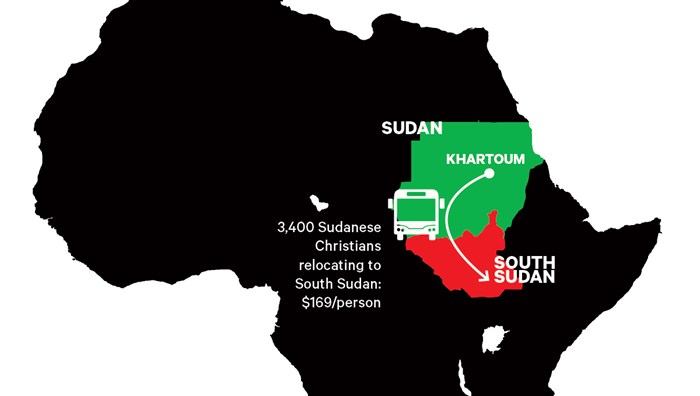 After successfully airlifting 5,000 Christians from Sudan in 2012, the Barnabas Fund is attempting a second rescue mission. This time the group plans to bus out another 3,400 Christians from the Islamic state.
The organization is partnering with the Africa Inland Church (which has about 125,000 members in Sudan) to take the group of mostly widows and children to South Sudan. Barnabas leaders say many of the Christians had lived in southern Sudan before it gained independence and had fled to slums outside the capital city, Khartoum, during the decades-long civil war. They see the effort as creating repatriates, not refugees.
The effort will cost $169 per person—all told, the total cost of the operation amounting to about half of Barnabas's annual revenue in recent years.
"Where at all possible, the aim is to assist people to be reestablished in their own environment," said spokesperson Brenda Dobbs in an email. "It is only in extreme situations … that people are relocated to a different country—generally when they are directly threatened with murder or the death penalty."
Religious liberty monitors and advocates say the Sudanese government has taken several measures to repress Christians and non-Arabs since South Sudan declared independence in 2011. Several churches have been destroyed and Christians are targeted for deportation, interrogation, and arrest, the groups say.
The religious freedom news service Morning Star News characterized recent government actions as evidence of the Sudanese government's "determination to rid the country of Christianity." It also said that "South Sudanese Christians in Sudan have faced increased hostilities due to their ...
1