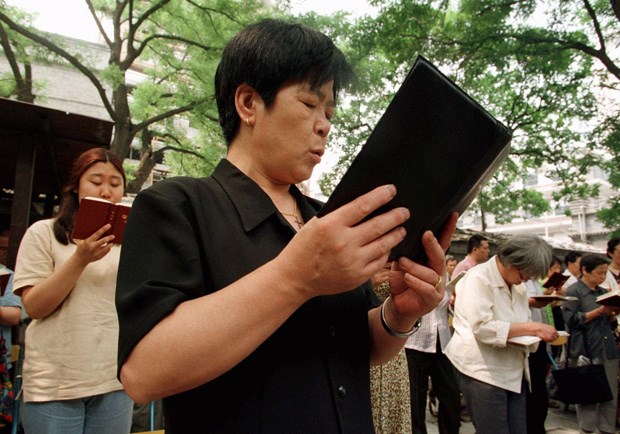 Image: Greg Baker / AP
Editor's note: Last week we ran a wire story about a new report from ChinaAid, the Texas-based human rights group led by Bob Fu. The report claimed that incidents of government-sponsored persecution of Christians rose by 42 percent between 2011 and 2012. It also said that the Chinese government had launched a three-part plan to "completely wipe out house churches." Here two other key voices on religious freedom in China respond to the ChinaAid report, countering some of its conclusions. We have offered Fu a chance to reply, and plan to run his response later this week.
China's Actions Are Not About Christianity
Brent Fulton is president of China Source in Hong Kong
According to the latest statistics from China Aid, 13.8 percent more Christians in China were persecuted last year as compared with 2011, continuing a trend of increasing persecution that goes back to at least 2007.
On their face these numbers appear to be cause for serious alarm, and the China Aid report has in fact spawned headlines decrying the beginning of the end of the house church in China. However, upon closer examination these statistics do not support China Aid's assertion of a nationwide government-sponsored campaign against Christianity in China.
Without a doubt, Christians in China face many obstacles as they live out their faith in an often hostile environment. But Christians are not persecuted simply for being Christians, nor are house churches targeted for attack simply for being house churches. If this were the case one would expect to see hundreds of house churches being closed down each week. (Beijing, which had the highest number of persecution cases in 2012, reportedly has more than 3,000 house churches, yet the China Aid report mentions only two cases involving Beijing house churches for the entire year.)
As I've said previously, there are certain triggers that prompt authorities in China to take action against Christian activities. These include directly opposing the Communist Party (especially in a public manner, which embarrasses government officials and is bound to provoke a response); engaging in political activity, openly championing human rights, or being identified with a group that does so; and having foreign involvement. With China's rapid urbanization, property disputes are often another factor, with Christians being forced out of their churches (whether registered or unregistered) at the hands of greedy developers collaborating with corrupt local officials. A related factor is simply local abuse of power, especially in regions where there is a history of tension between Christians and officials, or in ethnic minority areas, where Christians may be seen as a threat by the dominant religious majority.
Of the nearly 5,000 Christians reported by China Aid to have suffered persecution in 2012, more than two-thirds were involved in cases where one or more of the above triggers were present. These Christians were either engaged in activity which the government perceived as a threat, or they ran afoul of the economic or political interests of corrupt local leaders. Examples of the former include Christian dissidents, human rights lawyers, and those who attempted to utilize public space for Christian activities (the most well-known being Shouwang church in Beijing, whose outdoor worship drew international attention and incurred the wrath of Beijing officials). Not a few cases cited by China Aid involved members of the China House Church Alliance, which was specifically designated illegal by the Chinese government some years ago.
The point here is not in any way to minimize the seriousness of these cases, but simply to point out that these believers were not persecuted for their faith or even for belonging to a house church (a few, in fact, were serving within the official Three-Self Patriotic Movement). Many more people in China, religious or not, face the same consequences for engaging in similar activities. The larger issues here are an authoritarian regime that is obsessed with maintaining stability at all costs, an immature legal system, and a very well-resourced security sector that has become a law unto itself. All Chinese, whether Christian or not, are suffering the consequences.
The remaining cases cited by China Aid mainly center around two issues: 1) the ability of unregistered churches to obtain facilities in order to meet openly and 2) Christians desiring to serve through educational or social service projects but having no legal platform by which to engage in these activities. Both of these point back to China's immature legal system, mentioned above. As many scholars and even government officials in China would agree, China's religious policy is broken. Until China's leaders take action to fix it, there will continue to be major tension as an increasingly dynamic church bumps up against China's rigid bureaucracy.
The real story is not that China's Christians are being singled out for repression, but rather how their creativity and resilience enable them to thrive amidst such opposition. Most do not view themselves as passive victims of persecution. They instead see the church as poised to bring renewal to their society. Some, as documented in the China Aid report, are taking significant risks and paying a personal price to bring this about as their faith compels them to enter the public arena. For most, however, it means persistently living out their faith day by day in a manner that touches the lives of those around them.
Intensity of Persecution of Christians in China Decreasing, but still a Concern
Jan Vermeer is author of Friends Forever and works with Open Doors International, a Christian organization which supports persecuted Christians.
Brother Chen (not his real name) was born in 1956 in an area on the eastern coast of China. He calls himself a fourth-generation Christian, indicating his Christian heritage. His life reads like a history book of the Church in China. Chen saw how his parents tried to maintain their house church throughout the Cultural Revolution. He buried Bibles to prevent them from being burned and later copied many of them by hand. He now leads a city church, where the challenges are not at all what they used to be.
Chen grew up with the notion that being a Christian was dangerous business. "Very dangerous," he repeats. He explains:
The houses of those who were suspected of participating in 'illegal meetings' were always searched. Both government officials and members of the state church conducted the searches. They looked for any Christian materials. Bibles, Christian books, hymnals; everything was confiscated. In fact, I do not remember when exactly, but we were ordered to hand in any Bibles that were still in the house. My parents did not comply. Instead, they told me to pack the Bibles in plastic bags and bury them. We would dig them up later. The communists piled up all the collected Bibles and burned them. I will never forget that image of God's Word going up in flames.
Chen is still the leader of a large network of house churches. When asked about persecution of Christians in China, he refers to secularism, materialism, and money. "Money now dictates every aspect of life. Most Chinese, especially the youngsters, live to earn as much as they can, so they can have that nice apartment, and can get married and afford a family. They are so occupied with working there is hardly room for ministry anymore."
Like Chen, urban Pastor Fai doesn't refer to the government when he talks about persecution. As long as his meetings are not too big and not political (like inviting foreigners into the church service) the government leaves him alone. "We are an unregistered house church, but we don't experience persecution."
Extensive research by Open Doors across many house church networks has shown that by far most Christians do not claim they are being persecuted. It is true that there are still dozens of Christians imprisoned, but that is a sharp decline compared to the hundreds or even thousands of Christians who served sentences in labor camps in the past.
China ranks 37th on the 2013 Open Doors World Watch List, an index that ranks 50 countries where Christians face the most severe persecution. This indicates that China is still one of the countries where Christians are oppressed because of their faith. However, less than 10 years ago China was in the top 10. Last year China ranked 21st. China was 13th in 2010.
By far the most persecution in China happens predominately in Muslim and Tibetan minorities, where the family or the local community sometimes mistreats, banishes, or even kills people who want to follow Christ.
Christians among the Han majority still experience limitations, especially compared to democratic countries. "Generally, we feel the government is on the right path," says one Christian. "Of course there is still room for improvement. Meeting in large groups is not always permitted, but not always illegal, either. It varies from region to region. We know cases where large house churches were offered land by the local authorities to build a proper church."
There is, of course, one well-known exception: the Shouwang Church in Beijing. Until a few years ago the members met at several locations for worship. Then the leadership made the decision to combine Sunday services with the entire congregation. In late 2009, Shouwang purchased the second floor of the Daheng Science and Technology Tower in northwest Beijing, but, after pressure from the authorities, the landlord never handed over the key. The church members' decision to meet outside enraged local officials. Public assembly is forbidden and considered a threat.
For a short time, the church relocated to a restaurant that was offered to them by the government. When this did not work out, Shouwang's services moved back to the park. From April 11, 2012, the Public Security Bureau started to arrest the most important leaders. In most cases, they were released after a few days of detention. Founding pastor Jin Tianming is still under house arrest. One of the main reasons, apparently, is a petition the church leaders wrote (and co-signed by other unregistered church leaders) in which they requested the government to adopt new laws to protect religious freedom. The co-signers are often invited by officials for "tea." "Those meetings are not always pleasant," a pastor from Beijing shares. "They pressured me to withdraw my support. But I cannot. I have to support my brothers and sisters."
Many church leaders do not want to speak openly about the Shouwang Church. They support their brothers and sisters. However, privately, they express that Shouwang has pushed the edge of the envelope.
This makes people wonder. What is the truth about persecution in China? Unfortunately, there is no black and white answer. Yes, there are still Christians in prison. Were thousands arrested for their faith last year? Depends on how you define arrests. Take the Shouwang Church. Perhaps every week their members keep worshipping in public places and people are taken in to the police station. They are released within hours, or in the worst case, a few days.
The government wants to control the church. That has not changed. The chosen method is not the same. Severe persecution has been traded for cooperation with Christians, even with the house churches. As long as they do not get involved in politics, they will be left alone. Christians should be allowed to organize themselves and be politically active. No doubt. But one simply has to admit that the situation in China has improved over the years, despite recent reports to the contrary.
Do the Han Chinese Christians still need help? Yes. They need to learn how to function as a church in a freer country. They also need to learn to develop their own materials, rather than receiving everything for free from overseas. And last, but not least, they should not forget about persecuted Christians among the Chinese minorities and abroad. The Chinese church stood strong under severe persecution. Let it stand strong now, too.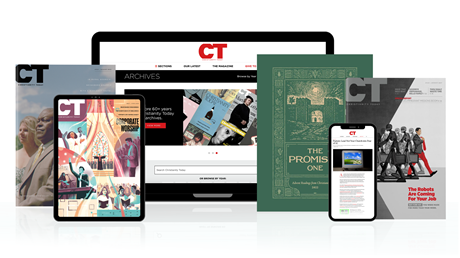 Annual & Monthly subscriptions available.
Print & Digital Issues of CT magazine
Complete access to every article on ChristianityToday.com
Unlimited access to 65+ years of CT's online archives
Member-only special issues
Subscribe
Read These Next
Trending

American Christians Should Stand with Israel under Attack

While we pray for peace, we need moral clarity about this war.

From the Magazine

Frozen Embryos Are the New Orphan Crisis

More than a million unused IVF embryos are in cryostorage. Are they the next pro-life frontier?

Português

Editor's Pick

Don't Miss These African Christmas Hits

Jam out this season to highlife, Afrobeats, jazz, a cappella, R & B, rap, dance, and hip-hop artists from Nigeria, South Africa, and more.
China Isn't Trying to Wipe Out Christianity
China Isn't Trying to Wipe Out Christianity