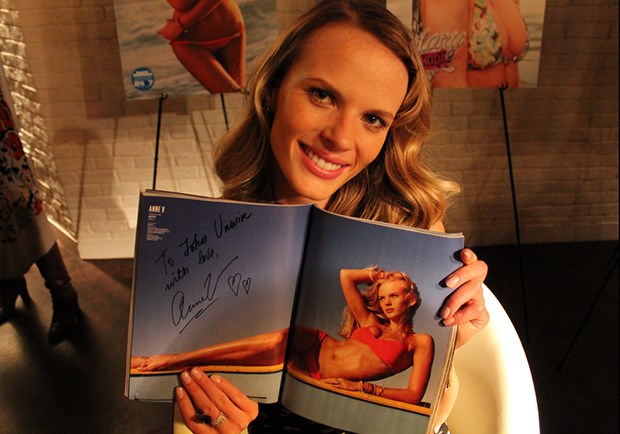 Image: The Cosmopolitan of Las Vegas / Flickr
This year's Sports Illustrated swimsuit issue contains a new feature, a six-page style guide "to help women recreate the looks they see in the issue."
When I told my husband about it, a confused look came over his face. "You mean they are trying to say that ordinary people can look like the models in the Swimsuit Issue?" And then he laughed incredulously. "But no one looks like them!" Not even the models themselves look like that, if we believe what we've seen and heard about retouching.
A reported 18 million women already read the swimsuit issue, and a good number of them read it prescriptively, learning how they need to look to be attractive. As Laura Portwood-Stacer, a visiting assistant professor of media at NYU, told theNew York Times:
Women learn on a daily basis, unconsciously but also consciously, how to carry themselves, how to present themselves in a way that will be deemed acceptable and attractive by others… As such a major cultural institution, it makes sense that the swimsuit edition would be a sort of bible for that kind of learning.
I'd like to think that most grown women would find this guide, called "Secrets of Swimsuit," as patently ridiculous as my husband did. Don't we all know that the "secrets" of Photoshop probably play as big a role in the Swimsuit Issue as extreme exercise and liquid starvation diets do in the Victoria's Secret fashion shows? Don't we know that the images are—in more senses than one—not real?
In her memoir Bossypants, Tina Fey claims that everyone knows Photoshopped images aren't real, but she also acknowledges that the culture of beauty has changed significantly since she was a girl. Back then, "you were either blessed with a beautiful body or not. And if you were not, you could just chill out and learn a trade."
Today, however, "if you're not 'hot' you are expected to work on it until you are… If you don't have a good body, you'd better starve the body you have down to a neutral shape, then bolt on some breast implants, replace your teeth, dye your skin orange, inject your lips, sew on some hair, and call yourself Playmate of the year."
I understand this implicit cultural expectation so well; for years, I struggled to remake what I was in the image of all I thought I should be. As I've written in my new book, Eat With Joy: Redeeming God's Gift of Food, for years,
I absorbed magazines, TV, and movies uncritically and prescriptively […] everything about my appearance seemed wrong. But in America, the possibilities of individual determination are endless—you can become as rich and as thin as you determine to be!—and so I sought to change my body through all the ways that advertisements teach us is possible: the chromium picolinate supplements, the protein shakes, the NordicTrack, the chirpy aerobics videos, the Velcro-fastened ankle weights.
All that effort toward getting a certain look adds up to big business—more than $20 billion annually in the U.S. on cosmetics alone. It comes at a high price in terms of mental health, as numerous psychological studies have suggested what discerning parents have known for a long time: the more media images of stylized, retouched models a woman views, the more likely she is to become depressed and disordered in her eating.
That was me. For years, I struggled with an eating disorder that was undramatic because of its very ordinariness; I was mostly of normal weight, but almost never ate normally. I'd spend hours in front of the mirror, hating myself, and I was unable to receive one of God's primordial good gifts: the gift of food. I viewed food with suspicion and fear—like food as ordinary as bread and butter was conspiring to make me fat and therefore unworthy of respect and love—instead of gratitude and pleasure. I was unable to join others joyfully at the table; I was alienated from others, from God, even, somehow, from myself and from the fuller life I knew I could have if only I could stop chasing false images, and a false source of self-worth.
But there's hope. Various researchers have found that openly critiquing the thin ideal and media images of idealized beauty while affirming and accepting one's own body had a powerful effect on mood and on eating disorders. Others have discovered that in families who eat meals together and homes where self-deprecating "fat talk" isn't casually bantered around, children can better resist cultural pressure toward thinness and beauty. Ultimately, though, I think the power to reject the swimsuit issue as the bible can come from the Bible—the one that insists that humans are the very image of God; that bodies and food, like the rest of creation, are very good.
Blasphemy isn't too strong a word for what images like the ones in the swimsuit issue suggest about the meaning of human life. Is it not blasphemy to reduce an image of God to an underfed, overstyled, de-contextualized, sexualized, Photoshopped ideal—and, then, to say that attaining that look is possible, given the right purchases and pursuits?
These messages are so powerful that we can't go it alone, we can't do battle by ourselves, but we can interrupt. For the sake of the common good, we can point out artificiality when we see it, refuse to engage in fat talk, and post the occasional unflattering self-portrait to Facebook instead of using social media to share only the most idealized images of ourselves.
We can help one another remember that bodies are for hugging, for dancing, for helping, for loving, for serving, for worshipping—for so much more than standing alone on a beach, in a swimsuit, being looked at.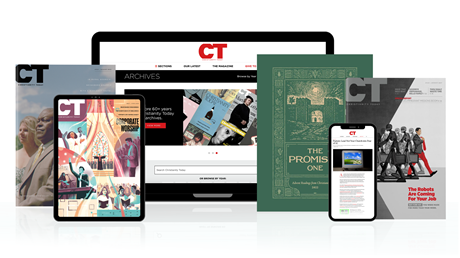 Subscribe to Christianity Today and get access to this article plus 65+ years of archives.
Home delivery of CT magazine
Complete access to articles on ChristianityToday.com
Over 120 years of magazine archives plus full access to all of CT's online archives
Subscribe Now
Sports Illustrated Can't Turn Us into Swimsuit Models
Sports Illustrated Can't Turn Us into Swimsuit Models