Freedom for All?
I read "Honoring Faith in the Public Square" [November] with interest, and found myself nodding in agreement often. Then I read it again but this time, wherever I saw church, I substituted mosque; wherever faith, I substituted Islam; wherever minister/pastor/clergy, I substituted imam/mullah; and so on. I did not nod in agreement. What does this say about what I think, what we all think, what freedom of religion in America really is, how it is really practiced, and who it is really for?
Jim Gustafson
E-mail
Separating Christ
"Shari'ah's Uphill Climb" [November] is well argued, though I find the final point about slow assimilation unsatisfying. I'm sympathetic to the logic, but the author seems to be saying, "No, Shari'ah is not permissible, except that it is after a long period of semi-injustice."
It may be more consistent to argue that Jewish and Muslim law make claims on the entire community, from personal to legal to social relations, but that Christianity more clearly separates Christ from Caesar. As the West developed a secular public sphere, Christian (especially Protestant) practice developed with and facilitated this move. By contrast, Jews had to fight to carve out a legal space. Notably, they also had to jettison Jewish law as an all-encompassing standard for social/political life. In a similar fashion, if American Muslims want to set up an overlapping jurisdiction with the state, they need to revise the traditional understanding of Shari'ah.
Red Well
E-mail
United by Trust
"The Key to a Purposeful Life" [November] was superb. We 21st-century believers have largely lost touch with the experience and teaching regarding union with Christ. This is partly due to the current translation of the New Testament Greek words pistis/pisteuo ("believe" or "have faith"). The English word faith no longer has the same depth of meaning that it did a few hundred years ago, but we have kept the word and thereby short-circuited the meaning. Much better to replace every believe and every faith with the word trust. Trust is that which unites us to other persons. Trusting Jesus is the experience that confirms the spiritual union that we all enjoy in Christ. Every believer, even one who is only five minutes newly born, can experience and exhibit this gift of trust.
Dave Stravers
Hudsonville, Michigan
On Common Ground
"What's So Great About 'The Common Good?'" [November] was important and much appreciated by me as a Christian law professor. This notion of the common good is critical in today's corporate law in order to reclaim the way in which capital workers and others pursue a common mission that transcends individual interest. It also calls conservatives to see the importance of advancing the well-being of groups without also invoking statist solutions, thereby blunting liberal criticisms that conservatives are too individualistic in cultural orientation.
May I suggest that those in the common-ground movement attend to our important business-related world? This would itself create common ground in which evangelicals and Catholics can labor together.
Lyman Johnson
Lexington, Virginia
'Quiet Intimacy'
Thanks for the insightful interview "The Mystic Baptist" [November], which did not give us another 5-point plan on how to grow a church. If Charles Stanley fits the definition of "mystic," then may God give us thousands more. His reliance on unceasing prayer and guidance by the still, small voice of the Holy Spirit was very refreshing to this minister's heart. I sense "Stanley's Plan" was summarized with these words: "I think that quiet intimacy with him, for me, is the key to the whole Christian life."
James H. Diehl
Lakewood, Colorado
Discrediting Our Truth
Bravo to Carolyn Arends for her much-needed viewpoint on evolution and Christianity ["God Did It," November]. Somehow much of the evangelical world has tied the question of the truth of the Christian faith to the doctrine of the inerrancy of Scripture. It only discredits our truth claims for the Christian faith when we insist on treating Scripture literally.
There are indeed good reasons to critique the doctrine of unassisted evolution, and we should not fail to point these out. But we should also stop shooting ourselves in the foot by insisting on taking the Genesis creation account literally.
Dan Hochberg
Seattle, Washington
Unleashed Chaplains
I am truly touched by "True Shepherds" [November]. I served as a Navy and Marine Corps chaplain for 29 years, and I also spoke to the heroes of the chaplain corps. I was so inspired by their faith, courage, and patriotism. While in Iraq, I tried to minimize casualties by restricting the travel of chaplains. But my chaplains wanted to be with the troops and did not want to be on a leash. God bless them.
William Payne
E-mail
Questions of Faith
Fringe is my favorite show, and I've often wondered why I saw so little written about it here, when it had so much to do with questions of faith and love ["Mad Scientist Meets God," November]. It is a well-written, thoughtful, intelligent show, and the acting is wonderful. I will dearly miss it when it goes off the air.
Doris Riley
E-mail
Clarification
I am grateful for the generous profile of me ["The Choice," October]. But one paragraph may give the wrong impression about my dear friend Kumar Abraham, who left the country after his house had been burned for the second time. He did leave to minister in the Philippines and Australia, but has now returned to Sri Lanka and is doing a very significant ministry among our people.
—Ajith Fernando
What got the most comments in November's CT
46% God Did It Carolyn Arends
18% Shari'ah's Uphill Climb John Witte Jr.
10% The Mystic Baptist Interview by Mark Galli
Readers' Pick
The most praised piece in November's CT
The Key to a Purposeful Life Sarah Lebhar Hall
Worth Repeating
Compiled by Elissa Cooper
"If you expect women to follow someone other than God, then you should also expect them to have extremely high expectations for who they're going to choose as their 'leader.'"
Janni, discussing how the belief that the husband must be the spiritual head of the family can be harmful to both men and women.
Her.meneutics: "'He's Just Not a Spiritual Leader,' and Other Christian Dating Myths," by Marlena Graves
"This may be God saying, 'Enough already! This does not represent who I am. No party represents who I am. Stop worshiping the American gods.'"
John Hubers, commenting on evangelicalism in the United States amid readers' discussion about the "true" faith of the presidential candidates based on political views.
"In Defeats, Evangelicals' Political Unity at All-Time High," by Tobin Grant and Ted Olsen
"I feel a terrible loss regarding what both evangelicalism and the pro-life movement might have been."
Jon Trott, addressing a fellow reader's criticism of the Christian Right in the abortion debates.
"Does It Matter that Evangelicals Became Pro-life Recently?" by Mark Galli
"Does she remember God? I do not know. I find comfort in the fact that God remembers her."
BJ, sharing his own experiences of a Christian mother-in-law suffering from Alzheimer's.
Speaking Out: "Seeing the Hidden Grace of Alzheimer's," by Colleen Carroll Campbell
Have something to add about this? See something we missed? Share your feedback here.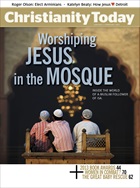 This article is from the Jan/Feb 2013 issue.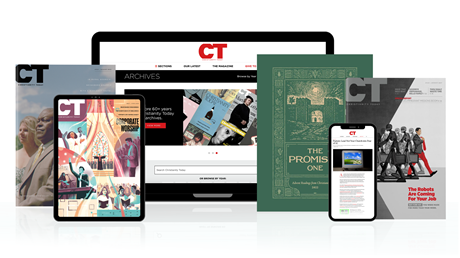 Annual & Monthly subscriptions available.
Print & Digital Issues of CT magazine
Complete access to every article on ChristianityToday.com
Unlimited access to 65+ years of CT's online archives
Member-only special issues
Subscribe
Letters to the Editor
Letters to the Editor