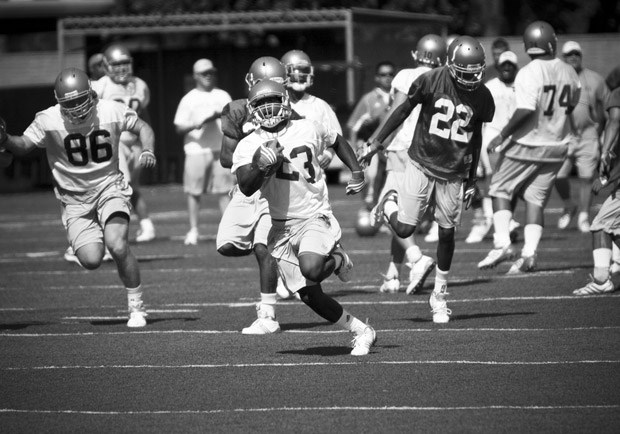 Image: Jack Rosenfeld / Flickr
This article is from the January/February 2013 issue. Subscribers can read all of CT's digital archives.
Liberty University has spent millions building a football program intended to compete in top bowl games in order to raise the profile of evangelicalism. The success of the University of Notre Dame's football program—ranked No. 1 this year—is credited by many with having a similar benefit for Catholicism.
"It would betray our mission (as explained to millions of donors) if we did not strive to build a topnotch football program. This investment will pay dividends for generations because it will shine a light on our mission—to train champions for Christ—like nothing else can."
Jerry Falwell Jr., chancellor and president, Liberty University
"The potential benefits of a winning football team are attractive to university administrators. Evangelicals have embraced sport in the name of spreading the gospel, using the formula 'winning = fame, fame = exposure, exposure = souls for Christ.' This is risky, but can be handled well."
Brian Bolt, professor, Calvin College
"Athletic programs can be glorious expressions of God-endowed human creativity and excellence, but they may become dangerous idols. Whether they are worth it depends upon whether they enhance or inhibit a school's particular God-ordained purposes."
Perry L. Glanzer, resident scholar, Baylor Institute for Studies of Religion
"Athletics can be a tremendous way to extend the witness of an institution. But breaking into the upper tier of Division I athletics requires an investment of gargantuan proportions. Unless the entire community is behind the idea, it can be one of the riskiest decisions a college makes."
D. Michael Lindsay, president, Gordon College
"I understand why Liberty ...
1
Should Christian Colleges Build Top-Ranked Football Teams?
Should Christian Colleges Build Top-Ranked Football Teams?