true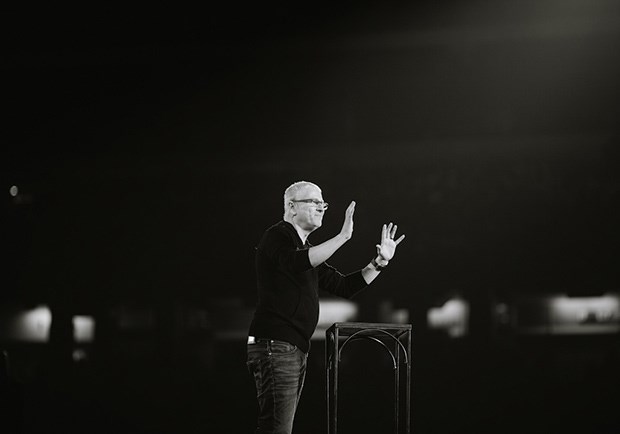 Image: Courtesy of 2013 Passion Conferences
Update: Passion Days 3 and 4
Passion Conference attendees gathered in Atlanta's International Plaza Thursday night for a candlelight vigil honoring the victims of human trafficking worldwide. Nearly 60,000 students surrounded a digital projection promoting the "End It Movement," featuring a spotlight "reaching up to the heavens to proclaim the glory of God."
The beam reached approximately three miles into the sky, and the illumination required Federal Aviation Administration clearance.
At the conclusion of Passion Conference Friday, attendees and online contributors had raised just over $2,900,000 to combat human trafficking worldwide.
Passion Conference founder Louie Giglio preached the conference's closing session Friday with a message on Ezekiel 37 and the valley of dry bones. He then sent students out of the Georgia Dome with a call to action.
"The issue in the world today is not about you and me waiting on the Lord—it's a lot more about the Lord waiting on you," Giglio said. "God is waiting on you right now to get up and stand on your feet—your freedom is for freedom."
According to Giglio, Passion 2014 will meet again in the Georgia Dome in Atlanta during a weekend in late January or early February 2014.
Passion Day 2
At the conclusion of Passion 2013's main session Wednesday night, 60,000 conference attendees had raised nearly $370,000 to donate to numerous human trafficking organizations supported by Passion's "Freedom Campaign" and newly launched "End It Movement" (@enditmovement). An additional $40,000 came in from online donations, bringing the funds raised in 24 hours to just over $410,000.
Digital integration and promotion have played a big role in Passion's engagement with the Millennial generation, including credit card-ready iPad giving stations staged around the conference as part of the freedom fundraising campaign, an Android and iPhone Passion 2013 app, and live Twitter feeds from the Dome.
Thousands of followers are contributing to the now globally trending Twitter hashtag of #Passion2013, andaccording to Giglio there are more viewers tuning in to the conference online than there are at the actual Dome (watch the conference's live stream athttp://live.268generation.com).
Beth Moore, International Justice Mission president Gary Haughen, and pastor Francis Chan led Passion's main sessions Wednesday. The conference will continue today with presentations from Seattle City Church pastor Judah Smith and pastor John Piper. Fundraising and contributions to the End it Movement will continue throughout the day, and the conference will conclude Friday afternoon.
Passion Day 1
In a culture where fewer than 10 percent of young adults regularly attend worship services and 32 percent of individuals under age 30 claim no religious identity, faith is alive and well at the 2013 Passion Conference in Atlanta, Georgia.
"Don't count this generation out yet," Passion founder and pastor Louie Giglio said at Tuesday night's main session. "God is raising up a new generation."
Approximately 60,000 students from 54 countries and 2,022 college campuses gathered in Atlanta's Georgia Dome Tuesday night to worship with Christian music artists Chris Tomlin, David Crowder, Kristian Stanfill, and Christy Nockels before hearing a message from Giglio focused on "a God capable of accomplishing more than you could ask or imagine."
The conference's fundraising initiative, the "Freedom Campaign," is building off momentum gained at Passion's 2012 conference, where attendees raised $3.3 million to combat human trafficking worldwide. Funds raised this year will be distributed to organizations including World Relief, The A21 Campaign, International Justice Mission, and more, and attendees are expected to bring one towel and a pair of socks to donate to homeless shelters across the Southeast. Passion 2012's "Towels and Socks" campaign was substantive enough to stock every homeless shelter in Atlanta for the entire year.
Speakers hosted at the conference this week will include Francis Chan, Beth Moore, John Piper, International Justice Mission president Gary Haughen, to name a few, and the conference will conclude Friday afternoon.
"There's nothing like it," said volunteer Youfang Yiu. "You can watch it online or on DVD, but there's nothing like actually being with 60,000 college students worshipping at the Dome."
Yiu is one of 3,000 volunteers who dedicated his week to serving at Passion. A tech consultant for IBM, Yiu took time off work to direct foot traffic and help answer questions about logistics.
"I feel like this is a week I'm making the choice to keep all the distractions of daily life out and just focus on God and serving other people," Yiu said. "That's something I hope to do more consistently—not just once a year at a conference."
This year, the Passion Conference is being held at the Georgia Dome, and Allison is on the ground reporting for Christianity Today. Follow her on Twitter @ajalthoff, and access the conference's live stream at this link: http://live.268generation.com.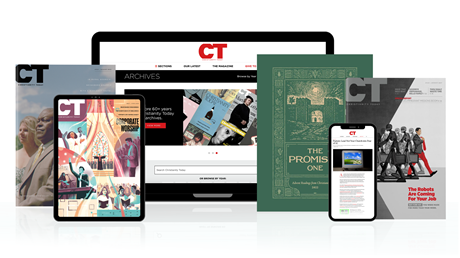 Subscribe to Christianity Today and get access to this article plus 65+ years of archives.
Home delivery of CT magazine
Complete access to articles on ChristianityToday.com
Over 120 years of magazine archives plus full access to all of CT's online archives
Subscribe Now
UPDATED 1/4: Passion 2013: Live from Atlanta
UPDATED 1/4: Passion 2013: Live from Atlanta