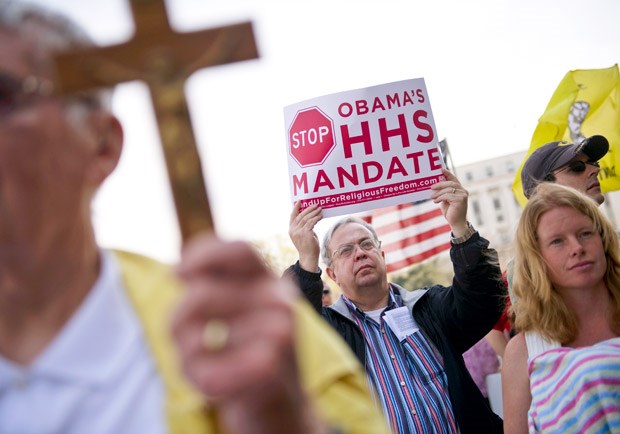 Image: Chris Maddaloni / CQ Roll Call / Getty
The Department of Health and Human Services (HHS) today announced two proposed changes to its mandate that companies offer health insurance that includes coverage of contraceptives. The changes largely remove controversial language that narrowly defined religious organizations.
But the controversy over the mandate is likely to continue, since the new exemptions don't apply to for-profit companies that object to contraception coverage on religious grounds, or to nonprofits that aren't explicitly religious.
"The government has taken the first step to reveal its plan, and its plan is to pick and choose who's allowed to exercise faith and to limit full religious freedom," said Matt Bowman, senior legal counsel at Alliance Defending Freedom.
In the first proposed change, churches and their directly related groups (like denominations, church associations, and religious orders) are fully exempt from having to provide contraceptive coverage if they have religious objections.
In theory, churches had been exempt earlier, but the HHS's definition of religious employers was narrow: It only included those that "have the inculcation of religious values as [their] purpose" and that primarily served and employed people who share the group's religious beliefs. Today's new rules eliminate that controversial language and simply default to IRS definitions of a church.
"A house of worship would not be excluded from the exemption because, for example, it provides charitable social services to persons of different religious faiths or employs persons of different religious faiths," a statement from the HHS said.
A second change, regarding religious nonprofits, is similar to a change President Barack Obama administration had announced a year ago. Such groups will not have to "contract, arrange, pay or refer for any contraceptive coverage to which they object on religious grounds." But employees covered by the organizations' healthcare plans would still receive separate contraceptive coverage through whatever health insurance company the employer uses.
After Obama announced that compromise last February, critics complained that it was a "slight of hand word game," and that premiums were likely to rise since the insurance companies would still have to provide contraceptive coverage. Objectors would be paying for the contraceptive coverage one way or another, they complained.
The HHS today said it would require health insurance companies to certify to religious objectors that the contraceptive coverage was not included in their policy, premium, or any other fees or charges. Insurance companies will save money on "improvements in women's health and fewer childbirths" anyway, the HHS said.
For self-insured religious groups that object to contraception coverage, the burden shifts to the heath-care administrators of their plans. The organization simply has to certify its objection, and the administrator has to find a health insurance company to offer separate individual policies to cover contraceptives.
"The costs of both the health insurance issuer and third party administrator would be offset by adjustments in federally facilitated exchange user fees that insurers pay," the HHS said. (In December, the HHS announced it would charge insurance companies 3.5 percent of the premiums for policies they sell through federal insurance exchanges.)
But according to a press statement, Leith Anderson, president of the National Association of Evangelicals, said these "minor modifications" are "a distinction without a difference, a work-around that doesn't work."
In addition, Anderson called the changes "bad news for all who love religious freedom."
Religious nonprofits only
The proposed rules explicitly state that the exemption is only available to a nonprofit that "holds itself out as a religious organization."
That leaves open the controversy over closely held or family-owned for-profit corporations that also oppose the mandate on religious grounds, including high-profile, retail-craft chain Hobby Lobby, owned by the evangelical Green family, as well as the for-profit Bible publisher Tyndale House.
"Today's proposed rule does nothing to protect the religious liberty of millions of Americans," said Kyle Duncan, general counsel for the Becket Fund for Religious Liberty, which represents many of the organizations suing the government. "The rights of family businesses like Hobby Lobby are still being violated. … We're doubtful that anyone who wasn't already covered by the exemption will be covered by it. The administration itself is saying it doesn't make any difference to the scope."
The 10th Circuit Court of Appeals denied Hobby Lobby's request for an injunction against the mandate in December 2012, when it ruled that the requirement for Hobby Lobby to cover contraceptives did not violate the individual owners' religious freedom. When Hobby Lobby appealed the decision to the Supreme Court less than a week later, Justice Sonia Sotomayor dismissed the claim.
Tyndale has had more success in court: The D.C. District Court granted Tyndale a preliminary injunction, ruling that "the beliefs of Tyndale and its owners are indistinguishable." But Bowman says that ruling is temporary, pending an appeal by the government.
"Tyndale … exists to evangelize, but it's organized as a for-profit, so [the mandate] still applies 100% to Tyndale house under this new rule," Bowman said.
The new rules also do not apply to secular pro-life nonprofits that oppose contraception.
"Once again, President Obama's so-called 'compromise' is unacceptable—religious and moral freedom is not up for negotiation," said Susan B. Anthony List president Marjorie Dannenfelser. "There must be no religious 'test' by the government as to who, and what type of entities, are entitled to a conscience. We demand respect for non-religious entities such as the Susan B. Anthony List that recognize the taking of human life is the antithesis of health care."
Religious colleges, however, can follow the same rules for student coverage as they do for employee coverage.
The change comes after a D.C. Circuit Court of Appeals ruling in December in favor of Wheaton College and Biola University. The court ruled that HHS must not enforce the mandate for employer-provided contraceptives (as currently outlined in the Affordable Care Act) against the two schools, as well as make good on a previous promise to establish a new rule regarding enforcement of the mandate for religious employers by March 2013.
According to a statement, the Becket Fund is still examining "what effect, if any, the Administration's proposed rule has on the many lawsuits on behalf of non-profit religious organizations like Ave Maria University, Belmont Abbey College, Colorado Christian University, East Texas Baptist University, EWTN, Houston Baptist University, and Wheaton College."
CT has also reported today on how the the legal battles against HHS now may shift to questions of legal personhood: Are for-profit corporations "persons" in such a legal sense that they have religious rights? And do their religious liberties allow them to avoid the contraceptive mandate?
Update (Feb. 7): The U.S. Conference of Catholic Bishops has issued a statement against the proposed changes, stating that the action to amend the policy "shows some movement by the Administration but falls short of addressing U.S. bishops' concerns."
Editor's note: This story has been updated.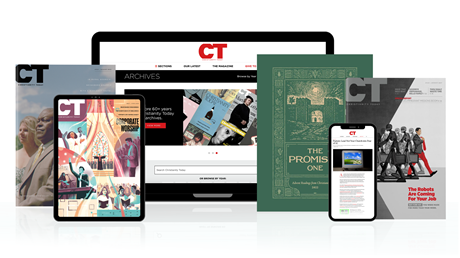 Annual & Monthly subscriptions available.
Print & Digital Issues of CT magazine
Complete access to every article on ChristianityToday.com
Unlimited access to 65+ years of CT's online archives
Member-only special issues
Subscribe
Obama Administration Tweaks Rules on Contraception Coverage
Obama Administration Tweaks Rules on Contraception Coverage