Image: Glenn Francis / www.PacificPRoDigital.com
Not long ago, I took a solo road trip. Christmas was fast approaching, and I was looking for adventure and time alone before diving in. I booked nights at bed and breakfasts all over northern California and took off for five days of exploring, visiting museums, and learning about the history of this little-known area.
Most nights I ate dinner at a local restaurant recommended by the B&B owner. At the Parsonage Inn in Nevada City, California, Abigail recommended New Moon Café. I walked the two blocks in the 35-degree cold and got myself a table for one (two if you count Pnin, my book companion). It was a wonderful dinner—arugula salad with shaved parmesan, flaky bread, a pork chop in a brown sugar sauce. My waiter was kind and funny—you could tell he had a great rapport with whomever he was serving, and his presence enhanced the dining experience.
When I could eat no more, he brought the check to the table. And then, right after he told me to take my time paying the bill, he told me I was very beautiful. He said it quickly; there was no phone number written on my bill, no knowing wink. He was avuncular and chatty and didn't set off any red flags. No agenda, not creepy or lingering. Just a kind compliment.
Last week, ESPN reporters Brent Musburger and Kirk Herbstreit made headlines when they repeatedly commented on the beauty of Katherine Webb, the girlfriend of Alabama quarterback A. J. McCarron: "'You quarterbacks, you get all the good-looking women,' Musberger said when the camera panned to Webb. 'What a beautiful woman. Whoa!'''
After the game, ESPN issued an apology, saying that "the commentary went too far." And that was right: At 43 and 73, Herbstreit's and Musberger's remarks about a 23-year-old quarterback's girlfriend isn't exactly what America tunes in for. The fact that Webb is a beauty queen—literally, she was Miss Alabama USA 2012—complicates the situation.
But is noticing another's beauty automatically demeaning? Webb did nothing to deserve her face or her hair. She may have made choices that other people wouldn't have; as a pageant contestant, there are surely routines involving hair products and makeup and hemorrhoid cream that most women don't follow. But Webb, like every other (naturally) beautiful person, did not choose the arrangement of her face. As my mom says, physical beauty is one of the least interesting qualities of a person—at least until you get to know them, when you can see how the outside connects to what is within.
Webb's reaction is worth noting. She was exceedingly gracious, saying that no apology was necessary since Musberger and Herbstreit's comments were not demeaning. As she told Matt Lauer, "I think if he had said something along the line if we were hot or sexy, I think that would be a little bit different." And to a point, I agree with her—calling a woman "beautiful" is not and ought not be viewed as demeaning. What is demeaning is reducing the fullness of her person to physical attributes.
Many of my friends—male and female alike—keep a fairly casual wardrobe. Suits are no longer required for work; tailored dresses and driving gloves are a thing of the past. But all of them—male and female alike—enjoy hearing that they look nice when I remark upon it. A theology of beauty is a good thing to have, and it goes far deeper than the symmetry of a person's face and the fashions they are wearing. Early church fathers referred to God as Beauty itself, and several great contemporary books explore this topic.
Beauty is a strange thing now, existing somewhere in between People magazine and the Bible. Had Webb been a plain, mousy woman her appearance would likely have gone unnoticed. And the issues of self-esteem and popularity and status that come along with image are legion; to explore them would take more space than we have here. Suffice it to say, beauty is a complex issue, and the truest and fullest sense of it takes all of a person into account.
But I think the Scriptures help us appreciate physical beauty rightly. In the Sermon on the Mount (Matthew 6:28-29), Jesus reminds us of the reality that so often escapes us: "And why do you worry about clothes? See how the lilies of the field grow. They do not labor or spin.Yet I tell you that not even Solomon in all his splendor was dressed like one of these."
It is easy to read this passage and focus on what it says about clothes, interpreting it on the level of physical appearance without getting at what goes beneath all of that: We do not need to worry about anything because we are alive in the hands of our Creator, in the beauty of the world he has created. And in his world, all that he has created is good. The lilies of the field are clothed in greater splendor than Solomon! And God's good extravagance makes them that way.
Lizzie Vasquez is a 23-year-old Christian from Texas. She lives with a disease that leaves her unable to gain weight—at 60 pounds, she is little more than skin stretched over bone. Her parents had to dress her in dolls' clothes as a child, and people routinely assume she is deathly anorexic. Her body cannot store fat, no matter how much she eats. And she has taken abuse and bullying for decades, but now speaks and writes to remind people of the same reality Jesus talked about in Matthew 6: There is real beauty in the world.
Only in God's economy are both Katherine Webb and Lizzie Vasquez beautiful, each bearing the Imago Dei that is the source of all beauty. And this beauty isn't anti-external; we have bodies and faces for a reason. But it isn't the pitiful and anemic version that passes for beauty nowadays, too. I like to think that part of the reason the waiter told me I was beautiful had to do with our interactions—joking, being kind to each other, speaking with respect.
In Isaiah 53 we read that the person of Jesus, the Suffering Servant, "had . . . nothing in his appearance that we should desire him" (v. 2). Just a few verses earlier, though, we are reminded "how beautiful upon the mountain are the feet of the messenger who announces peace, who brings good news, who announces salvation, who says to Zion, 'Your God reigns.'" We know that God "has made everything beautiful in its time" (Ecc. 3:11). We, who bear the image of the one who made everything and declared it good, surely share in his beauty as well.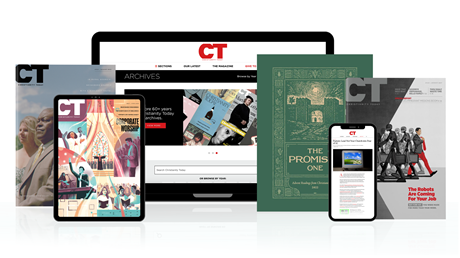 Subscribe to Christianity Today and get access to this article plus 65+ years of archives.
Home delivery of CT magazine
Complete access to articles on ChristianityToday.com
Over 120 years of magazine archives plus full access to all of CT's online archives
Subscribe Now
Why We Should Celebrate Beautiful Women
Why We Should Celebrate Beautiful Women