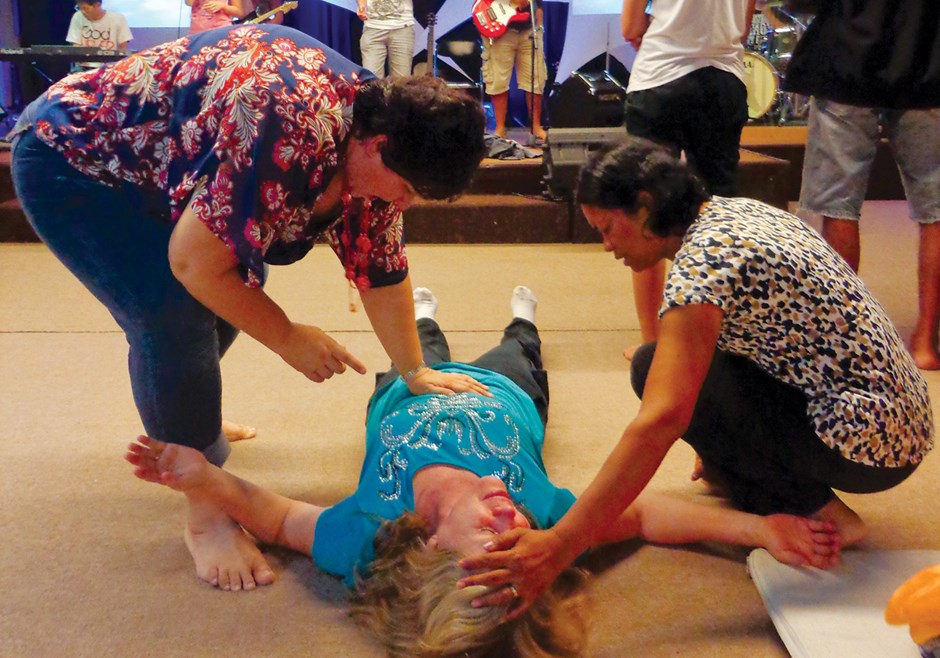 Image: Photo by Melissa Kimiadi
When Gayle Dwije's firstborn daughter was barely a year old, a group of strangers smashed the windows of her family's home in Bali and burst inside. Gayle did not recognize the men, but she suspected immediately that her husband, Wayan, who was born into a Balinese family as the son of a Hindu high priest, might be murdered because of his Christian faith.
Gayle grabbed their daughter and fled frantically into the backyard. The family climbed a seven-foot ladder to the neighbor's house and called the police. By the time officers came, it was too late to catch the perpetrators. The men had disappeared and left behind broken glass, a home in disarray, and a shattered sense of security.
"The police couldn't guarantee our safety," said Gayle, who now copastors the Christian City Church (C3 Bali) with her husband in Denpasar, Bali's capital. The family decided to move to another part of town.
Wayan, a native Balinese who became a Christian in 1994, is no stranger to death threats, including one from his own uncle. But this attack was the closest anyone had come to killing him. In the eyes of Wayan's extended family and community, his crime was that he abandoned his Hindu beliefs became a Christian. Yet what the Dwijes found after the attack was a deeper understanding of the Holy Spirit.
Island of the Gods
Bali, one of Indonesia's 17,508 islands, is home to Indonesia's Hindu minority. The island became a refuge in the 16th century for Javanese Hindus fleeing the spread of Islam in Indonesia.
The province of Bali is 93 percent Hindu, while Indonesia as a whole is 85 percent Muslim. One doesn't have to walk into one of the 20,000 Hindu temples or shrines to realize that Hinduism is deeply embedded in Bali, traditionally called "Island of the Gods." Along the public sidewalks of Kuta, the major tourist area, Hindus staple together fresh bamboo leaves in the shape of plates, placing flower petals and white pearls of rice on top as prasad, a meal offering to Hindu gods. Native Balinese practice a distinctive blend of Hinduism with indigenous animism, ancestor worship, and magic.
Compared with the rest of Indonesia, Christianity has made little headway in Bali. Christians make up only 2 percent of Bali's inhabitants. (Christians are 15 percent of Indonesia's entire population.) In Bali, it is easier to establish a mosque than a church: Pastors need approval from 50 families in the surrounding area and recommendation letters from the local district government. Islamic leaders do not face such steep requirements.
Yet new Christian outreach is taking root. A turning point occurred in 1972, when I Wayan Mastra, a native Balinese Hindu who became a Christian at a school on Java, was chosen as chairman of the Balinese Protestant church association. He contextualized the Balinese church, including introducing dance and traditional gamelan music, to divorce it from its Dutch Reformed colonial legacy. He cast a vision for a "mango tree" church, rooted in Balinese soil, not a "bonsai tree" church, potted artificially.
Over time, Mastra's vision produced results. Christianity in Bali is now growing faster than the population in Indonesia. In the past 15 years, immigration of Christians from other parts of Indonesia and active crusades to encourage conversions of native Balinese have contributed to the growth.
Exact data are hard to compile in a country where Christian conversion faces lasting stigma. "When I first came to Bali 18 years ago, there were three Christian denominations," said Gayle Dwije, originally from Melbourne, Australia. C3 Bali was founded by the Dwijes in 2001 and now shepherds about 250 members. Last August, they opened a small Bible-based school for grades K–9.
Paul Suryanto, secretary to missions of Gereja Bethel Indonesia Rock Church (GBI Rock Church), a Pentecostal church in Denpasar, estimates there are now about 100 Christian denominations active in Bali. For church planters, Bali is fertile ground because of its small Christian presence and tremendous population boom due to urbanization and a growing economy. Last December, a government report revealed that Bali's population jumped from 3.89 million people in 2010 to 4.2 million people by the end of 2012, the largest spike in 50 years.
The island has dominated Indonesia's tourism industry with 2.8 million foreign visitors in 2012. Most tourists come from China or Australia. It has one of the strongest economies in the region, growing at 6 percent annually. "Bali is considered the gateway [to Indonesia] for foreigners and business," said Suryanto. "Obama and Hillary came just last year."
Overcoming Stigma
Many Balinese who publicly claim Jesus as their personal Savior encounter threats like Wayan Dwije did—or worse.
"Balinese Hindus will kill Christian converts here and take their land," said John Stevens, an Australian who ministers in northwest Bali. When Stevens married his Balinese wife, Made, 30 years ago, the couple fled to Australia for fear of Made's life.
"We have native Balinese who won't pronounce they are Christian to their families for fear of expulsion," Suryanto told Christianity Today. With 8,000 members, GBI Rock Church is undoubtedly the largest Pentecostal church in Bali, although not the largest Christian church. (Bali Traditional Church, which is noncharismatic Protestant, tops the charts with over 20,000 members.)
In 1987, pastor Timothy Arifin of the Gereja Bethel Indonesia in Surabaya, Indonesia's second largest city, planted GBI Rock Church, which now has 17 satellite fellowships throughout Bali.
When GBI Rock Church first began, it rented space in a convention hall in Kuta. As it gained members, the church needed a building of its own. Arifin, a civil engineer, embarked on a six-year project in 1991 to build the church in Denpasar. The main church that stands today is a towering four-story structure with an enormous sanctuary, two wings, one chapel, five classrooms, administrative offices, a cafeteria, an outdoor baptism pool, and a parking lot.
GBI Rock Church leaders recognize the stigma for Balinese who decide to follow Christ. But the church also realizes it is underprepared to deal with the stigma in a concrete way. "We don't have the facilities," said Suryanto. The majority of members are Chinese Indonesians who have emigrated from other islands in Indonesia, which perhaps contributes to the lack of material resources, such as housing and food, for outcast Balinese.
The approach of GBI Rock Church, Suryanto said, is to provide "a real physical manifestation of the Holy Spirit—things [native Balinese] can see, feel, and touch to bring great impact in their lives." Suryanto noted that new converts sometimes turn to larger Protestant churches, such as Bali Traditional Church, for assistance with housing and jobs when they are cast out by their families.
C3 Bali takes a different approach. "We advise them to not tell their families and communities first," said Gayle Dwije. "Let their families see positive changes in their lives first."
After he became a Christian, Wayan Dwije's father did not communicate with him for two years. Relations with his immediate relatives are better now, but many members of his extended family still do not talk to him.
Dwije became a believer in an Assemblies of God church in 1994. By 1999, he and Gayle began pastoring a campus ministry in Denpasar. A year later, the couple founded C3 Bali, associated with a network of churches in Australia.
"We both decided earlier on in our marriage that we're not here to play happy-clappy church," Dwije said.
Toward that end, the Dwijes partner with Compassion International to run a free community program three times a week for 150 impoverished children. The children are taught gospel principles and receive basic health care. Compassion provides the funds for school books and vitamins, while C3 Bali covers staff and location.
About half of the children in the program are Balinese. "If they are non-Christians, the family has to sign a waiver or else we get caught for proselytizing," said Gayle.
Holy Spirit Reliance
Balinese Hindus recognize and worship thousands of gods. They believe a spirit is found in all things, even inanimate objects. The attraction factor in Christianity is the role of the Holy Spirit.
This reality is not lost on Christians outside typical charismatic congregations. "Pentecostals' strength lies in the Holy Ghost," said Lukas Wiranata, the Baptist pastor of Gereja Perhimpunan Injili Baptis Indonesia in Denpasar. "If native Balinese do not find the miracles that touch their soul directly, they do not believe."
Born into a Hindu family in Gianyar, a mountainous region in central Bali, Wiranata knows this dynamic from experience. He became a believer in 1990 after witnessing his infant child recover from a potentially deadly flu. While his child was sick, he promised God that he would believe if God spared the life of his child. The next day, Wiranata said, his child was healed.
Wiranata attributes his first introduction to Christianity to Ester Sutedja and her late husband, A. A., former pastor of Gereja Pantekosta Isa Almasih Bali (GPIA Bali) in Denpasar. With 250 members in 1990, GPIA Bali was most likely the largest Pentecostal church in Bali at that time.
Wiranata worked for the couple as their driver and was given a Bible as a gift. For months, he hid the Scriptures in a black plastic bag to avoid confrontation with his Hindu peers. When he came clean with family and friends about his Christian faith, he felt the need to build a house for his parents to alleviate their anger.
"Hindus have to face the consequences and be brave to leave Hinduism," said Wiranata. "I wasn't scared because I already received God in my heart. Now it's easy for me to change the heart of Balinese people because I know what they are going through." In 2004, he started his church with 30 people. Now, membership at Wiranata's church is about 200, half of whom are Balinese.
The fate of GPIA Bali has not been so favorable. In 1991, a trusted member stole the church's money, and the congregation struggled. While gpia Bali continues to meet, membership has dwindled to 40. Sutedja took over as pastor after the death of her husband in 2007.
Despite the setbacks, GPIA Bali persists in giving back to the community. Once a month, members visit a prison in Denpasar to minister to Balinese women and distribute basic goods. The outreach thrills Ester Sutedja: "When we win one Balinese person in Christ, it's like winning a thousand people outside of Bali."
Healing Old Wounds
With a rapidly rising island population and a blossoming economy, the future seems bright for Bali's Christians.
But Bali as a society still suffers from chronic poverty. In the village of Singaraja Desa, in the northwest, women walk two hours each day to fetch clean water. Among the traditional villages of Ubud in central Bali, basic appliances such as gas stoves and kitchen sinks are nonexistent. In the slums of Denpasar, parents struggle to send their children to school.
Balinese Christians are accepting a new responsibility to provide practical assistance. This is about the capacity of church leaders to make a visible difference in the community. The Dwijes' church, for example, offers sewing lessons and $100 loans to low-income entrepreneurs to buy a sewing machine.
A charity called the Maha Bhoga Marga Foundation (MBM), established by The Protestant Christian Church in Bali in 1963, works with villagers in the remote areas of Bangli and Buleleng through their educational livestock program. Each farmer receives two cows in a credit and profit-sharing system and learns how to process livestock waste to methane, which helps the cattle business become more profitable.
Other Bali churches opt to alleviate poverty through children's aid. The Noosa Christian Outreach Church provides shelter for homeless kids in Denpasar through their Bali Street Kids Home, located in the district of Kuta. They rent two houses that accommodate over 25 children ranging in age from 1 to 18. Food, clothing, shelter, and education are free.
For Balinese Christians who have experienced persecution, this attempt to change the quality of life among poor Balinese Hindus means practicing the art of turning the other cheek and identifying with the poor. It is a statement of faith in action as well as an opportunity to heal old wounds. Gayle Dwije said it best: "We often ask, 'What would Jesus do, and who would he be hanging out with?' "
Melissa Kimiadi is a journalist based in New York City. She is a foreign correspondent for A Journey Through NYC Religion.
Have something to add about this? See something we missed? Share your feedback here.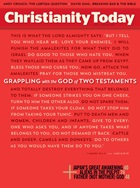 This article is from the Jul/Aug 2013 issue.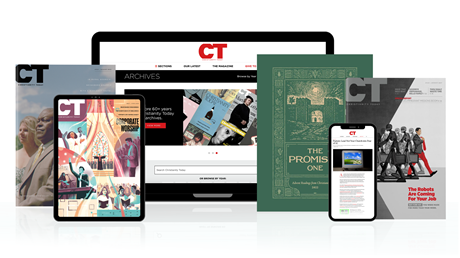 Annual & Monthly subscriptions available.
Print & Digital Issues of CT magazine
Complete access to every article on ChristianityToday.com
Unlimited access to 65+ years of CT's online archives
Member-only special issues
Subscribe
The Spirit Sweeps Over Bali
The Spirit Sweeps Over Bali