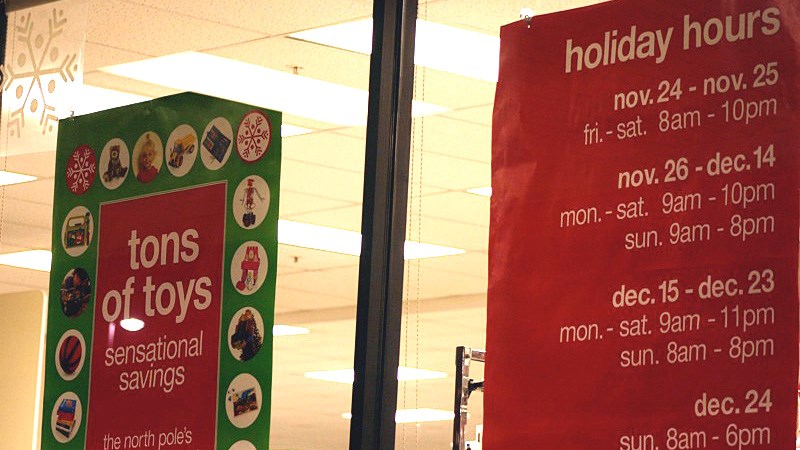 Image: Justin Russell / Flickr
The legend of the first Thanksgiving tells of survival against imponderably difficult odds and the celebration of Native Americans and English settlers alike around a common table. With rich and delicious food before them, they thank God for being alive to enjoy all of God's good gifts.
This lore calls to mind the common table of the early church and anticipates the supper of the Lamb, to which Christ invites the faithful of every nation at the end of all things. Thomas Jefferson reportedly regarded Thanksgiving as too Christian (and therefore in violation of his understanding of church-state separation) for the government to proclaim a holiday. It has always struck me as a profoundly religious—indeed, Christian—observance.
Therefore, I find myself dismayed at the backward encroachment of Black Friday—the busiest shopping day of the year and the purported start to the Christmas shopping season—into Thanksgiving Day itself.
Stores have been opening early—say, at 6 a.m.—on the day after Thanksgiving for years, but extremely early openings (4 or 5) have gradually become more common. Target, Best Buy, Macy's, and others caused a stir in 2011 by opening at midnight. Wal-Mart went further the next year and opened in the evening on Thanksgiving Day. This year, nearly a dozen stores—including Macy's, Kmart, Target, Best Buy, and Kohl's—will be open at least as early as that, putting employees to work hours before.
I realize that some people must work on holidays. At 18, my father spent a lonely Christmas as a new Air Force recruit on outdoor guard duty in the sub-zero winter of North Dakota. I've spent part of my own Thanksgivings and Christmases visiting loved ones in nursing homes and hospitals and have expressed my gratitude to the nurses, doctors, and aides who were there to care for them. And while I am glad that firefighters will rush to my aid if I set the kitchen ablaze (it's happened before) on Thanksgiving Day, having stores open for business on that day falls into an different category, meeting only our perceived need to be able to buy what we want when we want it… and at huge discounts.
My feelings go beyond mere nostalgia for Thanksgivings past. Our nationally observed holidays erode, gradually but certainly, with every wave of unending commerce. It's a regrettable and embarrassing move that suggests what we value most is not in fact family, religion, history, or even the cherished notion that God has blessed America. Instead, for us there is no day so sacred that it would keep us from standing in long lines under the glow of fluorescent lights to get a flat-screen TV…while others must stock the shelves and man the registers.
It is perhaps not insignificant that President Abraham Lincoln established a regular date for a nationally observed day of Thanksgiving while the Civil War was still raging; Thanksgiving celebrations had occurred at different times in different (mostly Northern) states for many, many years, but it was not yet a national holiday. In his Proclamation of Thanksgiving, Lincoln urged people to consider that even amid the ravages of war, God had blessed America with "fruitful fields and healthful skies," and that, even in the nation's suffering, God had "nevertheless remembered mercy." It was only fitting and proper, he said, that God's mercies:
should be solemnly, reverently and gratefully acknowledged as with one heart and one voice by the whole American people.

I do therefore invite my fellow citizens in every part of the United States, and also those who are at sea and those who are sojourning in foreign lands, to set apart and observe the last Thursday of November next, as a day of Thanksgiving and Praise to our beneficent Father who dwelleth in the Heavens.
Lincoln also urged that along with giving thanks, Americans should confess to their part of the "national perverseness and disobedience" leading to the Civil War; make sure to give aid and compassion to those bereaved by the war; and pray for its swift end, the healing of the nation's wounds, and a return to "full enjoyment of peace, harmony, tranquillity, [sic] and Union."
Lincoln's proclamation is tempered by sorrow; it closes by urging Americans to use the day not simply to be grateful for the good in their lives but to be mindful of those who are suffering. We might do well do consider what his words would call us to in our own day.
Somehow I think he might regard the stories of the shrieking mobs surging "through in a blind rush for holiday bargains" and trampling a Wal-Mart employee to death in the process as falling somewhat short of both American and religious ideals.
No doubt, someone will object that the business of America is business, and nothing should interfere with a corporation's right to keep stores open when they please, thereby compelling employees (some of whom are seasonal, and, yes, receiving additional pay for working a holiday) to forgo a "set apart" day.
I have heard arguments to the effect that the Target employee should be grateful to have a job in the first place. But as Marilynne Robinson has argued, observance has become an "aspect of privilege"—those of us in better circumstances can have our weekends and holidays "set apart" if we want; those whose conditions are such that they must work on Thanksgiving or face running short on cash at best—or unemployment at worst—have no such provision made for them.
This doesn't sound to me like the "large increase of freedom" Lincoln imagined was in store for Americans in his Thanksgiving Proclamation. Nor does it sound like something that our God—who commanded his people to give even their servants and animals rest on the seventh day—smiles upon.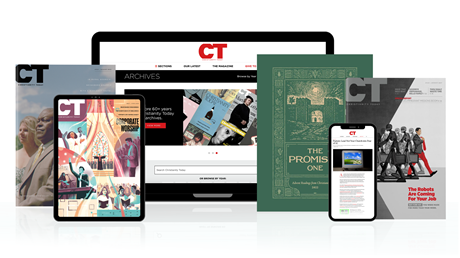 Subscribe to Christianity Today and get access to this article plus 65+ years of archives.
Home delivery of CT magazine
Complete access to articles on ChristianityToday.com
Over 120 years of magazine archives plus full access to all of CT's online archives
Subscribe Now
The Sale That Stole Thanksgiving
The Sale That Stole Thanksgiving