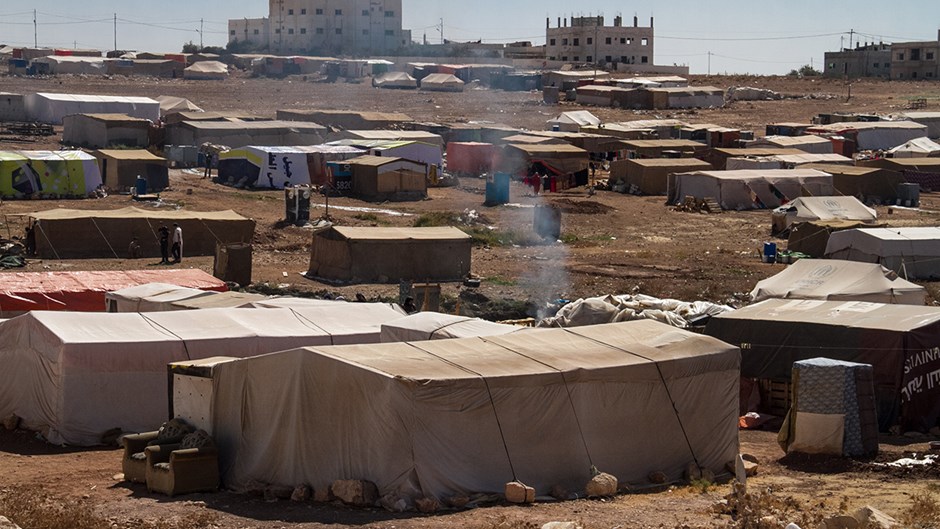 Image: Photo by Jim Killam
On a desert hillside, 225 miles from their bombed-out homes in Syria, a half-dozen refugee fathers and sons have a modest winterization project going on.
Using lumber scrounged from pallets, plus a few rugs and canvas scraps, they tack together a vestibule for an 18-by-32-foot tent that 16 family members will share. The vestibule will help keep freezing winds out of the main living area, which is warmed by one small propane heater. Everyone will sleep on thick foam mattresses with a thin rug between those and the rocky ground.
"Winter is close," says Anas Mustafa Halif, 30, through an interpreter. "We have no clothing, no shelter, no fuel for heating, or even firewood. We can manage such hardships. We move around. But the children? It's very difficult for the children."
About 50 tents comprise this makeshift camp. Most of the Syrians here fled from the outskirts of Hama, a northern city that's been hit hard by Syria's two-and-a-half-year civil war. In fact, 45 are relatives or friends from the same neighborhood. They've landed on the east edge of Amman, opting for this grim arrangement over official refugee camps: Za'atari, to the north, is overrun with more than 130,000 people.
The UN estimates 3.5 million Syrian refugees are in the region and the refugee crisis is reaching historic proportions. The UN has "not seen a refugee outflow escalate at such a frightening rate since the Rwandan genocide almost 20 years ago," said UN high commissioner for refugees António Guterres at a New York meeting this summer.
When Vera Haddad pulls up in her red Peugeot compact, the men pause from their work to crowd around with their wives and kids. Haddad, a Jordanian Christian, visits once a week, and she always looks first for the new arrivals. She whips out a notepad and starts taking their names, including those of Halif and his family. As partnership coordinator for the Jordanian Evangelical Committee for Relief and Development, compassion for refugees is in her DNA.
"In 1970, we did experience civil war here in Jordan," says Haddad, 56. "I know what war is like. I know what fear is like. The first thing that occurs to my mind is what can we do? How can we help these people? And how can we let them see Jesus in our lives?"
Economic Strains
Sader and Foza, a Syrian couple from a village near Hama, have been living with Sader's sister in a tent in east Amman since July. Before coming to Jordan, the couple and their six children (four with cerebral palsy) were on the run for a year within Syria. The oldest, 17-year-old Muhammad, died of exhaustion en route to Jordan.
"It is hard to see your children suffer while they are living with you," Foza says. "We wish that we will die, but even death is not coming. Winter is at hand, and we have nothing."
Since 2011, 1.3 million Syrians have fled into Jordan, a nation of 6 million. Thousands more pour over the border each month, straining Jordan's economy. Food prices have soared. One local resident says cucumbers and tomatoes cost four times more than a year ago.
Demand for living space has tripled rents in urban areas. In one village Haddad visited recently, homes that recently rented for the equivalent of US$85 to $110 per month now go for $280 to $350. (Jordanian laborers typically make only 17 Jordanian dinars—$24—a day.) But in a country that's just 2.2 percent Christian, the crisis also has allowed the church to shine. In official and unofficial refugee camps, and house by house in the cities, Jordanian Christians and Syrian Muslims are encountering each other over tea, conversation, and compassion.
One Christian worker in Jordan (who asked not to be named) sees God's hand in it all. Though Syria itself was about 10 percent Christian before the war, most neighborhoods in Syrian cities like Hama or Homs were unreached by the gospel. Now, "God has brought them to us," he says.
"So we believe that God is doing things, moving and shifting people from different places and taking them out of the secure zone to be able to be open to the gospel," he says. "But most of the people we go to visit today, you could not go to their home in Homs and share the gospel. You would be dead. You would be hung in broad daylight."
Long-Term Commitments
The story of refugees fleeing a war next door is familiar in Jordan, which has taken in hundreds of thousands of Iraqis since the First Gulf War (1990–91) and 1.5 million Palestinian refugees from earlier conflicts.
One Iraqi refugee told Haddad that he believes Syrians are receiving substantial support. At the beginning of the year, the monthly assistance he was receiving from the UN High Commission for Refugees (UNHCR) to help with rent and utilities abruptly stopped.
One Jordanian ministry corroborates that cutbacks are underway for Iraqis. This ministry, which asked not to be named, said it has supplied aid to Iraqi refugees for more than 10 years. Many Iraqis still need all the things that the Syrian refugees do—blankets, mattresses, and food. Aid from relief organizations has dried up. Jordan has 450,000 Iraqi refugees, but the UN has funds to help 30,000.
An hour's drive north of Amman, and just nine miles from the Syrian border, the once-quiet city of Mafraq struggles to cope. During the past two years, 70,000 Syrians have come, more than doubling the population. Mafraq is a first stop for many refugees once they've received permission to leave the Za'atari camp six miles away.
On a Thursday morning at Mafraq's National Christian and Missionary Alliance Church, pastor Nour Sahawneh doubles as the doorman. Syrians flock to the church because it's become the local clearinghouse for help. As sunlight illuminates the cross on the east door, Sahawneh speaks with a group of mothers and children. If they're new, and have their UNHCR papers, they can come inside and get added to the church's list.
The list at last count had more than 5,000 families. Each one receives a welcoming kit that includes a mattress, blanket, camp stove, and bottle of butane. Among today's group, most already have registered. They're here to ask if they can receive more supplies. Sahawneh has the difficult task of telling them no, but to check back next week.
"Their needs are numerous, and they start from zero," he says. "So whatever you do for them is not enough. And it's not for one time. It's continuous.
"Can I think of all their needs? Can I think of all the Syrians in Mafraq? I cannot. Otherwise I would be overwhelmed. But I think this is God's concern. He will take care of them. I have limits of time, money, effort. So I don't carry all of them over my shoulders. But the ones who the Lord brings my way, whom I can help, yes, I'll do that."
Beginning with just three employees two years ago, the church staff has grown to 45 full- and part-time helpers.
Egab Sahawneh, pastor Sahawnah's cousin, sits at a plastic table at the front of the sanctuary and registers new families. Never leaving his chair, he bobs from one conversation to the next: with a Syrian woman sitting at the table, then to his mobile phone, then a fellow staff worker walking up with a question, back to his phone, and finally with a Syrian man showing him his UNHCR paperwork.
It goes nonstop. "In the summer, we were helping 80 to 100 families a week, but we [now] register 100 to 120 families a week," says Hythem Betts, a worker at the church. "That was with all of the resources that we could handle. We just don't have the resources, the manpower—and time in the day—to keep up with it."
Short-term volunteers from all over the world rotate in and out of the church. Along with the long-term staff based in Mafraq, they visit more than 500 homes every two weeks—talking, laughing, crying, drinking tea, and praying with Syrian families.
Today, several volunteers crowd into a small storage bin turned into an apartment for a refugee family. The only furnishings are the foam mattresses that serve as beds for the husband, wife, and three preschoolers. The family came to Jordan in February after fleeing Homs. Because they still have relatives who can't get out, they asked that their names be concealed.
Life in Mafraq has been tough. They're behind on rent, and frustrated. "It is written on the [UNHCR] paper that I cannot work here," the father says. "I am a man. I want to work." Instead, he spends his days going to the mosque, reading the Qur'an, and visiting his sisters who also fled the country. One of their husbands was beheaded in Syria.
The war has left them all traumatized, including the children. "Every time they hear a plane here, they crouch and shout, 'Bashar is coming to bomb us!'" the father says, referring to Syria's president.
"In our hearts, we want to go back and be with our families, but we cannot. When we do talk to them, they say, 'Don't come. There is no security for you and your children.' "
Deep Desire to Return
A cell phone from Syria is one of the few things these refugees still possess. The phones serve as a lifeline to loved ones in Syria and hold powerful images, including harrowing videos of homes set ablaze by Syria's national army, targeting anyone they thought might sympathize with the rebel Free Syrian Army.
"All of our houses were destroyed," one man says to Vera Haddad. "The army bombed us. They concentrate on the civilians—not even the rebels. That's their target."
Eight civilians in their neighborhood, including his uncle, were killed by tank fire. Some could only be identified by pieces of their hands and feet.
"The rebel army helped transport us to safety," he says. "We had to leave. They were cutting the throats of children. If we had stayed, none of us would be alive."
The Syrians long to return home, but they know they can't until there is peace. For now, life is a nightmare, interrupted periodically with all-too-brief visits from a few compassionate people. The chance to extend hospitality, to sit and talk with visitors, restores a bit of dignity.
A Syrian man, Abu Mahmoud, approaches Haddad's car as she's making her way out of the refugee camp. They've met before.
"You are the best people," he tells her. "Many NGOs came, took names, and spent time at the camp. They collected all the information and they promised us that they would come back with help, and they did not.
"You are the only good people who kept your words. You have said, 'We're coming back,' and you came back. And you have helped us generously."
Haddad smiles and thanks him. "I am so thankful to be in the right place with the right people," she says. "The need is beyond imagination. Sometimes they say, 'Come, please. There's no need to bring things. Just come. We'll drink tea and coffee together. Let's sit together.' They want that."
Lincoln Brunner and Jim Killam are journalists based in the Midwest and associated with Reach Global News. For more information about Syrian relief, click here.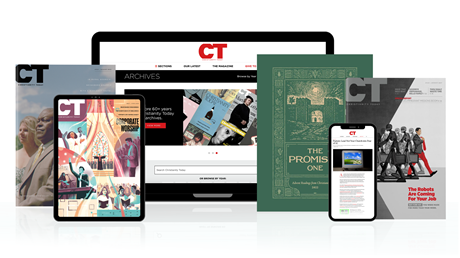 Annual & Monthly subscriptions available.
Print & Digital Issues of CT magazine
Complete access to every article on ChristianityToday.com
Unlimited access to 65+ years of CT's online archives
Member-only special issues
Subscribe
Syria's Refugee Crisis Worst since Rwanda Genocide
Syria's Refugee Crisis Worst since Rwanda Genocide