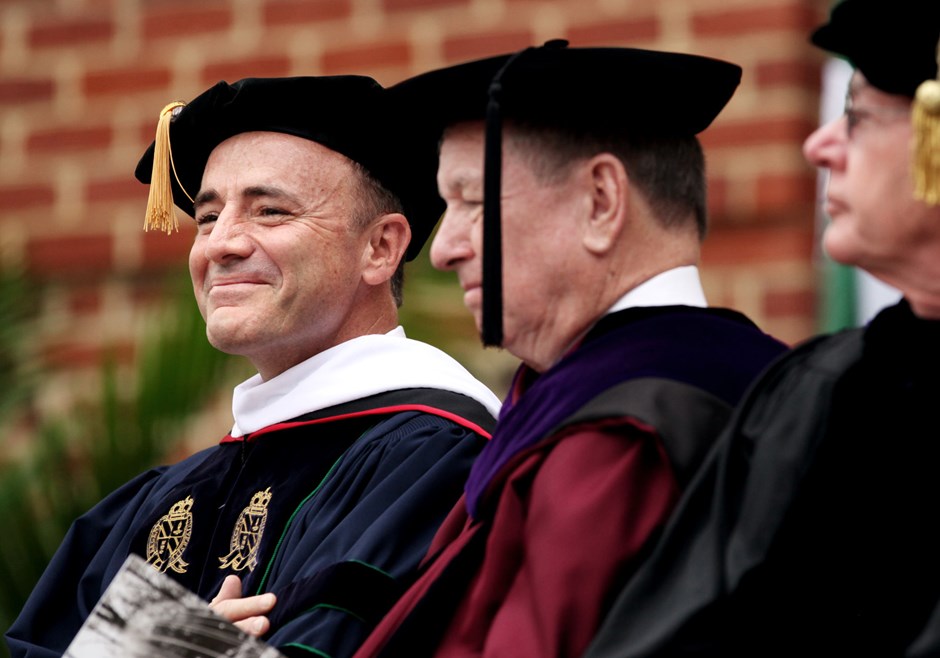 Image: Steve Earley / The Virginian-Pilot / AP
How much of a surprise was Carlos Campo's resignation as president of Regent University this month?
As Terry Lindvall, another former Regent president, put it, "One's eyebrows are raised whenever anyone leaves an administrative or faculty post two weeks into the academic year."
Then again, said Lindvall, who served from 1993 to 1997, no president of the school has lasted very long before being replaced by founder and broadcaster Pat Robertson. This week, Robertson announced that he would take over as the school's CEO, marking his fourth time operating the school directly. "Pat was chancellor. He was there, and basically it's his university," said Lindvall. "He founded it, and he still has a vision for it. So the rest of us were there as regents, as stewards for the time."
Campo agrees. "It has been an institution with a pretty volatile past in some ways. Folks come and go rather rapidly," he told CT in an exclusive interview, his first since resigning three weeks after school started.
In fact, this isn't the first time one of Regent's presidents suddenly resigned at the start of the school year. Retired Army Lt. Gen. Paul Cerjan had served less than three years when he announced in September 2000 that he was leaving, effective immediately. (He died in 2011.) Lindvall's departure, too, was announced in September (though he resigned in August and Cerjan took over in November).
"I knew it was likely to happen with me, but I guess it just wasn't in the front of my mind when it occurred," said Campo. "But it's not so unusual at a founder-led institution for there to be rapid change like this." He told CT he believes such change to be "pretty appropriate and typical" of such institutions. "We did not leave with a sense of animus toward [Regent], and really want it to thrive."
But what does make Campo's departure slightly more surprising is that it came as the 55-year-old son of entertainers was becoming an increasingly prominent evangelical leader—and an icon of the emerging and diverse Latino evangelical population. When he became president of Regent in August 2010, he was the first Latino head of any regionally accredited Christian university in the United States. He quickly became a major voice in discussions of Christian higher education and Hispanic higher education. Even after his resignation, he continues to serve as the director of the Alliance for Hispanic Christian Education (AHCE) and as a board member of the National Hispanic Christian Leadership Conference (NHCLC).
Jesse Miranda, CEO and founder of the NHCLC, sees Campo as a key leader of the next generation of Hispanics. Campo is one of a handful of people he sees as key to fulfill his dream of a thriving evangelical Latino population.
"He's a man with class, good education, and good manners. The image of an accomplished Hispanic educator and scholar," Miranda says. His position as a university president was "a significant statement that Hispanics need to consider higher education a priority. He represents the hope of increasing quality and not just quantity for which we're known as Hispanics. … I wish that I would have had that as I was coming up, but I was more of a trailblazer in my time. But today, all that effort is paying off as I see a younger Hispanic community rising up to the occasion."
Son of a Clooney Sister, Son of an Immigrant
Neither of Campo's parents made it past a ninth-grade education. But they were both famous entertainers.
His mother, Maysville, Kentucky-born Betty Clooney, instilled in him a love of learning. While not quite as well known as her older sister, Rosemary, the Clooney Sisters made several popular recordings in the late 1940s and 1950s, and Betty had several popular albums and television appearances of her own.
"She was a voracious reader," says Campo. "Both of [my parents] loved learning, but my mom in particular. She had a tremendous love for Russian novelists, a thing that you don't get from a lot of ninth graders."
His father, Pupi Campo, was a Cuban bandleader who arrived in New York City with only 20 dollars in his pocket. By the mid-1950s he was leading an eponymous band on Jack Paar's "Morning Show" on CBS.
"Here's an immigrant, who didn't speak a word of English, who came to this country with nothing, except a dream," said Campo.
After marrying Pupi (they met on Paar's show), Betty taught herself Spanish. "And her accent was pretty darn good for a Kentucky gal with an Irish background," said Campo. "She was a brilliant woman who was self-taught, but really taught me the value of learning."
(Since you're probably wondering: Campo and his first cousin, George Clooney, see each other at family reunions, but have not kept a close relationship.)
His earliest childhood memory is of his mother reading to him, with the flair that only an entertainer could bring. "In my dissertation [on the role of friendship in the works of playwright Arthur Miller], I wrote a little blurb about her reading Robinson Crusoe to me as a kid. It's not an easy text, and she didn't read me a Reader's Digest version. She was reading Dafoe's novel to me. It was a love of words she embedded in me early on. I'm sure that's one of the reasons I became an English major and really tracked in that fashion."
While entertainment careers and academic careers are often cast as opposites, Campo says his parents' jobs were valuable models.
"It was an unusual context," he said. "I only came to know that later in life; it didn't seem unusual at the time. That framed several things for me. There was a high level of excellence in my home. Professionals value excellence, which I'd like to believe is a core value for me. The idea of hard work was something that Dad established in me."
Working his way through college wasn't easy. In fact, even as a professor at the University of Nevada-Las Vegas, he worked odd jobs in restaurants to make ends meet. "I've been a valet parker and a president in ten years," he says.
(Campo also briefly tried out an entertainment career of his own, forming the CCM band 911 in the mid-1980s with his sisters. And William Hathaway, dean of Regent's School of Psychology and Counseling, says Campo's showbiz background makes him a skilled presenter and public speaker.)
But entertainment culture played a greater role in his early years than Latino culture did, even with a father known as "the Rumba Maestro."
"I felt distanced from my Hispanic heritage as a young man," Campo said. "This gulf between myself and my 'Latinoness' was based on growing up in an Americanized culture. My dad wanted to become part of that culture. He was learning English much more fervently than he was teaching me Spanish."
To this day, Campo is not completely fluent in Spanish, though he continues to work to achieve fluency. And he's also been reflecting more on the Latino culture that his father did bring to the family.
"There are many life lessons I learned from my dad that are a part of the Latino heritage," he said. "There is a collectivism that is inherent in Latin American culture. There is a closeness, and I mean a physical closeness, that is part of my ethos. I don't have great respect for people's personal space. That's part of being a Latino in my family."
There's a familial closeness too. "I thought I had 50 uncles growing up," he said. "Everybody was tio or tia. I was probably a teenager before I knew that they weren't blood relatives. That was just our family."
The family became even closer when his mother tragically died of a brain aneurism when Campo was just 17. It was then that he and his siblings committed to stay connected. "We know that God has called us to ministry, and we know that he has called us to one another."
'Be the Bridge'
In recent years, that sense of call to serve family has broadened to a call to serve the larger Latino community, Campo says.
After studying English and theatre at the University of Nevada-Las Vegas, he pursued a master's degree in English and started teaching. It was a great fit.
"I thought to myself, 'This is something I can do until I perish,'" he said. "It wasn't until I was in the community college system, working with African American students and Hispanics, that I started understanding from a social justice perspective that education was meant to be the great equalizer. As an English teacher, I knew I was having an impact. But I thought that I may have an opportunity to do more if I administrate."
As excited as he had been about English, Campo began to get more passionate about finding ways to use the academy to help ethnic minorities, especially Latinos.
"I feel like God spoke into my heart and said, 'These are your people.' Your story is their story. You have to be that bridge, no matter what comes. Be that bridge, because that's one of the reasons you're here,'" Campo told CT. "That became a moral mandate. God had me look at these students and remember myself as Carlos Campo, sitting in a room of mainly Anglos, feeling separated from my Hispanic culture, not really feeling a part of this culture, and being a little embarrassed."
Campo says he feels a kinship with those now often branded as "illegals." "I was embarrassed by my name," he said. "These young kids are embarrassed because many of them are immediately associated with being undocumented or illegal."
He has long seen his administrative jobs as a vehicle to create change in the academy. But in recent years, Campo has increasingly seen those jobs as a podium to advocate for change in the larger culture, too.
"I am somebody who can be a gadfly and a translator. I can be both," he said. "I am very often intentionally provocative, because we have to break through to have the conversations we need to have. There's nothing I like less than the standard diversity conversation where we sit around a table and rehash what we've said for 50 years. But there's nothing I like more than for people to challenge things like identity, to really challenge themselves on their own biases and blind spots."
And so he has become one of the most prominent voices in the immigration debate, especially among evangelicals. Few Christian documents advocating immigration reform, conferences discussing the topic, or op-ed pages have gone without his name in recent years.
In a 2010 CNN post, Campo writes that many undocumented immigrants "know no other country; they pledge allegiance alongside their American brothers and sisters day after day in our classrooms, bless our God in our churches, desire to serve in the military and give their lives as they have given their hearts to this great country, whose welcoming freedom still rings to all those who dream as we do." He continues, writing, "We serve a God who taught us to pray, 'Forgive those who trespass against us.' As Christians, is this the trespass that we simply will not forgive?"
'I'm playing on the fringes at times'
Campo says his advocacy on immigration didn't play a role in his leaving Regent. "Frankly, Pat and I talked about my immigration stance early on," he said. "I could not have been as outspoken as I was if it were not for Dr. Robertson's support of that stance. Now I can't say that all of Regent's constituents felt the same way about that, and as much as I tried to downplay that it did become one of those important issues. But it really did not play a role in all of this."
But simply being the president of a university "did constrain my advocacy," he said. "I will be more vocal in the months ahead about this issue."
The principles he's arguing for on immigration and ethnic identity may also lead him to speak more on sexual identity, he said.
"It's critical that we take Christ's heart on these things," he said. "My belief is that Christ calls all people no matter what their sexual tendencies are. 'He wills that none should perish.' [That is] not to deny what we believe the Bible says regarding sexual purity and what that really means."
Shortly after his inauguration in 2010, Campo faced what he calls the most significant test of his tenure—and its high point. Research done through the Institute for the Study of Sexual Identity (ISSI), a part of Regent's Psychology Graduate School, sparked the attention and anger of the LGBT community in the area. Leaders scheduled a protest at an upcoming lecture by ISSI founder Mark Yarhouse.
Before the protest plans garnered much attention, Campo reached out to its organizers, inviting them to meet with him and Yarhouse in the president's office. He listened to their concerns and explained the purpose of the lecture. He welcomed their group on campus, with the request that they not be disruptive. After the meeting, the main organizer took down his protest video and apologized on his website for his misconceptions about Regent and its leadership.
In his five years at this school, "I can't think of a more memorable and meaningful time," Campo said. "It humanized the issue. … Where is the opposition to immigration the greatest? Of course it's in those places there's been no interaction between immigrants and the native population. And I think the same thing is true with LGBT and Christians. We have been so separate and so vocal and vitriolic in our relationship that it has been anything but positive. And so when we were able to sit down with the leaders of the LGBT community in southeast Virginia, they saw us as people, people first."
While still president of Regent, Campo said he wanted to see the school "reflect the fullness of the kingdom of God."
"That's still not everybody," he emphasized. "It's still the kingdom of God. I know that I make our board members a little bit nervous because I'm playing on the fringes at times about who we say is in the kingdom of God. But I want to push out on the fringes."
Andrew Thompson earlier reported on Latino enrollments surging at Christian colleges. Additional reporting by Timothy C. Morgan.
CT's Christian College Guide has more on Regent University.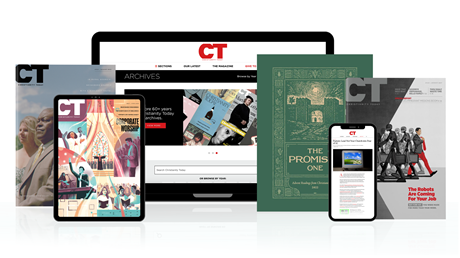 Annual & Monthly subscriptions available.
Print & Digital Issues of CT magazine
Complete access to every article on ChristianityToday.com
Unlimited access to 65+ years of CT's online archives
Member-only special issues
Subscribe
Can Carlos Campo Bridge Anglo and Latino Christian Cultures?
Can Carlos Campo Bridge Anglo and Latino Christian Cultures?