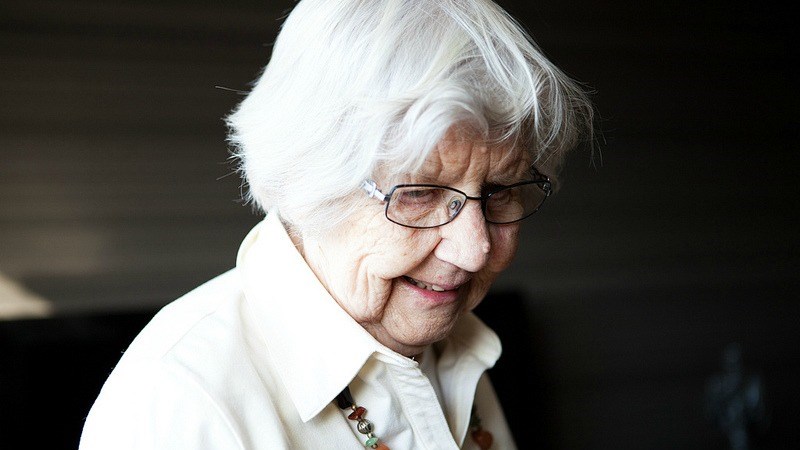 Image: andreaslindmark / Flickr
Last week, I observed two examples of loving service at the dinner table. At one end, my sister-in-law smooshed peas in a plastic bowl for Beatrix, the newest member of the family. At the other, my grandmother sliced steak into pieces for my grandfather, who can no longer manage both knife and fork. Both women performed the same task, but for different reasons and with vastly dissimilar expectations.
My sister-in-law will experience joy as she watches my niece master new skills and learn new words by the chubby handful. But for my grandmother, the outcome isn't so promising, as her husband will continue to lose abilities with each passing year. She is one of 15 million people in the United States caring for someone with Alzheimer's or another form of dementia.
According to a recent report by the Alzheimer's Association, more than 5.2 million Americans are affected by this disease, and the number is expected to climb to 13.8 million by 2050.
Women bear the brunt of this illness in more ways than one. Not only are we more likely to be diagnosed with Alzheimer's disease, but we also shoulder t he burden of being primary caregivers. (Between 60 to 70 percent of people nursing a loved one with this condition are female.)
Sadly, despite the fact that this disease is now the sixth leading cause of death in the U.S., Alzheimer's research receives a fraction of the funding apportioned to cancer, AIDS, and diabetes, Newsweek reported. This disparity led Seth Rogan (a self-proclaimed "lazy, self-involved, generally self-medicated man-child") both to create Hilarity for Charity, a foundation to help raise awareness about the disease, and to testify before a Senate subcommittee about the need for increased funding. "Americans whisper the word Alzheimer's," he said, but "it needs to be yelled and screamed to the point that it finally gets the attention…it needs."
Much has been said concerning the patients—of their right to live with dignity and value though they can no longer contribute to society in the ways they once did. However, what of those who are asked to surrender their lives to serve them?
When it became apparent that my grandfather was vanishing, collapsing in on himself, my sympathies were wholly his. In fact, though I am embarrassed to say it now, I was frustrated by my grandmother's initial impatience and frustration—what I believed was an unwillingness to "face facts" and "suck it up." This is what we sign on for, I'd tell myself. This is the "for worse" part we know will come. Why can't she understand that?
2 Corinthians 9:11 says that Christians are "enriched in every way to be generous in every way" (NKJV), but I lost sight of that in the confusion of shifting family dynamics. My grandfather struggled to pray at family gatherings, so my uncle assumed the task. Another person absorbed his duties around the house. Others became the handyman, bookkeeper, and financial planner.
Though I did whatever I could to help my grandfather, I rarely spared a thought for my grandmother. I didn't fully understand how this disease has eaten away at her life and sense of self. I came to see that she, too, was mourning—both for herself and the man she's loved for 58 years, the one she's losing to a pitiless disease that scours memories from the gray grooves of his brain.
I've watched her grapple with the fact that she is neither fully widow nor fully wife while also caring for my grandfather, and I can say without hesitation that her task is a sacred one. She has looked upon human frailty in all its nakedness and come away filled not with loathing, but love. And even though Alzheimer's has severed every cord that once moored her to "normal life," grace and mercy remain.
Rather than weaken, they become stronger each time he forgets how to dress himself or, in his agitation, speaks to her in anger. After he walks away from her in a crowded mall. As he styles his hair yet again with a paste-covered toothbrush. When he forgets her name. Her days are filled with a hundred such moments, piled on one side of a scale that he can never balance. But in spite of it all, she forgives and soothes his frayed nerves. She forgives each debt and is further sanctified for having done so.
In Judaism, there is a cleansing ceremony known as tahara that prepares the dead for burial. Done without an expectation of gain, it is considered to be a chesed shel emet—"a good deed of truth." Rabbi Mayer Waxman, Assistant National Director of Yachad, the National Jewish Council for Disabilities, even goes so far as to refer to the tahara as "the ultimate kindness."
And that is how I think of my grandmother's life as it stands today. Unlike my sister-in-law, who is preparing a little one for her first steps into life, my grandmother is caring for someone in his last days. Each meal she prepares is an act of continued communion, though it must seem painfully one-sided at times. Every re-buttoned shirt and unknotted shoelace is a battle fought to maintain his dignity.
While we won't find joy (at least not in the sense of the word as most understand it), there is a rightness that comes from being obedient and willing to serve. Every moment of her life is the embodiment of Christ's words to his disciples: "If anyone desires to come after me, let him deny himself, and take up his cross daily, and follow me" (Luke 9:23). In her, I have seen the true heart of God. The sight has broken me wide open, hollowed out the hard places, and made me more empathetic.
Perhaps that is the purpose of such a merciless condition. It allows the strongest and best souls to serve as a truth writ large. Because of my grandmother, many people have learned the full weight and measure of the statement, "Love suffers long and is kind. Love never fails" (1 Cor. 13:4, 8). She is the teacher of a divine truth—that no matter how much we suffer in this life, Christ suffered far greater still for our sake.
Jamie A. Hughes is the managing editor of In Touch magazine in Atlanta, Georgia. She earned her B.A. in English and B.S.Ed. in Secondary Education from Valdosta State University and her M.A. in English from the University of North Florida. She currently blogs about everything from the beatitudes to baseball at tousledapostle.com. You can follow her on Twitter at @tousledapostle.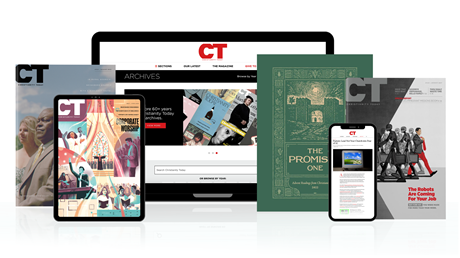 Annual & Monthly subscriptions available.
Print & Digital Issues of CT magazine
Complete access to every article on ChristianityToday.com
Unlimited access to 65+ years of CT's online archives
Member-only special issues
Subscribe
Neither Fully Widow Nor Fully Wife
Neither Fully Widow Nor Fully Wife