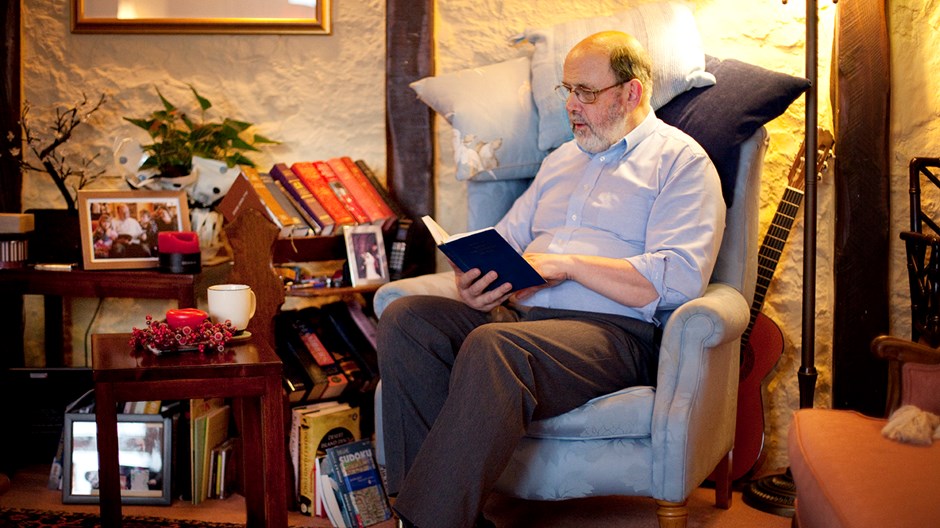 Image: Sophie Gerrard
I was pleased to hear that CT had commissioned Jason Byassee to do a profile and analysis of N. T. Wright and his work, coinciding with the release of Wright's magnum opus on Paul. The importance of the man's views and his influence on contemporary Christian thought is not easily overestimated. But very few know anything about his day-to-day life.
Getting some significant time with the busy theologian would be essential to capturing photos of any real depth. Wright proved to be quite willing to spend a Sunday afternoon with a photographer in and around his rural home in Scotland.
I knew of only one photographer in the region that I thought would be right for the job, so I phoned him. He returned my call immediately—from Africa, where he was on assignment. It would be weeks before he returned home—far too late to photograph Wright in time for our April issue. I asked him for a short list of the best photographers he knew in the area, and on that list was the name Sophie Gerrard.
Sophie works as a documentary and portrait photographer as well an educator in a university setting (you can see more of her work here). I knew she was just the kind of person I wanted to spend an afternoon with Wright. They would have several hours together, and she would need to be able to engage Wright in an interesting conversation.
Sophie's understated yet sensitive work with landscape and with people—a non-imposing approach that leads to moments of quiet intimacy in her work—seemed to be exactly the right fit. With Wright's busy travel schedule, it was a small miracle for Sophie to photograph him at home, in a picturesque area just north of Edinburgh near the town of Elie. The afternoon they had together was a typical Scottish day: overcast and a bit drizzly, but with just enough light.
We sometimes spend hours poring over potential cover images, but in this case we spent only a few seconds. The moment I saw Sophie's photograph of Wright on the rocks, I knew we had our cover. There is not a lot of positioning or posturing in this photo—no strained attempts at burnishing the subject's image. Instead, we see a welcoming and ordinary man, one hand in his comfortable jacket pocket. Most extraordinary, though, is the setting and the light—gentle, open, with a glow that envelopes the subject. It looks like a landscape that could be somewhere between this world and the next, with a dying light from beyond the horizon that somehow also promises sunrise.
When a subject's willingness (note the open, unguarded expression), a photographer's skill, and the light come together in a synthesis, you get a special moment that will never be repeated. And so, the moment we saw this image (along with the marvelous photographs that accompany the story inside the magazine), we knew we had been given a great gift. I wrote Sophie to thank her for her work. "I'm delighted to hear that you like the images—that's wonderful!" she replied. "The light was quite incredible—and heavenly—that day."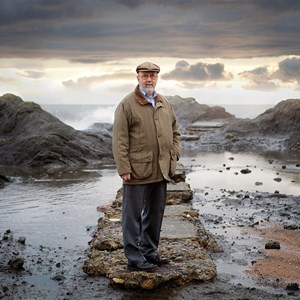 Image: Sophie Gerrard
Enough of you have inquired about the image to prompt us to write this note, and set up an agreement with the photographer to offer you an opportunity to own a high quality print on archival paper for framing and display. The print offered is an 11 x 11 giclée print on Hahnemuhle Rag paper, which fits beautifully in a 16 x 20 vertical frame. Two of our staff members here at CT have already purchased a print, and we thought you might want a copy of your own. [Update: These prints are no longer available for purchase]
Gary Gnidovic is Design Director for Christianity Today magazine.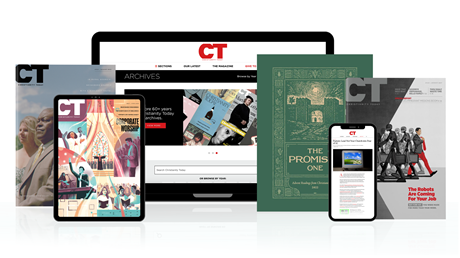 Subscribe to Christianity Today and get access to this article plus 65+ years of archives.
Home delivery of CT magazine
Complete access to articles on ChristianityToday.com
Over 120 years of magazine archives plus full access to all of CT's online archives
Subscribe Now
Picturing N.T. Wright
Picturing N.T. Wright