true
Streaming Picks
The English Patient, the critically-acclaimed, Oscar-winning romantic drama about a World War II nurse and her patient, is available on Netflix this week. For a more light-hearted romance, Ang Lee's adaptation of Sense and Sensibility (starring Emma Thompson and Hugh Grant) is also available to stream. The classic pick of the week is Audrey Hepburn's Funny Face, free to stream on Amazon Prime. Also free on Amazon Prime is Chitty Chitty Bang Bang, perfect for family night (but beware of the Child Catcher!).
Critics Roundup
The Other Woman, starring Leslie Mann, Cameron Diaz, and Kate Upton, is "an attempt to revive the talky, sexless sex comedies of a bygone era," complete with a revenge plot and "wish fulfillment, punishment, and bawdy innuendo" (The AV Club's review). Mann delivers the biggest performance but the film can't quite handle her emotional energy. The Dissolve says, "Everyone generation gets the battle-of-the-sexes female-buddy revenge comedy it deserves . . . The current generation must have done something terrible to merit a revenge comedy this dire."
Brick Mansions is a remake of District B13 that may not be worth your time, except for its "silly pile-up of exaggerated action clichés." But The AV Club says it's the "cartoony illogic" of it all that makes it pretty fun. The Dissolve, however, says the film does not live up to its opening. A.O. Scott for the New York Times says director Camille Delamarre is not an "action virtuoso, but his visual style, heavily indebted to the Grand Theft Auto video games, is appropriately rough and kinetic." It may be not be original or brilliant, but it could provide some crazy, hectic fun.
Locke gets the best reviews from the critics this week. A "man-in-a-can" film, Tom Hardy is the only actor that appears on screen, and the entire story takes place in his car, on the highway. He talks on the phone and speeds down the freeway, leaving the audience wondering what is waiting for him at the end of the road. The Dissolve says Locke, in almost real time, "confronts his greatest mistake, a reckoning that will jeopardize his personal and professional lives and force him to grapple with the hereditary baggage that has always been waiting for him in the review mirror." Manohla Dargis for the New York Times says, "Moment by moment, with a twitch, a shudder, a look, it's Mr. Hardy who movingly draws you in, turning a stranger's face into a life."
Movie News
It's official: HBO and BBC are adapting J.K. Rowling's most recent novel, The Casual Vacancy, into a TV miniseries. Read the news release here.
Yet another live-action Peter Pan is in the works, this time with Hugh Jackman and Amanda Seyfried. Read more here.
The Tribeca Film Festival started last weekend—here is Indiewire's list of recent category winners. For more news, go to their festival page.
Heather Cate is a spring intern with Christianity Today Movies and a student at The King's College in New York City.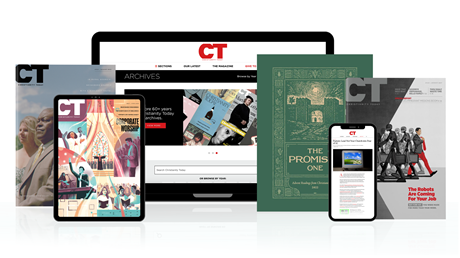 Subscribe to Christianity Today and get access to this article plus 65+ years of archives.
Home delivery of CT magazine
Complete access to articles on ChristianityToday.com
Over 120 years of magazine archives plus full access to all of CT's online archives
Subscribe Now
The Quick Take for April 25, 2014
The Quick Take for April 25, 2014