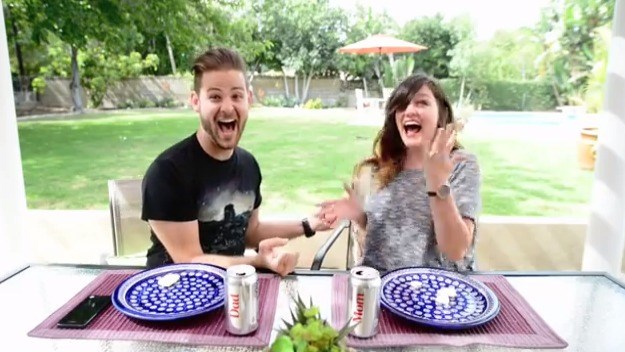 Image: Courtesy of ThePatandDreShow / Youtube
Soon after Los Angeles pastor Patrick McGillicuddy and his wife Whitney posted their baby announcement video a couple weeks ago, theirs became the pregnancy heard round the world.
Inspired by Coca-Cola's personalized #ShareACoke cans, the couple cracked open can after can of Diet Coke in what has been dubbed the "best baby announcement ever;" featured on Good Morning America, E!, the Huffington Post, and across the web; and seen by more than 4 million people.
And pregnant couples all over began planning their own clever and adorable ways to outdo them.
After all, we live in an era of personal moments shared on social media, of milestones turned to grand gestures. From wedding aisle dances to surprise proposals, we've seen special moments between couples unexpectedly explode as viral videos. (Remember the flash mob style marriage proposal set to Bruno Mars' "I Think I Wanna Marry You"? That precious little slice of that couple's life has been viewed over 27 million times in the last 2 years.)
Understandably, we worry about this kind of Internet publicity overshadowing the moment itself. Our cultural love of grand gestures—even I can't resist watching that flashmob proposal over and over—may build up expectations and lead us to believe that traditional, straightforward announcements are, as one writer worries, "less meaningful, less important, less loving, less special."
The trend of elaborate proposals and viral announcements has led to backlash. Blogger Kerri Sackville offers this critique:
To me, the whole phenomenon speaks of desensitization. We are no longer sufficiently moved by the wonderful news of a pregnancy. We need more excitement, more titillation; we need the announcement to be bigger and brighter and wittier. We need special effects and pyrotechnics and showgirls and dancers. We need lights and cameras and action, and we need the whole thing uploaded to YouTube so we can share it with our friends.
Yet, many of these videos go viral by accident—after all, no one can really anticipate when a particular clip will be shared again and again and watched by millions. Patrick and Whitney's video entered my feed through a mutual friend, so I got in touch with them to ask about the announcement and all the publicity they've received.
It turns out, the young couple did not set off to ride on the fame of the #ShareACoke campaign or get featured on the morning shows, they were just having fun to share the news with friends. Weeks earlier, with the cameras off, Whitney told her husband, a children's ministry pastor, that she was expecting. They shared special, private moments telling family and close friends. They didn't need voiceovers or catchphrases to celebrate—they'd been celebrating their new life already.
Often, the issue with the viral videos lies not with the creators, but with us as the viewers. We're tempted to (cynically) project motivations on to the makers or let the clips stir up the thief of joy in our hearts, that old enemy: comparison.
Keeping up appearances has been a struggle since biblical times. Facebook and YouTube certainly didn't invent our need to feel smarter, funnier, prettier, cooler, or more popular. They just make it easier to measure, in likes, shares, and views.
As Courtney Reissig wrote on Her.meneutics last year, "Somehow, it's not enough just to be pregnant anymore. Mommies-to-be want more: a clever, cutesy themed party, a decked out nursery, or one of a dozen other ideas pinned onto their inspiration boards. While these things can be fun and exciting for new parents, they're also more ways we all feel pressured to yet again keep up with everyone else."
My husband and I have made pregnancy announcements twice now. We never got anywhere near 4 million views. Our announcements were very much "us," witty status updates in a style typical of our sense of humor, "Marie is pregnant. So I am eating for two." We aren't the McGillicuddys, and that's okay.
Speaking with Patrick and Whitney, I sensed that this announcement was very much "them." They are creative people who enjoy entertaining others and bringing them joy. Do they feel pressure to top themselves? Not really. In fact, they are keeping the gender announcement pretty private.
The #ShareACoke video was never intended to put anyone else's pregnancy announcement down, or challenge anyone to top them. Patrick just, "really enjoys that kind of creativity. I just love being able to give people joy from something creative."
So what's their takeaway from Internet stardom? Probably the same thing we should all say to ourselves when we start feeling pressure to top the social media success of others. Patrick said:
I have to ask myself, "Am I finding worth and value from a video or am I able to rest in being accepted by Christ?" Sure, there's a certain amount of validity that comes from acclaim, but the beauty of the video was that we didn't intend for this to happen. It was such a special thing that we did together. It was very affirming that people enjoyed it, but at the end of the day, I come home and my life is about 1) Whitney and 2) Jesus.
And baby makes three.
Marie Osborne is a wife, mama, and blogger who loves Jesus & large non-fat lattes. You can find Marie at mrsmarieosborne.blogspot.com encouraging, challenging, and laughing… under a pile of diapers.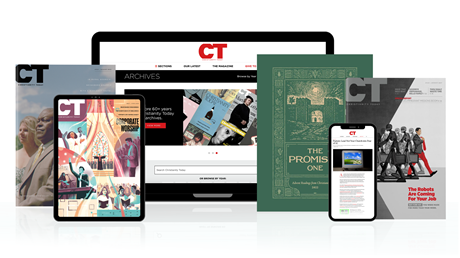 Subscribe to Christianity Today and get access to this article plus 65+ years of archives.
Home delivery of CT magazine
Complete access to articles on ChristianityToday.com
Over 120 years of magazine archives plus full access to all of CT's online archives
Subscribe Now
Christian Couple Responds After #ShareACoke Baby Announcement Goes Viral
Christian Couple Responds After #ShareACoke Baby ...