true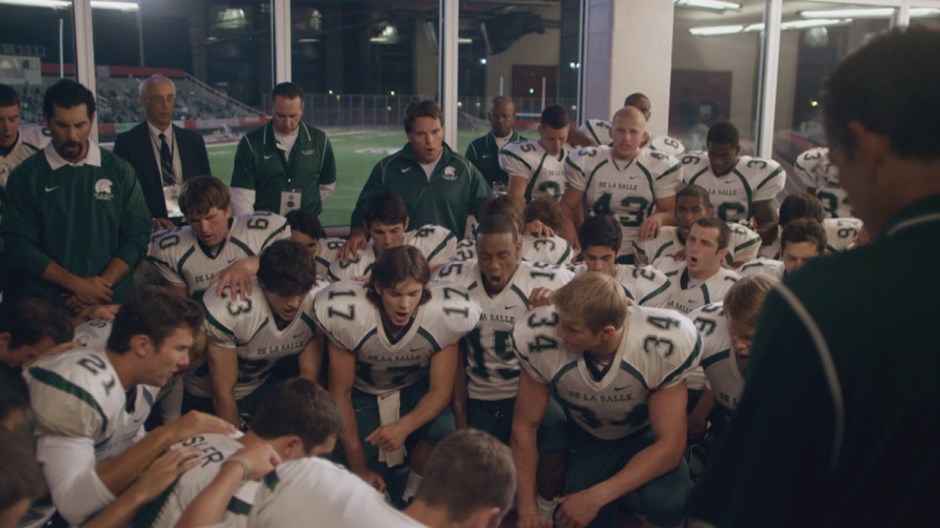 Image: CTMG, Inc.
I never played high school football, but I was around it enough as a sportswriter — roaming the sidelines at hundreds of games, hanging out at practices, in locker rooms and in coaches' offices — that I developed a really good knowledge and feel for the sport.
I've seen terrible teams and terrific ones. I've seen awful players and amazing ones, including many who went on to star in college and the NFL.
And I've heard all the clichés – 110 percent of them!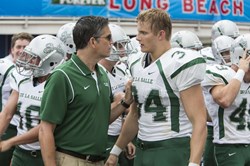 Image: Tracy Bennett / CTMG, Inc.
Which is why I wasn't too bothered by the canned platitudes that make up much of the dialogue of When the Game Stands Tall, a film celebrating not only the greatest team in high school football history, but the coach — and the truisms and ideas — behind it.
De La Salle High School, a Catholic school for boys in Concord, California, won an astonishing 151 consecutive games from 1992-2004. That's 104 more victories than the best streak in college football history (Oklahoma's 47 from 1953-57), and 130 more than the NFL's longest (New England's 21 straight in 2003-2004).
When the Game Stands Tall is based on the 2003 book of the same name by Neil Hayes, a sportswriter for the Contra Costa Times. I don't how many clichés are in the book, but if Hayes quotes De La Salle coach Bob Ladouceur at all, it's certain to have some.
Here are just a few from the film, as spoken by "Coach Lad," played by Jim Caviezel:
We got caught up in the hype, the celebrity, the glory.
We're not just a football team. We're a family, a brotherhood, which is based on love. And love means you can count on me, in good times and bad.
You're not alone. You've got me and 60 brothers on this team.
We're going to find out what this team is made of. You've got to decide what you want to be.
It's not about winning or touchdowns. It's about growing up.
You get the idea. But here's the thing: They're delivered with such sincerity that you believe them right along with the players. And not just because they're so earnest, but because — at least at De La Salle High, and at least while Ladouceur was coach — they're true. And because Ladouceur, a devout Catholic who also teaches religious studies at the school, lives out these ideals right before their eyes.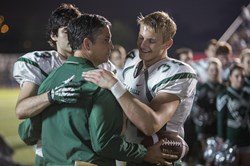 Image: Tracy Bennett / CTMG, Inc.
He's the real thing. And Caviezel, also a devout believer, captures his subject very well — a coach who truly loves his players first as young men made in God's image, and second as football players. Don't get me wrong: Love alone won't win football games. Ladouceur — who went 399–25-3 in his career before retiring last year — is a fantastic coach, and he has had incredible talent on his teams. But most of his players grew up to be exemplary young men, even the ones who didn't play ball in college or the NFL.
In a video promo for the film, the real Ladouceur says that as a coach and mentor, "there's a lot of gospel values to base our actions on and our motives from. I do believe you have to live the gospel too. If you're going to be in front of kids, you have to be examples. If you're going to be in front of them, you can't be hypocritical. That's one of the things Jesus was most critical of, the hypocrites."
If those are clichés, bring 'em on. Ladouceur is the kind of guy you'd want your kid to play for. And I really appreciate a coach who motivates his team without using vile language, without shaming players, and rarely raising his voice. I saw plenty of all that in my years of covering the game, and it's absolutely unnecessary.
The movie comes from Affirm Films, whose mission statement is to create entertainment that "inspires, uplifts, challenges and captivates." When the Game Stands Tall mostly delivers on all four counts. And though I wouldn't call it a "Christian film" (a term I mostly avoid for many of the same reasons my friend and colleague Alissa Wilkinson so articulately outlines here), it will certainly appeal to believers.
Indeed, Affirm (Heaven Is for Real, Moms' Night Out, Soul Surfer) is marketing the movie to faith-based audiences, and rightly so. But don't let that stop you from watching it; this is no mere cheesy Christian movie with an "evangelistic agenda." It's a very good inspirational sports movie reminiscent of those that Disney has done so well — like Remember the Titans (2000), The Rookie (2002), Miracle (2004), Invincible (2006), Secretariat (2010), and this year's Million Dollar Arm.
Part of what made all of those films so enjoyable was knowing that they're true. And that's a big part of why When the Game Stands Tall works well . . . because you just can't make this stuff up. One hundred and fifty one straight wins? That's insane. But it really happened.
But it's not all cheers and championships. One key character almost dies of a heart attack, there's a terrible tragedy involving one of the players, and the streak comes to an end. These events are explored with some emotional depth, as coaches and players alike ask hard questions about life and about God. Faith and doubt collide, priorities and assumptions are confronted. Such scenes give the story the gravitas it needs to succeed.
In my opinion, Remember the Titans is the best inspirational movie about high school football ever made. The Blind Side (2009) isn't far behind, but it doesn't stand up to repeat viewings as well as Titans. Friday Night Lights (2004) and All the Right Moves (1983) are also exceptional, but are more of the "drama" genre than "inspirational."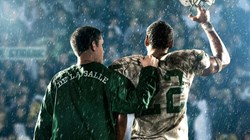 Image: CTMG, Inc.
When the Game Stands Tall isn't as good as any of those four films. But it's everything that Facing the Giants wanted to be — a thrilling movie about high school football, faith, friendship, and family. And if there's one place When the Game Stands Tall outshines the others, it's on the football field. The game action is superb, fantastically filmed (and, yes, choreographed). And they clearly had some good athletes to pull it off. The film is worth watching at the very least for the football itself.
Caviezel is steady and believable in the lead role, and Laura Dern (as his wife) and Michael Chiklis (as his assistant coach) are both solid. Several of the players are well-acted, and several aren't. The film's main weakness is Clancy Brown, who portrays the father of one of the star players. Brown, a fine actor, is too over-the-top as a domineering dad who lives vicariously — obsessively so — through his son's exploits, that he becomes more of a caricature than a character. (I've seen plenty of crazy sports parents in real life, but this guy is absolutely nuts-o.)
But the pros outweigh the cons here. And with high school football starting up all over the country right now, the timing couldn't be better.
Caveat Spectator
When the Game Stands Tall is rated PG for thematic material, a scene of violence, and brief smoking. A teen kills another teen with a gun, but the camera cuts away just before the gunshot, and no blood or gore is shown. It's fairly family friendly, for 8-up. Lots of good conversation starters for parents and youth pastors with their children and teens.
Mark Moring, a former film and music editor at CT, is a writer at Grizzard Communications in Atlanta.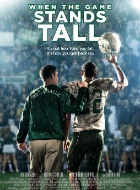 Browse All Movie Reviews By: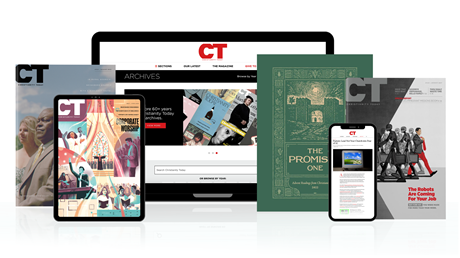 Subscribe to Christianity Today and get access to this article plus 65+ years of archives.
Home delivery of CT magazine
Complete access to articles on ChristianityToday.com
Over 120 years of magazine archives plus full access to all of CT's online archives
Subscribe Now
When the Game Stands Tall
When the Game Stands Tall