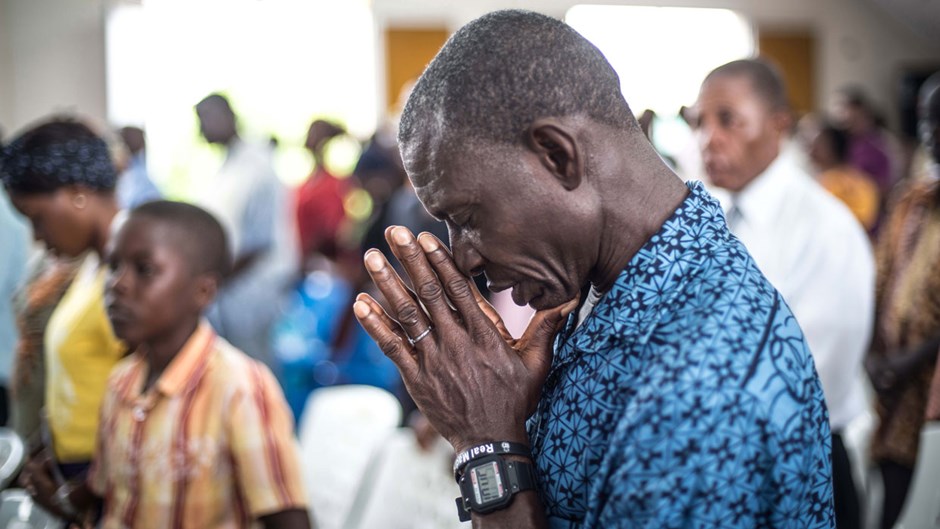 Image: Anadolu Agency / Getty Images
West Africa's Ebola pandemic is far from over and the confirmed death total has surpassed 6,070. As it slows down in Liberia, the number of cases is accelerating in Sierra Leone, according to the World Health Organization (WHO).
Public health authorities are now expanding home-based observation and care for people newly exposed to Ebola. In an urgent bid to reduce new infections, many individuals and families are under quarantine for 21 days. Caring for people under quarantine is something tangible that churches, ministries, and trained volunteers could do. In the hardest hit nations (Sierra Leone, Liberia, and Guinea), there are in total about 8,600 churches and hundreds of Christian ministries.
One ministry to disabled African women is Memphis-based Women of Hope International. Kim Kargbo, the adult child of missionaries to Sierra Leone, founded Women of Hope in 2009. As the Ebola crisis grew worse, Women of Hope teamed up with the Global Community Health Evangelism Network in teaching and training local Christian leaders to respond to the Ebola pandemic. (They don't do direct clinical work in treatment centers.)
Leaders drafted a unique written resource in English and French called "A Biblical Church Response to Ebola." It is free online and explains a Scripture-based response model for churches, using 18 passages and historical references to the Black Plague, the yellow fever epidemic, and HIV/AIDS. Kargbo and Ruth Ada Kamara, Women of Hope's Sierra Leonean program manager, returned to the United States to raise awareness about what American churches might do as well. They spoke recently with Timothy C. Morgan, CT senior editor, global journalism, and Deann Alford, a Texas-based journalist.
What vision are you casting of the church's biblical response?
Kamara: As the body of Christ that God has placed in this world, we're responsible for bringing the truth to people.
Kargbo: A Sierra Leone missions leader said that it's time for the church to rise up and take a position of community leadership and help people break through lies and fear with truth. But Sierra Leone has a big sacred-secular divide. The church does church, and the medical community does medicine, and the government does policy.
Truth and knowledge empower Christians to act appropriately. They began to see the church's part to play. This is more than a medical issue. It has to do with spiritual issues and truth. For training, we created materials that addressed specific health aspects and the underlying worldview issues driving the virus forward.
How do Christian leaders reach high-risk families and neighborhoods on the frontlines of the Ebola epidemic?
Kamara: Volunteers are trained about these issues in Community Health Evangelism (CHE). Each community health evangelist is assigned to travel the community teaching what Ebola is, its prevention, care for those infected and quarantined, and what the community should do. We recently trained 15 church leaders. Their role and the church's role extend into taking care of the sick, praying and comforting in practical ways, such as outreach to the quarantined houses.
If the government doesn't visit, as the body of Christ, we should visit. It doesn't mean always that we can go into the houses, but people must see that we have concern for them. When churches learn of a nearby quarantined home, they should check on the people, ask whether they're getting food. If they're not, the church needs to step in.
What negative ripple effects from Ebola are taking place?
Kargbo: Once our town went under quarantine, our organization started an emergency food relief program for the 350 women with disabilities whom we already serve. Though we don't normally give away anything on purpose, this is a desperate situation. We want to avert starvation.
The Ebola crisis is not just about a virus. It's so much more. Schools will not reopen this school year. Kids at home are super-isolated and bored. They're not allowed to play sports or with their friends. Thousands of people have lost their jobs. Businesses have closed. Foreign investor businesses have pulled out. All public transportation has shut down.
The spiritual impact has been severe. We ask: What are the secondary effects and how can we mitigate those? That includes emotional and spiritual care, children's education, orphan care, and support for the families of women who have died.
Is this kind of in-depth outreach too difficult for the typical church?
Kargbo: In workshops, we don't specifically say what each church should do. We look at the Scriptures regarding the mandate to the body of Christ amid such a health crisis. In small-group discussions, we ask: Practically speaking, if this is our mandate, how do we implement that in our current situation with the Ebola crisis?
The participants write down practical ideas for their congregation or ministry, and a biblical response to the crisis.
Are lay Christians receptive to the call from church leaders to respond?
Kamara: I tell them: "I'm an authority who the Lord has placed. Believe what I'm telling you." That foundation has a spiritual edge. It goes a long way because they believe in the Bible and church teachings. We use role-playing to promote discussion. Churches see how they can be part of the fight. The church had been looking at Ebola as if it's not their responsibility because they are not medically inclined. They weren't even talking much about this, only praying.
Kargbo: Churches don't have a lack of desire or a lack of motivation. But the complications of getting involved are very difficult. There are a lot of hoops to jump through to figure out logistics. Our workshop was very well received. There was a lot of wrestling [in asking]: What is our responsibility as believers? And with the logistical complications—people feel helpless. It's hard to know what to do in this complex situation. How to work around the risks and regulations that hamper the ability to work? The church in Sierra Leone is small. But what if it were mobilized to act? The goal would be to get each believer thinking about his or her biblical responsibility in this crisis.
Is it true that West Africans are also being exploited by corrupt faith healers who promote their own methods, witch doctors who claim they have cures, and false biblical teaching in general?
Kargbo: Yes. There was a lady with a radio campaign fraudulently selling special soap to prevent Ebola.
Kamara: One time at 2 A.M. a group in the community woke us up to say that a Nigerian pastor had a word based on 2 Kings 2:19–22 that God is so annoyed with West Africans because of the sin of the people. He said Ebola is a plague and we all should wash with salted water. The message spread through radio, town criers, and mass texts. Christians were calling me. I refused to do it. It was just false.
Kargbo: It's a case of people taking an element of truth and twisting it. Another common response is a massive number of fasts. If the fast didn't work, then fast without water. So as part of our leader training, we talked about living on this side of the Cross. Christ became the curse for us. We are no longer under the curse of God because of grace.
Right after the outbreak, what did health authorities tell people to do?
Kamara: News about the outbreak came into our country over the radio. They said you cannot touch people. I work with women with disabilities. Some are blind. Some are crippled. It was scary for them.
Kargbo: The government has made nitpicky policies about all sorts of things. "Bylaws for the Prevention of Ebola" is a printed government document with rules regarding Ebola. A recent rule forbids use of car seat belts because the seat belt might have Ebola—never mind that the seat might have Ebola. Another forbids gatherings unless they have to do with Ebola. Authorities will step in to a gathering and say, "What's going on here?" Unless you can say, "We're talking about Ebola," they'll say, "You need to go home."
Are local churches holding fewer worship services? Are churchgoers told not to touch each other?
Kamara: At our church, an elder said that rows should have only six people, not the usual ten. I wanted to challenge him and asked to speak, but he quoted a Scripture that we should obey authorities. I'm the children's pastor, so I asked how he would help me with 60 children. He said, "Well, we will see how to arrange that so the children can have church but not the adults." We don't even have Communion.
Are there other rules that affect the practice of faith?
Kargbo: There's misinformation everywhere. One pastor said that a bylaw forbids prayer for a sick person. I read through the bylaws. It wasn't in there, but all the pastors believed it was. They had been operating on false information. I told them that obviously they may not want to lay hands on a person with Ebola. But they were just accepting that we can no longer pray for sick people because that's what the government said, without checking whether it was true.
What kind of response from US churches have you seen?
Kargbo: I returned in September from Sierra Leone with a friend who is raising support to work there full-time with her family. She was already scheduled to speak at a Minneapolis-area church. The pastor called to cancel her speaking engagement: "If you come, people won't come to church that day." The church in America needs to stop reacting in fear. We can't help people while we're afraid of them.
I have a daughter, who is 16. A student at her Christian school in the United States came to school sick with a stomach bug and other kids got it. One student said about my daughter, "This is probably her fault because her mom just came back from that Ebola place and she probably gave it to us." Fear-mongering is happening on both sides of the ocean.
What would you ask the American church to do beyond prayer and giving?
Kamara: We need the American church both morally and financially. We cannot say one is better than the other. We can say they should pray more, but also they shouldn't forget us in this time of crisis. We need both prayer and financial support.
What is this crisis revealing about the church?
Kargbo: What does the Bible say? I heard a Christian broadcaster say, "Jesus always ran toward sick people." That's a good reminder. As Christians, we need to be running toward, assisting, and helping. It's not just Ebola care. As a church, we need to evaluate our response more biblically, not responding out of fear.
At what point in time did we determine that following Jesus was supposed to be safe? Ask those hard questions. How do we show the love of Christ to people who are in crisis, even if that puts our own lives at risk?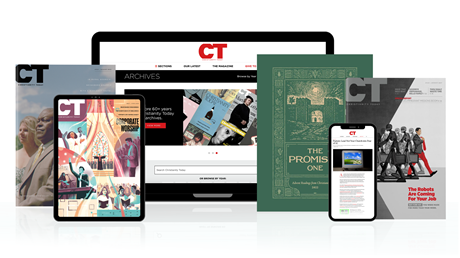 Annual & Monthly subscriptions available.
Print & Digital Issues of CT magazine
Complete access to every article on ChristianityToday.com
Unlimited access to 65+ years of CT's online archives
Member-only special issues
Subscribe
Why the Ebola Crisis Needs a More Biblical Response
Why the Ebola Crisis Needs a More Biblical Response