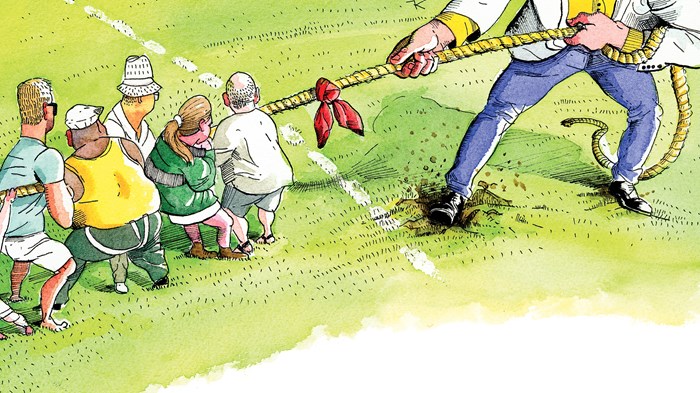 Image: Illustration by Paul Kisselev
Editor's Note: Since the following story appeared in the January/February print issue of CT, we've received questions from readers asking what they or their pastors should do about their sermons. We've also consulted with our in-house legal expert, who has written volumes (literally) on the nature of copyright law as it pertains to churches. He stands by our reporting as accurate, but warns that churches and pastors are wading into legally unprecedented territory. "Line up 10 legal experts, and they will give you 10 slightly different answers to the question, 'Who owns the pastor's sermon?'" he said. Thus, readers should take the following report as an accurate assessment on a legally thorny issue, not direct legal advice. The story has also been updated to reflect nuances from a source. —Katelyn Beaty, managing editor, CT magazine
In the late 1970s, Sealy Yates was sitting in his California law office when Chuck Swindoll paid him a visit. Swindoll was then a relatively unknown pastor at First Evangelical Free Church in nearby Fullerton. He had run into some legal trouble and wanted Yates's advice. At issue: Who owned Swindoll's sermons—Swindoll or First Evangelical?
A few years earlier, Swindoll had allowed a friend to launch a radio program called New Standard for Living, which broadcast his sermons. The program had done well, and now Swindoll wanted to take a leadership role in the radio ministry. But his friend balked, and their dispute seemed headed for court. Swindoll wanted to avoid a lawsuit, and Yates asked if he could mediate the dispute.
Yates said, "I asked Chuck, 'Who owns your sermons?' His response was, 'I don't know.' ...
1