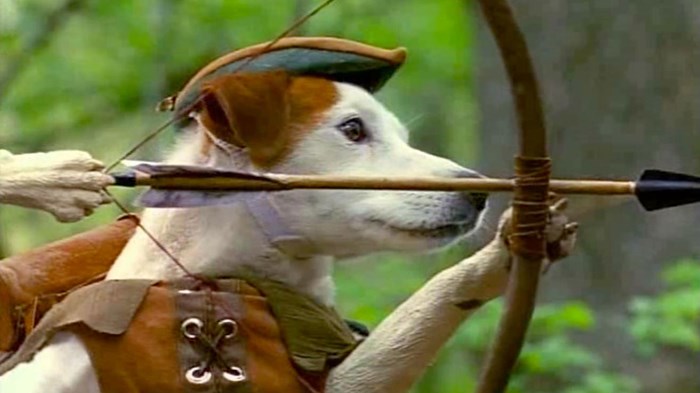 Image: PBS
Can I tell you a secret?
An embarrassing amount of what I know about classic literature comes from a kids' TV show called Wishbone.
You might remember the show. It aired on PBS in the 1990s and introduced young viewers (around middle school age) to the plots of great books. Each episode followed a familiar pattern: Wishbone—a Jack Russell terrier with, as the theme song put it, a "big imagination"—and his family encountered some kind of normal real-life situation to which the young viewer could relate. Maybe they went on a picnic, or worked on a science fair project, or encountered a moral dilemma and had to make a good decision.
Wishbone the pup had (somewhat inexplicably) read a lot of good literature and saw parallels between the real-life situation of his family and some story told in an old book. Then, in scenes that felt like flashbacks spliced into the present-day narrative, a band of players would dramatically act out the plot of the book.
The episodes were only half an hour long, so of course they couldn't act out the whole book. However, they were surprisingly good at capturing the main thrust of the plot and its major themes. And because it was set on top of a contemporary story, kids started to see how fictional tales about fictional characters could help them navigate real-life situations.
Wishbonewon four Daytime Emmys, a Peabody Award, and honors from the Television Critics Association, but more importantly, it remains firmly beloved by scores of people who were the kind of kids who came home from school to watch shows about book-loving dogs. (During graduate school, my friends and I could break into the theme song at a moment's notice. There's a reason we'd ...
1
Watch This Way
How we watch matters at least as much as what we watch. TV and movies are more than entertainment: they teach us how to live and how to love one another, for better or worse. And they both mirror and shape our culture.
Alissa Wilkinson is Christianity Today's chief film critic and assistant professor of English and humanities at The King's College in New York City. She lives in Brooklyn.
Previous Watch This Way Columns: