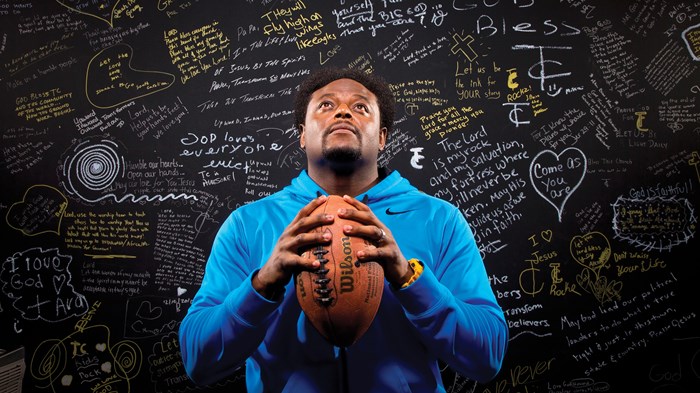 Image: Photo by Bob Leverone
Growing up on the west side of San Antonio, I believed in god—the god of football. The game was my ticket out of an early life saturated with violence, addiction, abuse, and chaos.
I was raised by my grandmother, because my parents were only teenagers when I was born. They were children bringing a child into the world. As much as they wanted to care for me, the hurt and brokenness in their lives prevented them. "Grannie" was a Jehovah's Witness, so that was the religion I knew. After a while, even that went away.
We were not poor. We were "po." We couldn't afford the other o and r. We didn't eat meals together. We didn't pray together. There were good times, like when we'd go fishing or when my grandfather would come home after work in the evenings. By the time I was 13, however, I looked at my environment and told my grandmother, "I'm going to do something with my life."
Football was my way out of the hell I was living in. I believed it would lift me into the heaven of the American dream.
Football functioned as my savior. It gave me love: If I played well, I was loved by fans. It gave me an identity: I was Derwin, the football player. It gave me significance: I was somebody because I was a great player. And football gave me a mission. My mission was this: Derwin, you can go to college and make something of your life.
Running from Naked Preacher
During my sophomore year of high school, I started to do just that. I transferred to Judson High School in Converse, a suburb of San Antonio, where I played for D. W. Rutledge, the Texas High School Hall of Fame coach. My senior year, I accepted a football scholarship to Brigham Young University (BYU). So, ...
1