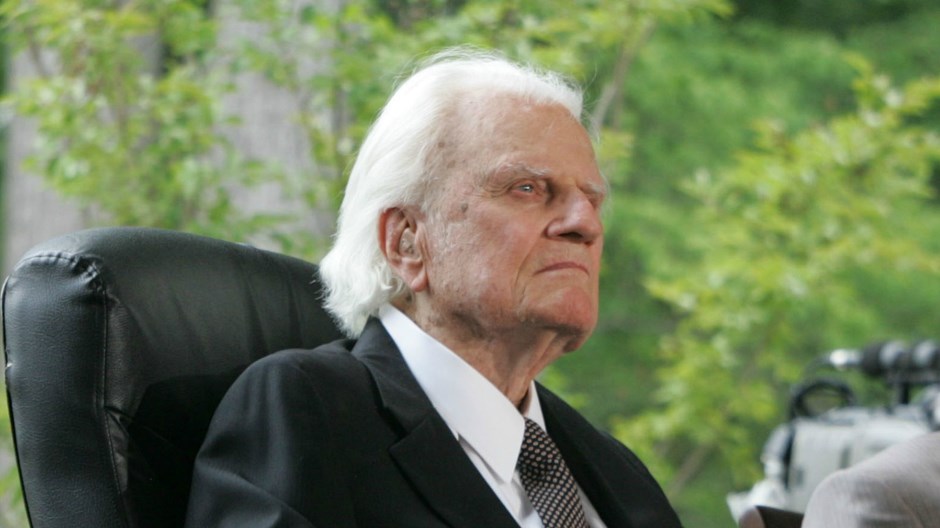 Image: BGEA / Demoss
Old and in the way, that's what I heard them say
They used to heed the words he said, but that was yesterday
Gold will turn to gray and youth will fade away
They'll never care about you, call you old and in the way
Once I hear tell, he was happy
He had his share of friends and good times
Now, those friends have all passed on
He don't have a place called home
Looking back to a better day, feeling old and in the way
- lyrics and music by David Grisman
Old and in the Way is the self-titled first album by the bluegrass band of the same name, which until the soundtrack for O Brother, Where Art Thou was the top selling bluegrass release of all time. While many in their sunset years can to relate to these lyrics, they don't apply to beloved evangelist Billy Graham, who celebrates his 96th birthday today.
It's been nearly a decade since Graham's last live crusade in 2005, but anyone asking, "O Billy, where art thou?" will be encouraged that his preaching continues to have an impact through his second annual "My Hope" evangelistic program, to be televised nationally on his birthday.
While many of Graham's closest friends and relatives have "passed on," including his wife, Ruth, who died in 2007, the preacher does have a place to call "home" for eternity—heaven—which is the central theme of his message.
The psalmist wrote, "[The righteous] will still yield fruit in old age" (Ps. 92:14, NASB). Graham's example and inspiration continue to be felt as he models for the world how to make this stage of life the most fulfilling—even as he weakens physically—by growing stronger spiritually, in anticipation of heaven.
Though no longer be preaching from the pulpit as he did for more than six decades of active public ministry, he is certainly not "in the way." His message remains timeless, through books he authored, commentary he made, interviews he taped and television programs and films on which he appeared. More importantly, he regularly repurposed and repacked that message, leveraging technology to reach the masses, the medium of music to engage the young, and the power of story to relate to audiences outside the church.
As for people "never caring" about Graham at this stage of life, that, too, is counter-intuitive to his ongoing influence. Over many years fielding media calls during the days preceding his annual birthday milestone, I have been reminded of the ongoing respect and concern for him and his well-being among the nation's press. That is only exceeded by the extensive gratitude to God for his gospel witness within the Christian community.
The familiar passage in Psalm 71:17–21 speaks of God's faithfulness throughout our lifetime: "Since my youth, O God, you have taught me, and to this day I declare your marvelous deeds. Even when I am old and gray, do not forsake me, O God, till I declare your power to the next generation, your might to all who are to come" (NIV).
Graham has demonstrated that God is faithful—in our youth, when sometimes we don't appreciate it, and in our later years, when we can look back and are able to see what he has accomplished around us and through us.
For Abraham, the Old Testament patriarch, arguably his latter years were the most productive, "Abraham was so old, he was almost dead, but from that one man, so many people came that they were like stars in the sky" (Heb. 11:12, ERV). Billy Graham has countless spiritual descendants who look to him as their father or grandfather in the faith. His influence spans both the 20th and 21st centuries because of leaders trained and the legacy of millions who have made decisions for Christ through his crusades and other ministry platforms.
On his 96th birthday, I can't help but reflect on how God has kept and preserved Rev. Graham, met his needs and fulfilled his purposes throughout the evangelist's life. His personal integrity and assurance in Christ is an inspiration to many and an example to anyone in ministry, as he has remained faithful to his calling.
Anyone who has ever been influenced by Billy Graham's mentorship, discipleship or friendship can continue to live by those precepts, and apply the transferable principles of trusting God to provide answers, resources and hope for the future, both near and distant.
As Graham so powerfully exhibited, it is not what happens in our lives about which God is most concerned, but rather our reaction to those events. His Christian witness throughout difficulty has been an inspiration to many—that includes the depth of his grief following the passing of his wife Ruth, matched by the magnitude of God's grace, which he modeled for many others who have encountered similar life experiences.
Things of this world are measured in years, days, minutes and hours, but the Bible provides additional assurance that, "my times are in your hands" (Ps. 31:15). We will have as many birthdays as the Lord planned for us from the beginning of eternity.
Everyone who heard Billy Graham preach or is familiar with his ministry can be grateful that God has honored the evangelist's faithfulness and continues to answer prayers for his sustaining influence nearly 70 years after his ministry began.
Larry Ross is president of A. Larry Ross Communications, a Dallas-based media/public relations agency that provides crossover media liaison emanating from or targeted to the Christian market. For more than 32 years, he served as director of media/public relations for evangelist Billy Graham—over one-half of his public ministry.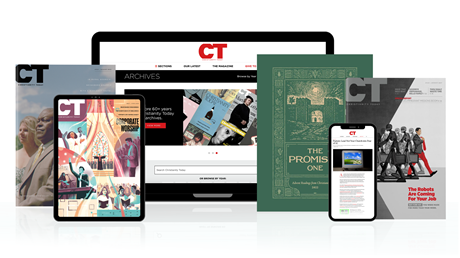 Subscribe to Christianity Today and get access to this article plus 65+ years of archives.
Home delivery of CT magazine
Complete access to articles on ChristianityToday.com
Over 120 years of magazine archives plus full access to all of CT's online archives
Subscribe Now
Billy Graham: 96 and Still Preaching
Billy Graham: 96 and Still Preaching