true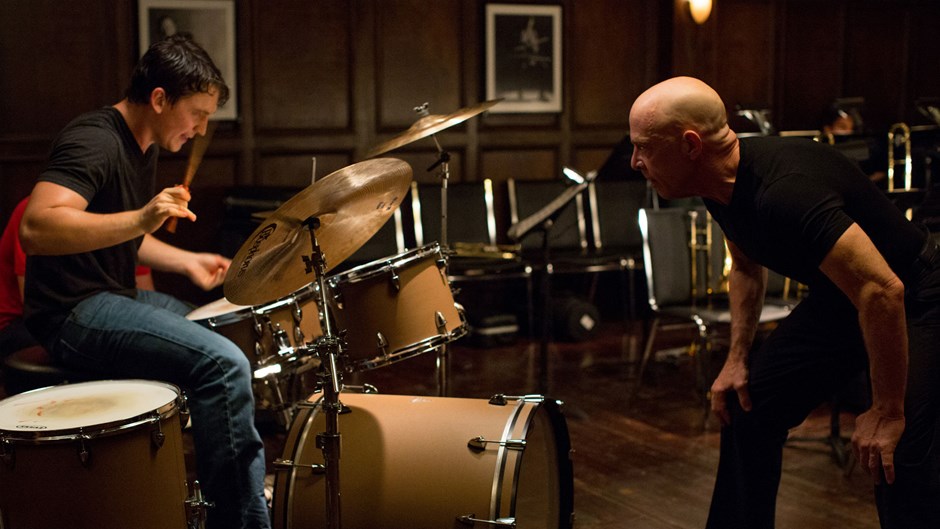 Image: Daniel McFadden / Sony Pictures Classics
The films roll on at the New York Film Festival, as screenings open to the general public run alongside press screenings now that the festival is well into its third week. If you're in this neck of the woods the next couple of weeks you couldn't do much better than snagging a ticket to one of the festival's many offerings and then planting yourself in line outside the Walter Reade Theater.
I'll certainly be there early as can be this Saturday morning for the world premiere of Paul Thomas Anderson's Inherent Vice—and, yes, that's sort of a gleeful brag considering the film doesn't properly open until Christmas.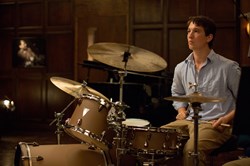 Image: Daniel McFadden / Sony Pictures Classics
Still, there's plenty for all of us to look forward to until then, not least of which is the new semi-autobiographical film by Damien Chazelle, Whiplash. Set in the dog-eat-dog world of an elite musical conservatory in Manhattan, the film follows Andrew Neyman (Miles Teller giving a marvelously physical performance) as he aims to secure (and keep) a spot as first chair drummer in the conservatory's top jazz ensemble, referred to as "the studio band." Andrew, however, finds himself up against Terrence Fletcher, the group's conductor who regularly inflicts emotional and physical abuse on his pupils in the name of jazz purity. It's a method that Fletcher hopes will weed out the merely (and sometimes even exceptionally) competent players, while pushing talented musicians to new realms of ecstatic musical performance.
Playing Fletcher, J.K. Simmons absolutely blows it out. Outfitted in tight black T-shirts and matching trim pants that show off his lean and sinewy body, Simmons goes full Sargent Hartman on his pupils. He tosses chairs and floor toms. He insults moms. He slaps faces.
You get the idea: he's no John Keating, and he doesn't inspire any "O Captain! My Captain!" moments. But the thing is, most of the time his methods work. The "studio band" indeed swings hard.
It's a swing that finds its analogue in Chazelle's visual style. There's such verve in the musical numbers here, such panache from Chazelle, that you're reminded of the pleasurable contact high you get from Busby Berkeley's choreographed dance sequences in film's such as 42nd Street and Gold Diggers of 1935 (yes, I went there!). In Whiplash's musical numbers, the camera swishes at dizzying speed. We get rapid close-ups of fingers flexing on horns, lips pursing on mouthpieces, sticks hammering on drums, and sweat popping out on concentrated brows.
In the post-screening Q&A, Chazelle acknowledged that he wanted the film "to live in close-ups." And it is from these close-ups that he builds the film's most memorable scenes, providing infectious rhythm through frenetic cutting. In this way, to see the film in a packed theater with a tuned-in audience is quite affective.
If it seems I've made a big deal out of the musical set pieces, then you're right. These brilliantly orchestrated visual/aural freakouts are the center of the film. This isn't to say that the narrative is superfluous, but at times it does creep into that overly-familiar, master/pupil genre (think Karate Kid, Mr. Holland's Opus, et al). Still, Whiplash's vision—embodied by Fletcher's disturbing methods and Andrew's obsession—is much darker. Andrew wants so badly to be the next Buddy Rich that he's readily willing to ditch his new girlfriend, alienate himself from his father, and continually put his life and health in harm's way. With just enough narrative curveballs, Chavelle spins this all together at a breakneck pace—it's a speed, I predict, audiences will find wildly satisfying.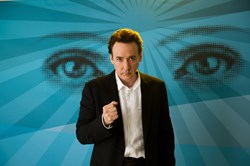 Image: Caitlin Cronenberg / Entertainment One
If Whiplash is an easy sell to wide audiences, Maps to the Stars will most likely find champions from smaller niche crowds. Maps is David Cronenberg's caustic send-up of contemporary Hollywood culture. Both hyper-violent and sexed up, Maps plays like Sunset Boulevard as directed by . . . well, by David Cronenberg. Prior to hitting a more mainstream stretch with History of Violence and Eastern Promises, Cronenberg made films that explored the relationship humans have with entertainment media (Videodrome), as well as films interested in the corporeal havoc wreaked on man when he pushes beyond the known boundaries of science and technology (The Fly).
In Maps we find Cronenberg circling back to similar themes—only in Maps, his mind is made up. Where his earlier work asked questions and pursued implications, his new film rather un-delicately, and quite didactically, spews bile at its target.
The movie's grim narrative revolves around a child star (Evan Bird), his cold, self-interested parents (John Cusack and Olivia Williams), a washed-up actress (Julianne Moore), and a fresh-off-the bus girl (Mia Wasikowska) who's come to L.A. based on a Twitter relationship with Carrie Fisher (as herself). The film's action is put in motion when Moore's Havana Segrand wants to the play the part of her actress mother in a movie about her mother's life.
It's a bit of an unwieldy plot. And, yes, there's murder and casual infidelity, and even the question of incestuous relationships. That's all par for the course, for pretty much any Hollywood film really.
But Maps is also the kind of film where dogs are gruesomely shot at near point-blank range and women are bludgeoned with their best actress award trophies. In this morbid milieu, questions of plot like "who did what to whom?" and "how exactly do these stories relate to each other?" take a backseat to Cronenberg's damnation of the whole lot. After all, it's a Hollywood run by child psychopaths, slick self-help soothsayers, and their soulless agents.
Cronenberg's objective distance from the wreckage—manifested in a cold and detached visual style— gives the film a darkly comic undertone. It's hard not to be tickled at the deadpan mother-and-son dinner exchange in which industry-speak replaces affectionate intimacy.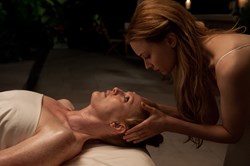 Image: Caitlin Cronenberg / Entertainment One
For that matter, most characters feel uneasy when conversation slips beyond boxes-office grosses, and at least one character is not beyond a self-reflexive "please no more film noir questions" response when questioned about his past. That the film also features John Cusack as a Dalai Lama-quoting self-help guru who puffs away at his e-cig while sporting those weird five-toed shoes—that's just the best.
In the end, though, everyone populating this ersatz universe is in howling pain—both emotional and physical. Indeed, this accounts for the abundance of scenes of characters getting massages, practicing yoga-like mediation, and receiving pseudo-psychiatric help—anything to rid the pain.
And perhaps no one is in more pain here than Wasikowska's Agathe—a center to Cronenberg's story if there is one. With half her body permanently scarred from a fire, Agathe's body is a living testament to the carnage others have wrought. But even still, she's drawn to this weird land hoping for healing that may never come.
Bearden Coleman is Assistant Professor of English at The King's College, where he teaches writing and film. You can follow him on Twitter at @OZUsCamera.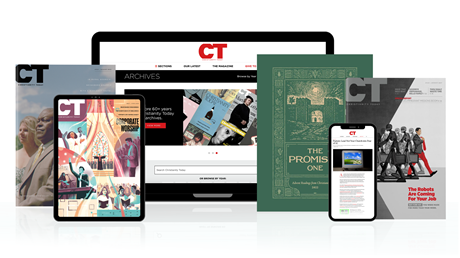 Subscribe to Christianity Today and get access to this article plus 65+ years of archives.
Home delivery of CT magazine
Complete access to articles on ChristianityToday.com
Over 120 years of magazine archives plus full access to all of CT's online archives
Subscribe Now
New York Film Festival: "Whiplash" and "Maps to the Stars"
New York Film Festival: "Whiplash" and "Maps to the Stars"