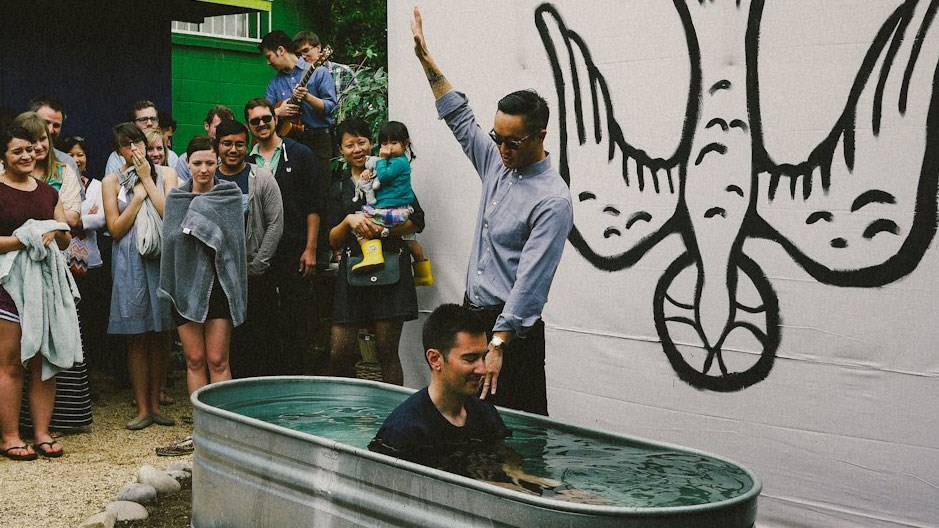 Image: Courtesy Vox Veniae, Austin, Texas
In just a few decades, churches created by Asian Americans have evolved. Once primarily monocultural, they now represent a broad spectrum of models of how to relate to—and reach out to—surrounding cultures.
The Asian Immigrant Church
These churches were created primarily by and for first-generation immigrants, but they also offer programs for their English-speaking children of all ages. Larger churches in this category have global ministries that supplement their original, Asian-specific focus, but they still retain a strong ethnic identity.
Seattle Chinese Alliance Church, Seattle, Washington
Seattle Chinese Alliance Church has built a thriving dual-language ministry in its 40-plus year history. Two-thirds of its 600 attendees speak Cantonese. The rest attend the English service, which ministers to junior high students all the way up to 90-year-olds. Roy Chang is the lead pastor for the English-speaking ministry. One day on a prayer walk he noticed cars lined up in the church parking lot, full of parents waiting to pick up their children from the elementary school across the street. He discovered that 90 percent of the children in the school received free or reduced lunch, the highest percentage in the district. "My youth pastor and I just started connecting with the parents, learning their stories, and praying for them when needed. We became their pastors." Chang says that both he and the church have been permanently changed as a result. "Three to four years ago I didn't even know terms 'academic inequity' or 'achievement gap.' But to understand that the gospel has something to say about those issues, that we can help do something about those issues—that has been priceless to learn. The tension is, are we really ready to embrace people different from us, ethnically speaking? I am praying that we are."
The English-Ministry Offshoot
As the English-speaking second- and third-generation became adults, many found the Asian immigrant church context restrictive. New church models began to emerge in which the English-speaking younger generations took ownership of their own ministries and formed either fully- or semi-independent churches, while still retaining a strong connection to their Asian immigrant parent churches.
Jefferson: A Campus of YNCC, Los Angeles, California
Young Nak Presbyterian Church (YNPC), sits on nearly five acres near Dodger Stadium in Los Angeles and serves thousands of first-generation Korean Americans every Sunday. Its 25-year-old English-ministry offshoot Young Nak Celebration Church (YNCC) shares a campus with YNPC and ministers to 800 second- and later generations of largely Korean Americans whose parents attend the main Korean congregation. But two years ago, the pastors of YNCC decided to experiment with a multisite model, resulting in the creation of a sister location with nary a Korean syllable in its name: Jefferson. Five miles from their sibling churches, the leaders at Jefferson clearly do not feel bound to a Korean American mission field. Campus pastor David Park says, "Jefferson is here because we believe God wants us to cast a different net and reach different people. We saw the inherent limitations of being two churches on one campus, with both a Korean ministry and an English ministry. It was hard for the English ministry to thrive in such a strong Korean cultural context." Jefferson seeks to serve the nearby campus of the University of Southern California and its largely Latino neighbors. "We're looking forward to making an impact and drawing unchurched people, both those who were part of the 'silent exodus' of Asian Americans away from the church, but also beyond," Park says.
The Historic Church
These churches began as Asian immigrant churches planted by Japanese or Chinese immigrants and have operated for more than a century. Some morph into pan-Asian or multiethnic churches; other strive to retain their cultural history and heritage; still others do both.
Japanese Baptist Church, Seattle, Washington
At Japanese Baptist Church, 115 years old, reconciliation is a far more concrete reality than in many churches. "On any given Sunday I have someone who went through the internment here in the U.S. and someone who survived Hiroshima sitting in the sanctuary. I have Japanese Americans whose family members served the U.S. in the 442nd Infantry worshiping alongside those who had family members fighting for Japan," says senior pastor Jennifer Ikoma-Motzko. "But here we are in the same church, and our shared testimony that Jesus is real and reconciles is the gift that we can give to the American church as we equip the next generation to share our story." For many in the congregation and the local Japanese American community, Japanese Baptist is sacred space: the church provided its gymnasium for families to store their belongings in 1942 before they were sent to internment camps, whether they were part of the church or not. Although these families were unable to move back into the neighborhood after their release, they continued attending the church once it re-opened. "When you lose so much of who you are and what your family is, the church becomes all the more important," Ikoma-Motzko says. Today the church continues to serve both a Japanese-speaking congregation as well as a larger English speaking congregation, which includes both those who have some Japanese heritage or are married to someone of Japanese descent, as well as a quickly growing population of those with no ties to Japanese heritage.
The Pan-Asian American Church
A number of Asian American churches have either transitioned over time from being a historic Asian congregation or launched with a primary focus on reaching second- and later generations of Asian Americans. They serve a primarily Asian-American congregation from a wide range of Asian cultural backgrounds.
First International Baptist Church, Memphis, Tennessee
Every pan-Asian church is also a multiethnic church, but some are more multiethnic than others. Take First International Baptist Church in Memphis: Half of its congregants are first-generation Nepalese immigrants; another third are a mix of different second-generation Asian Americans (Lao, Cambodian, Chinese, and Vietnamese); the remainder of the church is African American or white. With such a wide range of cultural backgrounds present, pastor Thi Mitsamphanh makes intentional efforts to affirm the diversity in the church while finding common ground to worship and grow together spiritually. "Our Sunday service is in English, but we try to feature different languages in our worship songs: Lao, Thai, and Nepalese in addition to English," says Mitsamphanh. "We celebrate four different New Year's holidays as well—American, Chinese/Vietnamese, Lao/Cambodian, and Nepalese." Mitsamphanh is a Laotian refugee, and his church has specifically reached out to other refugees who live within walking distance to the church. "Our mission statement is to make disciples in Memphis, but we are able to reach out to people from all over the world," he says. "Growing up, I opted to remain in a Lao church instead of joining a white church because I still wanted to hold on to my cultural background. Hopefully our church will help others who feel the same way. We emphasize both our cultural background as well as our identity in Christ."
The Multiethnic Church
Many Asian American pastors have launched churches with the intention of being diverse or lead churches that have become so over time. These typically feature a mix of pan-Asian American and non-Asian American congregants, as well as diverse worship styles and leadership teams. In some cases they also reflect wide socioeconomic diversity.
Vox Veniae, Austin, Texas
It would be easy to pass right by the low-slung, one-story building in East Austin that looks nothing like a church. But this nondescript location serves as a resource for the community during the week and as a destination for Sunday worship. Gideon Tsang planted Vox Veniae (Latin for "voice of forgiveness") in this unlikely setting, at first with fellow Chinese Americans sent by a Chinese immigrant church. But over time, the congregation came to include a mix of Caucasian, Asian, and other races and ethnicities. "We just wanted to be good missionaries, to eat the food of Austin, to sing the songs, to speak its language," Tsang says. "I'm the son of a missionary, and perhaps because of my missionary-kid background, and because I am Canadian, I knew I didn't want to impose any kind of culture. We were going into a city and what God was already doing there was primary. In the end, we were united by the culture of Austin." Tsang and his family relocated into an Austin neighborhood in which there were no other Asian Americans around—"my son was the first Asian American in the 50-year history of his school, which was 70 percent Hispanic and 30 percent black"—but his heritage actually proved to be an advantage. "My face doesn't represent decades of oppression and hardship for African Americans, and so I have more potential to build bridges with these communities."
The House Church
A growing number of Asian American pastors embrace the call to plant missional communities, resulting in innovative expressions of church in smaller gatherings.
Missio Dei Oakland, Oakland, California
When Alex Schweng turned 40 years old in 2014, he decided he wanted to give his midlife years fully to loving and learning from and serving the poor, day in and day out. Along with his wife, Amy, and their friends Betsy Wang and Jenny Lau, Schweng decided to move to his childhood hometown of Oakland and see how God would lead. "We just prayed a lot and started sharing the gospel with anyone who God put in front of us," Schweng says. What emerged was Missio Dei Oakland, an urban house church network in the eastern part of the city. "We essentially serve two groups: unbelievers and the poor. Virtually everyone in our house churches are unchurched and come from Buddhist, animistic, or atheist backgrounds," Schweng says. Currently, the network has three house churches serving 30 to 40 people in total. "Oakland is so diverse we felt like this was the best way to reach all kinds of people instead of one demographic alone doing a traditional Sunday church." Along with Schweng, who is Korean American, others involved are from Vietnamese, Cambodian, Filipino/Japanese, Mexican, African American, Guatemalan, Chinese, and Caucasian heritages. "We have a lot of people with heartbreaking stories and lives, but it's beautiful what God has been doing in them. In our best moments, I'm amazed by the gospel and that God lets us be a part of this."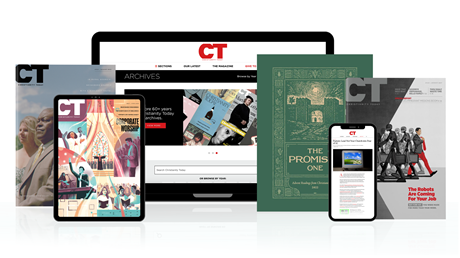 Annual & Monthly subscriptions available.
Print & Digital Issues of CT magazine
Complete access to every article on ChristianityToday.com
Unlimited access to 65+ years of CT's online archives
Member-only special issues
Subscribe
The Many Models of the Asian American Church
The Many Models of the Asian American Church