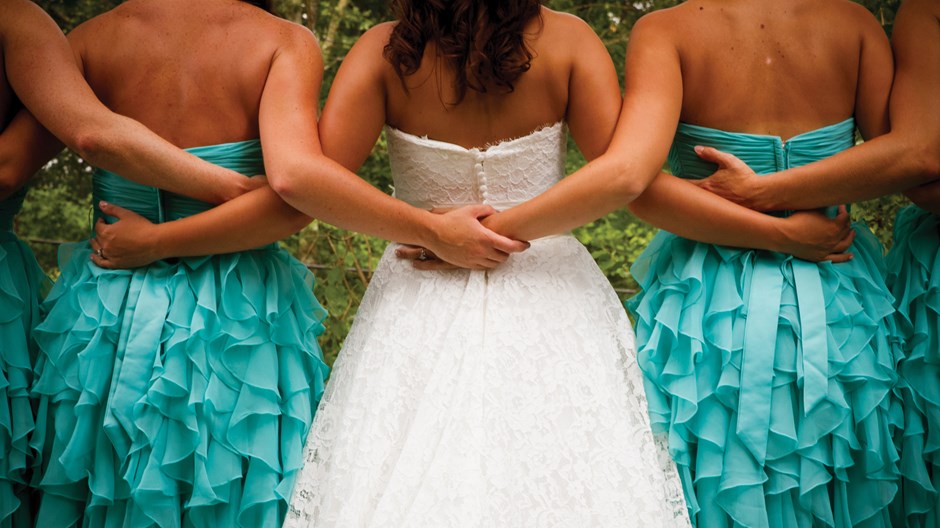 Image: Shutterstock
At many weddings these days, whether on picturesque hillsides or at funky warehouses or in swanky ballrooms, newly minted husbands and wives proudly declare to friends and family, "I married my best friend."
If you attended a wedding this summer, you likely heard the phrase, now so standard in romantic rhetoric that we forget it's not part of the traditional ceremony. "I married my best friend" appears in vows, program dedications, toasts, and other aww-inducing moments (not to mention the cards, frames, cufflinks, wine glasses, and other Etsy-inspired wares that attend modern weddings).
The sentiment, repeated in Facebook posts on anniversaries, is shorthand for the special relationship with someone we are comfortable with, who listens, loves, and encourages. From secular folks to Christians who firmly believe that God sent them the one, nearly all the married people I know are "so blessed" (or "lucky") to get to spend their lives wedded to their best friends.
Even if couples don't announce that they're marrying their best friend, many newlyweds live out this philosophy, dropping out of the friend-making game once they have a ring on their finger. Sociologists find that these days, we typically form our most meaningful friendships prior to age 28. Not coincidentally, that's also the average age we get married.
Marrying your best friend is enough of a cultural expectation that if I admit I didn't, people might pity me. But here's the secret: I'm actually the lucky one. I have a husband who isn't my best friend. And I have a best friend whom I'm not married to. They play different roles in my life, and I need them both.
One Person Can't Meet All Your Needs
For Christians, marriage is a relationship set apart, wherein we assume the cares and concerns of our spouse (1 Cor. 7:32–35; Eph. 5:22–33) in a way that supersedes any other friendship. Of course married people find their most significant relationship in their husband or wife—but that doesn't equate to being BFFs.
I worry that the saying "I married my best friend" conflates the two types of relationships, distorting our views of both.
My marriage remains my priority... But without my friends, my relationship with my husband—and with God—would suffer.
Researchers have already noticed the trend: People increasingly expect their husbands or wives to meet all their social and emotional needs. The phrase implies that, since married people have each other, they don't have best friends anymore and don't need them. And it exaggerates the risks young couples already face: setting up unhealthy expectations, looking to each other as the sole source of fulfillment. It also relegates best friends to the realm of singleness.
Making friends in your late 20s and beyond is a whole different game. Not only are there fewer opportunities to meet people, there are also fewer people to meet, since married folks tend to pull themselves off the friendship market. Plenty of young couples dedicate more time to catching up on their Netflix queue than seeing their neighbors, coworkers, and old buddies. My husband and I have been guilty, and so have plenty of our friends. They update Facebook about spending yet another weekend in, joking about becoming "a boring old married couple."
And yet friends can actually support—not detract from—our marriages. Psychology journalist Carlin Flora writes in her book Friendfluence:
Putting your best self forward for new friends allows you to shine and to see your partner through new eyes as she shines, too. Maintaining older mutual friendships also strengthens the bond between long-term partners: Having people around who think of the two of you as a unit, who admire your relationship, and who expect you to stay together can sustain you through times of doubt or distance.
When I got married, I knew I didn't want us to become one of those couples who stopped making friends or fell out of touch. Maybe it's because I knew I couldn't rely on my husband, who is in the Army, to always be there to meet my needs. Or maybe it's because I have really incredible friends, whom I'd much rather see Twilight with or ask fashion advice from than my spouse.
Don't get me wrong: My marriage remains my priority, the place where God has done the most to reveal the gospel to me. But without my friends, my relationship with my husband—and with God—would suffer. I gain much from being around others and receiving their perspectives and their prayers. Time spent with friends also keeps me from idolizing my husband as "my everything," a habit many married people struggle to resist.
Making Friendship a Priority
I want to intentionally be open to the multiple relationships God will use to work in my life and the many opportunities I may have in others'. But those kinds of relationships don't happen by accident. Here's where friendship is like marriage: It takes work.
On her sitcom The Mindy Project, Mindy Kaling declares, "A best friend isn't a person. It's a tier." I'm in her camp. I have a best friend from growing up, a best friend from college, and others from my early 20s. It'd be easy for these relationships to fizzle out, so I make it a priority to visit, even when it requires sacrifice, and to regularly text, call, and write in between.
We moved around a lot when I was growing up. Always the new girl in school, I think back to a note my mom placed in my lunchbox: "To make a friend, you have to be a friend." Decades later, I've found it still takes initiative and effort to sustain friendships. If we look to Jesus as an example, he selected friends to invest in. He had a best friend (John) and a best friend tier (the disciples). He says to them in John 15:12–15 (ESV):
This is my commandment, that you love one another as I have loved you. Greater love has no one than this, that someone lay down his life for his friends. You are my friends if you do what I command you. No longer do I call you servants, for the servant does not know what his master is doing; but I have called you friends, for all that I have heard from my Father I have made known to you.
Verse after Bible verse speaks of the "sweetness" (Prov. 27:9, ESV) and value of faithful friends. God wouldn't have us give up these relationships for marriage, but continue to sharpen (Prov. 27:17) and grow one another in this special context.
We regularly talk about upholding and enhancing marriage and family life for their gospel witness, as we should. I'd like us to start doing the same with friendship. We need friends not only for our health, careers, and happiness, but more importantly, for the way they witness to our siblinghood in Christ. And from the meaningful ties of friendship often come opportunities to introduce others to Jesus, the one who calls us his friends in the first place (John 15:15).
I didn't marry my best friend. Instead, I married my husband, with all my best friends beside me to celebrate. It was the happiest day of my life. I got—and still get—to have both.
Kate Shellnutt is associate editor of Her.meneutics, CT's women's site.
Have something to add about this? See something we missed? Share your feedback here.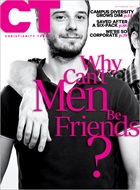 This article is from the September 2014 issue.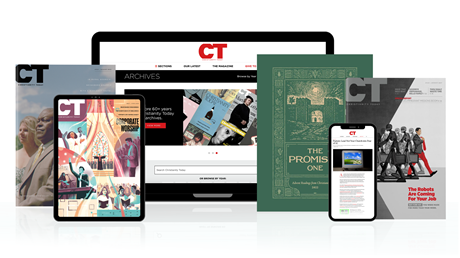 Annual & Monthly subscriptions available.
Print & Digital Issues of CT magazine
Complete access to every article on ChristianityToday.com
Unlimited access to 65+ years of CT's online archives
Member-only special issues
Subscribe
I Didn't Marry My Best Friend
I Didn't Marry My Best Friend