true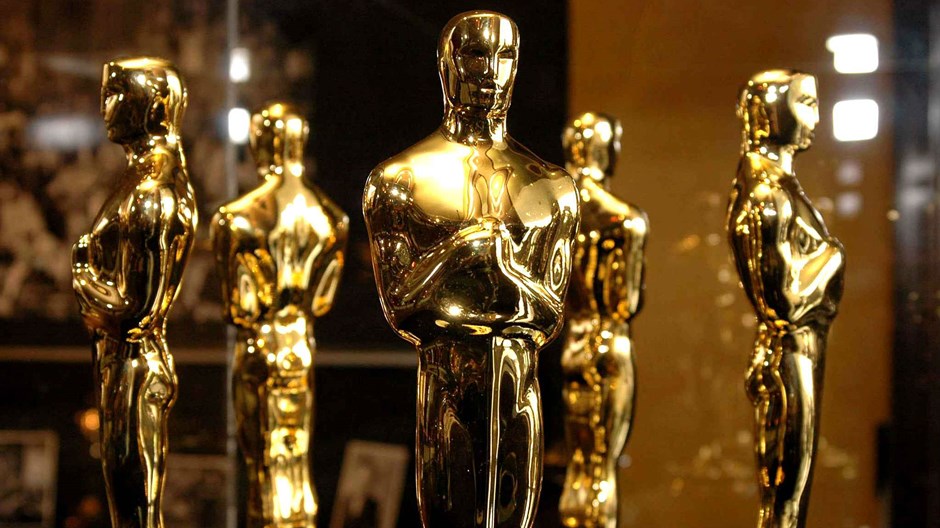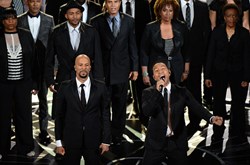 This year's biggest night for movies turned out to be a bit of a non-event, according to most critics covering the Oscars. The nomination announcements sparked a laundry list of controversies ranging from accusations of sexism and racism against the Academy to mildly outraged disappointment over The LEGO Movie's Best Animated Feature snub. Coupled with host Neil Patrick Harris' stellar performance record at the Emmys and the Tony Awards, viewers anticipated an exciting evening. But according to TIME's James Poniewozik, "The 2015 Oscars broadcast, though, had a hard time capturing that excitement—or anything else."
Variety's Brian Lowry identifies the writing as the primary issue with the show, saying that "too much clunky scripted material flummoxed even Harris' impish, good-natured charms." Poniewozik agrees: "Sometimes, though, the organism that is the Oscars is bigger than the host, and Harris seemed to lose his grip on it, thanks largely to some badly written material." Where the jokes and gags fell flat, the show was rescued by a number of much-lauded acceptance speeches. Poniewozik praised the event as "a year of earnestness, inspiration and exhortation" that included speeches about equal pay for women, ongoing Civil Rights struggles, and recovering from depression. "Last night was full of wonderful little reminders," Indiewire's Liz Shannon Miller writes, "of the causes and motivations that drove so many people to create their work, or drove them as artists: Hard not to get inspired."
Generally, critics were most pleased by the musical aspects of the evening, especially the performances of the Best Original Song nominees. "From the exuberance of 'Everything is Awesome' to the solemn human power of 'Glory,' you couldn't take your eyes off the screen," Miller says. "Glory," which was featured in Selma, went on to win its category, and after the performance, multiple audience members were left in tears. In "a strange idea [that] totally worked," according to Poniewozik, Lady Gaga sang the Oscars' tribute medley for The Sound of Music's 50th Anniversary before leaving the stage to a beaming Julie Andrews. "In the end, this Oscars was neither brilliant or a disaster," Poniewozik concludes. "There were moving moments and tedious moments—but there were also just tons and tons of moments." Birdman took Best Picture and three other wins, tying The Grand Budapest Hotel for most wins of the night. The full list of nominees and winners is on the Oscars website here.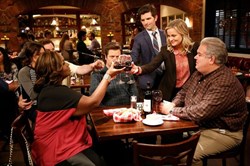 On Tuesday, the beloved office mockumentary series Parks and Recreation came to a close in what critics agree was an uncharacteristically sweet but fitting finale. The episode used flash-forwards to show what each of the characters do with the rest of their lives. Variety's Geoff Berkshire writes, "Every carefully crafted payoff played like a great big hug to not only the characters but the audience. Under Schur's steady hand as director, the narrative weaved back and forth through time with precision and grace. Fans got resolution without finality, waving goodbye while leaving viewers with a profound sense that all these lives continue on." Berkshire admired how the form of the episode played perfectly with the season-long set up the show's been crafting, but Slate's Willa Paskin is less willing to give the finale a flawless review. She believed the finale was too "saccharine" for the satirical tone of the rest of the show, saying, "Parks has, up until this finale, had a strategic relationship with its own big heart. A little sugar, as they say, makes the medicine go down, and Parks has used sugar to make cynical lessons about dysfunctional government go down very easy."
Mary McNamara at the LA Times disagrees, saying that the finale's optimism was a fitting homage to the spirit of the show, "which ends Tuesday night in an effervescence of heart and hope, proof positive that success and significance are not always measured in gold, statuary or otherwise . . . the series offered one of the most hopeful versions of humanity to be found on television . . . all done in a way that was never preachy or overly sentimental." Paskin believes Parks' success and perseverance through near-cancellation every season was due to its balance of sweet and sour: "Parks and Recreation isn't such a sweet show because it lives in a vacuum where nastiness, selfishness, and stupidity don't exist, as they more or less didn't in the finale. It's such a sweet show because it exists exactly in the midst of such things and its characters try to rise above the muck and their own natures anyway, even when they don't succeed."
Jessica Gibson is an intern with Christianity Today Movies and a student at The King's College in New York City.
Watch This Way
How we watch matters at least as much as what we watch. TV and movies are more than entertainment: they teach us how to live and how to love one another, for better or worse. And they both mirror and shape our culture.
Alissa Wilkinson is Christianity Today's chief film critic and assistant professor of English and humanities at The King's College in New York City. She lives in Brooklyn.
Previous Watch This Way Columns: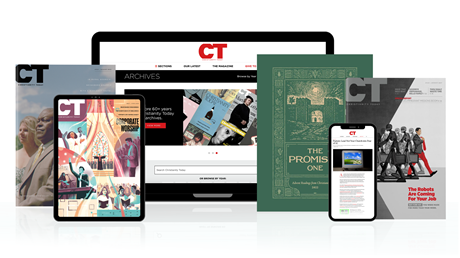 Subscribe to Christianity Today and get access to this article plus 65+ years of archives.
Home delivery of CT magazine
Complete access to articles on ChristianityToday.com
Over 120 years of magazine archives plus full access to all of CT's online archives
Subscribe Now
The Critics' Roundup: The Oscars and 'Parks and Recreation'
The Critics' Roundup: The Oscars and 'Parks and Recreation'