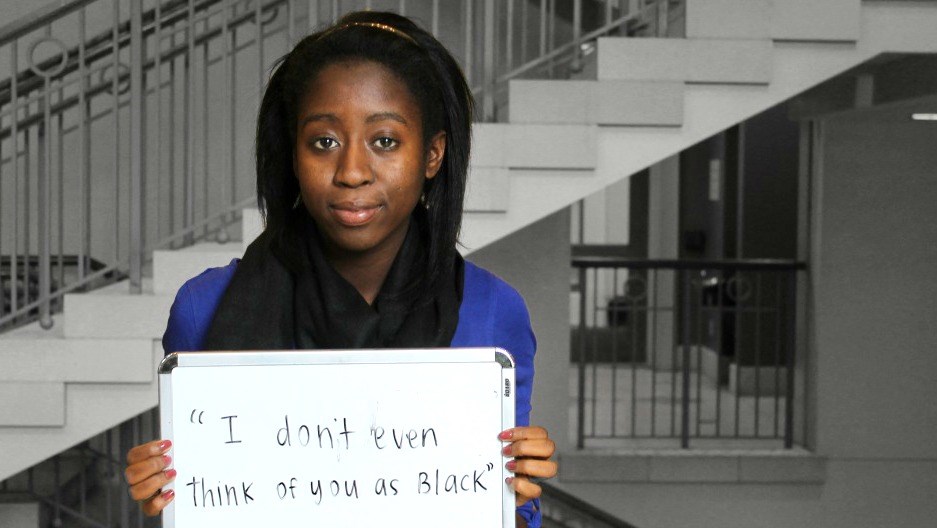 Image: I, Too, Am Harvard Tumblr
They are small, almost invisible. They are being spotted on college campuses from UCLA to the University of Michigan to Fordham to Columbia. They are as elusive and questionable, so tiny yet so destructive. They are called microaggressions: the slight remarks, subtle innuendos, insults, and actions that come off as unintended discrimination.
Racial microaggressions have been called the "new face of racism." Not the overt insults of the past (for example, calling someone the n-word), these remarks and questions often seem innocent. Perhaps you've told a person of color, "When I look at you, I don't see color," only to have that person think to themselves, "Well, my ethnicity is a part of me." Or maybe you've asked, "Where are you really from?," expecting to hear a country in Asia, but getting the response, "California."
While not straightforward insults, microaggressions operate on an assumption of the other person being different—whether focusing in on specific cultural elements like name, appearance, or speech patterns, or the ways someone doesn't fit the stereotype of a certain group. They put into words or action the fact that a person is being judged against a preconception, calling into question their identity and social capital.
We all want to be loved and accepted for who we are. Microaggressions are hurtful because they deny self-identification with a particular cultural group; assign intelligence, employability, and criminality based on one's ethnicity; signal alienation from the majority and second-class citizen status because of ethnicity; and downplay the possibility of racial bias.
The term racial microaggressions was coined by researchers in the '70s, but gained broad familiarity last year as a conversation topic online. Critics say that minorities are being too sensitive, holding others responsible for behaviors they don't intend as harmful. But for many in marginalized groups, these instances of microaggressions are too regular and too widespread to be overlooked. Further, overlooking this issue communicates a lack of empathy at best, and at worst, lack of concern.
Racial microaggressions are the latest iteration of the inevitable in human society: As forgiven sinners living in a fallen world, we are bound to offend and to be offended in a variety of ways. As one Harvard professor put it, "We're talking about people in close contact who are experiencing the painful intersections of intimacy," Henry Louis Gates Jr. said. "The next part of that is communication, and this is a new form of communication."
James 1:19-20 instructs us "let every person be quick to hear, slow to speak, and slow to anger, for the anger of man does not produce the righteousness of God." This passage is a helpful reminder, whether we have been charged with insensitive speech or being too sensitive.
No one likes to be accused, especially if it comes from a friend or family member. Our tendency is to lash out, get defensive, and argue our side. In our defensiveness, we forget who we are. But the power of the gospel destroys dividing walls of hostility that can quickly build when we feel offended, and this same gospel reorients us to our true identity in Christ.
Rather than being concerned with establishing why we're right and the other person is wrong, we should aim to hear each other out. Especially with these more nuanced microaggressions, we can't assume we know what the other person will say. It's up to us to listen well, without interrupting, and ask questions. Such dialogue offers a chance to humbly and honestly consider the charge and seek to be reconciled (Matt 5:23-25).
The Word tells us that, "he who is slow to anger is better than the mighty, and he who rules his spirit than he who takes a city" (Prov 16:32). Sometimes our greatest conquest is conquering our own conduct, passions, and spirit. Anger is the response of self-protection. We are looking out for our own interests over the interest of others, when Scripture calls us to the exact opposite (Phil 2:3-4).
Peacemaker Ministries recommends we carefully observe others' responses and be bold enough to ask if we've done something wrong if we think they've taken offense—whether or not that was our intention. Beyond that, we also can examine our own hearts, since we often get that "I should not have said that" feeling as a sign of a guilty conscience. Lastly, we can always pray to God to reveal to us the ways we have been insensitive.
For those who find themselves offended by the actions of others, Peacemaker offers these steps:
Overlook: If you determine that the incident is minor, resolve not to dwell on it or hold it over the offender's head. Move on that refuse to harbor anger, bitterness or unforgiveness, and don't let it drive a wedge in your relationship.
Reconcile: Sometimes an incident seems too important or too regular to overlook. In this case, it is wise to point out the offense and in a loving way, correct, rebuke, and restore your relationship trusting that in your loving rebuke, your friend will prove themselves wise by loving you for your correction (Prov. 9:8).
Forget: When you have extended forgiveness, determine to move on and not allow the incident to affect your relationship. The Lord has removed our transgressions as far as the east is from the west, so we should be willing to do the same for those who have offended us.
Sometimes people just won't get it. Your attempts to engage in gracious conversations leaves both parties frustrated and misunderstood. In this case, choose to walk in forgiveness and commit to pray for greater understanding and sensitivity. There is never a reason not to forgive. We are called to be kind and compassionate towards one another, forgiving each other just as in Christ, God has forgiven us (Eph. 4:32).
Still, ignorance, moral blindness, and good intentions aren't acceptable excuses for insensitivity. As Christians, we must fight with prayer and persistence to make the words of our mouths and meditations of our hearts acceptable in the Lord's sight and in the sight of all we come in contact with.
May the Lord grant us grace and wisdom to win every battle of the tongue that seeks to divide us.
Kristie Anyabwile is the wife of Thabiti, who is the assistant pastor of church planting at Capitol Hill Baptist Church, and mom of Afiya, Eden, and Titus. Her family is working to establish Anacostia River Church as a new church plant in southeast Washington DC. Kristie enjoys discipling women, speaking and writing about marriage, motherhood, and ministry.
Image from itooamharvard.tumblr.com.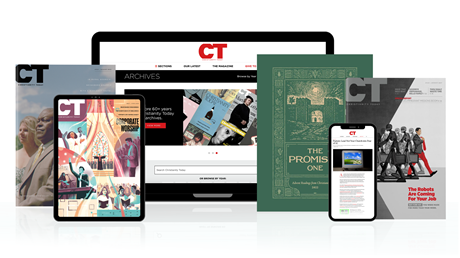 Subscribe to Christianity Today and get access to this article plus 65+ years of archives.
Home delivery of CT magazine
Complete access to articles on ChristianityToday.com
Over 120 years of magazine archives plus full access to all of CT's online archives
Subscribe Now
No Offense: The Dilemma over Unintended Racism
No Offense: The Dilemma over Unintended Racism