true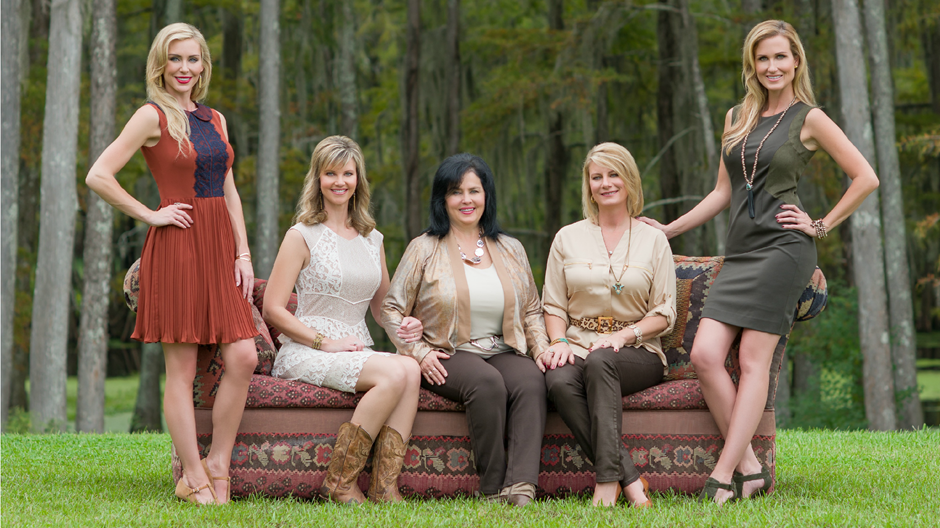 Image: Courtesy of Heart to Home
Jessica Robertson belongs to a big, unusual family—evangelical Christians made famous by their popular duck-call company Duck Commander and the hit A&E series Duck Dynasty.
Since its premiere three years ago, the show has set cable reality TV records, attracting millions of viewers and hundreds of millions of dollars in marketing. Despite its recognizable, bushy-bearded stars (Phil Robertson and his goofy brother Uncle Si, plus sons Alan, Willie, Jase, and Jep), their supportive wives (matriarch "Miss Kay," and Lisa, Korie, Missy, and Jessica) bring humor and heart to each episode.
Through the show, now in its seventh season, "we spend more time together, and those relationships have grown and deepened," said Jessica, 34, who married the youngest Robertson son, Jep. Their family of six recently moved onto the same street as his three older brothers, in their northeast Louisiana hometown, West Monroe.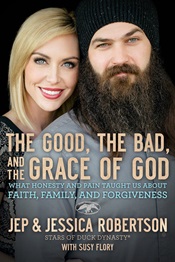 While many rant about meddling in-laws, Jessica raves about hers. She praises her mother-in-law and sisters-in-law for helping strengthen her marriage. And despite our skepticism over the fame and overexposure of reality TV, Jessica says the platform gave her the confidence to share her faith on a large scale.
Jessica and the fellow women of Duck Dynasty will speak at next month's Heart to Home Conference, a women's ministry and mentorship program they've been involved in through their church (a local Church of Christ congregation). She also recently completed a book with her husband about seeking God through struggles in marriage, The Good, the Bad, and the Grace of God (Thomas Nelson, June 2015).
Jessica talked to Her.meneutics editor Kate Shellnutt about what it's like to become famous enough to find your face on a cutting board, the significance of Christian witness on reality TV, and how hunting's a family affair.
When you started dating your husband, Jep, what were your initial impressions of the Robertson family, your in-laws?
Right away Miss Kay and Lisa reached out to me. Without them, I don't know if Jep and I would even have gotten married. I was going through a hard time, and they really showed Jesus to me. They showed forgiveness and love and understanding. I cling to their friendships, and Jep and I spent a lot of time at Lisa and Alan's house, listening to what they had to say about life and marriage and our walk with Christ. Right away, I fell in the love with the family.
What did you initially think about the idea of a reality show? I bet it was hard to imagine what Duck Dynasty would be like since there wasn't any other show like it.
We didn't really have huge expectations. At the time our family was doing a reality show with an outdoor channel, and it was called The Duck Commander Show. It was mainly hunting, and it had some family time, but primarily it was about the men and their hunting.
We really just thought, "Oh, it'll be fun to do. It'll have more family time, more things with the kids." We came together and we prayed about it, and we talked about it, and we were like, "Well, it won't hurt to try." I don't think anybody could have predicted what it could be today. It was a shock and a blessing.
It seems like Duck Dynasty branded merchandise is everywhere now, including stuff with your face and branded "Women of Duck Dynasty." I saw the new handbags (from Dooney and Bourke). I wonder what it's been like to deal with all the endorsements and opportunities. How do you to keep fame and pride from taking over?
It's human nature, and it's a struggle with everybody, no matter how much income you have, where you're at in life, or whether you're in the public eye. Before fame came, when we had a little trailer out on Jase and Missy's land when we first got married, we didn't have any money, but we still liked nice things and we still wanted them.
A&E, they actually own Duck Dynasty the name, so anything that says Duck Dynasty and gets put out there with our faces, they own. I don't even see approval for all the stuff. We walk in the store and see something—see a puzzle with my face on it or a butcher block—and I'm like, "What? That's so strange." I don't think you ever really get used to it. You just have to laugh about it.
We all keep each other grounded, and I don't think anybody's changed in a negative way. I feel like we have this huge opportunity and platform to share our faith and our love with people. That's what I hope what everyone sees about us, the Robertsons, that we really love each other and we love our neighbor, and we love God most of all.
We know that fame comes and goes, and one day there'll be a new family that people like a lot. We're all okay with that. We're all okay with going back to being moms and wives and husbands and sisters…. We have such a great support system, and we all stay plugged into our church family and our normal relationships and friends. I don't think those things have changed.
You mentioned how the show has also been a vehicle for ministry and evangelism for your family. Your husband shares his story in an I Am Second video. What are some things related to ministry that you have gotten involved in?
One thing we did was we went on the Duck Commander Cruise. We didn't know how it was going to turn out. We're going to get on a cruise full of 2,000 of our "best friends"? But there were over 200 baptisms on that boat. That in itself is like, "This is why we do it. This right here is where we can share our faith and the love of Christ with other people."
Jep and I being the youngest, of course he is quieter than all the brothers and a little shyer—he still hilarious, he has that Robertson wit—but we never really pictured ourselves going out and sharing our testimony or our faith. We were still coming into it, but really the show has pushed us. Now we get more and more comfortable doing that and getting on stage.
Tell me about the Heart to Home ministry. What's the importance of women's ministry to you?
Heart to Home started a few years after Jep and I got married, and it definitely made a huge impact in my life. Being young and married and not really knowing each other that well, we had more obstacles than people who'd dated for years. We started dating in June and got married in October. We knew each other maybe about seven months. The women who have mentored me have helped me realize there is always hope and you never give up on marriage or on your walk with Christ.... And it's not all serious. It's getting together and laughing and sharing good stories. It's cooking together and sharing recipes
I'm really hoping I can encourage the young people to get out of their comfort zones and sign up for these things…. there were times that I didn't really have a close friend in my age group, but I just had to step out of my comfort zone and go, and trust me, it was a blessing every time. Hopefully this conference will shine a light on Heart to Home, and people will be willing to start these programs in the church. We really need that. We need the guidance from all these women who've lived their lives and can share about love and wisdom Christ has shown them.
Speaking of women getting together, I saw you recently met Jen Hatmaker, another Christian who's appeared on cable with her family. What did you talk about? Did you have advice for the Hatmakers about being on reality TV?
They were just so sweet. If they do another show, it's just going to have a great impact. The more Christian shows out there, the more good influence we have, the better. Jesus is doing so much in their lives, and for them to do that—it's not an easy thing to do. You're giving away a huge portion of your time and your life. You have to know it's not just a 9-to-5 job. It is somewhat of a sacrifice, but God has a plan and he has something bigger.
As a mother of four, what do you do to instill Christian values in your children, especially with the busyness of your schedule and the attention of being on reality TV?
One thing I encourage people is that it's not all on you. It takes a village, and I think you need to put your children around other Christian people because when you're not there or your eyes are not on your children, you know that they're enforcing the same rules and the same guidelines that you have. If I'm not around and my kids are with Korie or with Kay, I know that they're not going to let them get away with anything, and they're going to enforce good values for them.
We have Scriptures up all over the house. The fruit of the Spirit is up in our living room, and we try to talk about that almost daily. We'll draw names and that week we'll work on one fruit of the Spirit. The little ones, if they catch their sister acting not kind or going against what they're supposed to be working on, they'll call them out. It's pretty funny, they'll be like, "Uh, you're being ugly! You've gotta be kind!" or "You've gotta be joyous! Stop being negative!"
It's important to keep the Scripture in your life and keep communication with your kids.… We're really open and honest about things people don't really want to talk about with their kids, and we do it in a nonchalant way. If you don't make huge deals about things, the kids will not feel insecure or think they have to hide things in such a way that I know a lot of kids do…. When they get to that age where they're questioning Jesus, I want them to feel like they can come to me, and we'll talk about it.
One of the biggest controversies or tense moments for the show was a little over a year ago when there was that pressure on Phil over his remarks [on homosexuality]. Did that controversy spill over on you guys? What were you thinking when he was going through that?
We just stood by each other. We love each other, and we are not going to make any member of the family feel like they're not loved or not supported.
When all that came about… the writer misconstrued it, they wanted it to be something terrible, and if you're in some sort of television or social media or writing or radio or blogging, you know how that works. You could see how someone could do that. But we didn't look at it as this horrific thing, we looked at it like the Evil One is trying to destroy the platform. I know the real deal, and I know the real Phil and Kay. Their love of Christ exuberates onto other people. If you were around them, you would see that in their lives.
On the show, it's clear that you and the other wives are really faithful and stand by your men. Do you ever receive backlash from viewers? Do you find that people critique you as women?
I don't think so, not in that sense. I know Candace Cameron Bure, she kind of got chastised for saying she's a submissive wife. The world views submissive as a negative thing, and we view it as a positive thing. The only difference between the world's view of the word submissive and a Christian's view is—if your husband has to say, "Be submissive," it's totally missing the point. Being a submissive wife, you don't think about it. You do things out of love. I respect my husband, and I do things that he would want me to do. The same that he would do for me. He would not do something if he thought, "Jessica wouldn't like this." Those are things that are negative in the world, more self-gratifying, and we don't view life like that. It's not a take, take, take world for Christians.
I think one of the things people are amused by on the show is that the wives are all these articulate, put-together, beautiful ladies, and their husbands are these burly, bearded hunters. I heard that you're a little more into hunting than some of the other wives. Is that true? Will you go out and hunt?
I do. I grew up going hunting with my dad, and we fished and everything. It doesn't gross me out or anything. Jep and I haven't gotten to hunt together in years. It's just hard to go out with little ones. I'd have to get a babysitter. It doesn't fit our schedule right now, but I enjoy it. I like going out there and being with him. I like the outdoors, and we do hunt to feed our family—when we kill a deer, we eat on it all year until it's gone, the same with ducks and everything else.
Lily went two years ago, our 12-year-old. She was 10 at the time. She got her first deer with her dad, and she helped skin it and clean it. Not that the women have to go out and provide, but it's important, no matter if it's a girl or a boy, to get out there and be with their dad in nature. Or their moms. I had aunts and my grandmother hunting. I definitely want to get into it more when the kids are a little older and they can all go with us.
This interview has been edited for length.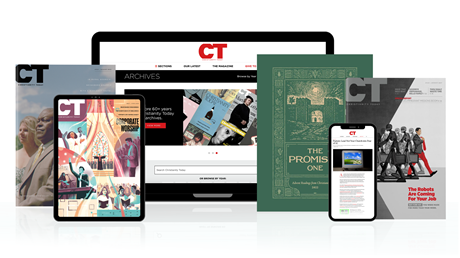 Subscribe to Christianity Today and get access to this article plus 65+ years of archives.
Home delivery of CT magazine
Complete access to articles on ChristianityToday.com
Over 120 years of magazine archives plus full access to all of CT's online archives
Subscribe Now
Duck Dynasty Wife: The More Christians on Reality TV, the Better
Duck Dynasty Wife: The More Christians on Reality TV, the Better