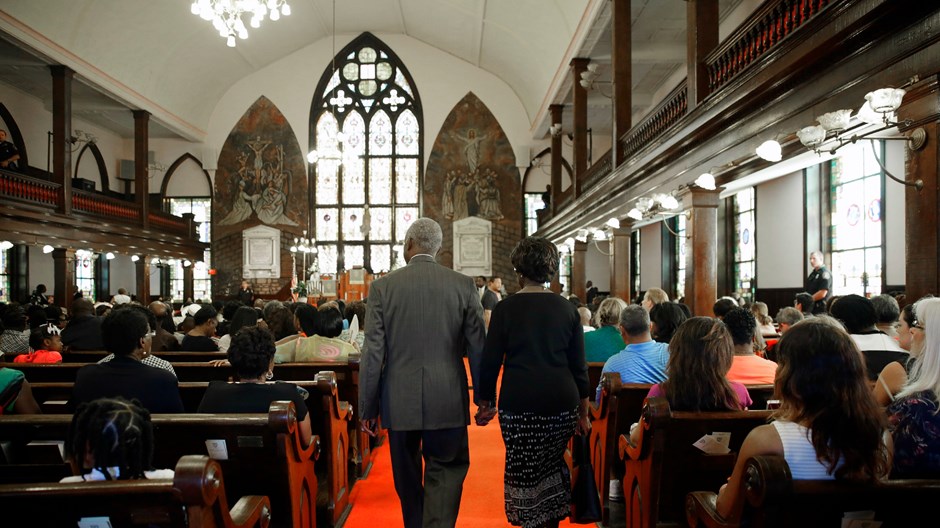 Image: Getty
In a crowded sanctuary, elder John Gillison called out, "And the people of God shall say, Amen!"
"Can I get an Alleluia? Won't somebody yell, Praise the Lord?"
It was Sunday morning in Charleston.
Over the past few days, the area hosted a dozen prayer vigils and candlelit tributes. Next week come the funerals and memorial services. But yesterday, in a place nicknamed "Holy City," they worshipped.
This included Emanuel African Methodist Episcopal (AME) Church, the site of last Wednesday's massacre, where Gillison welcomed members, guests, and media, saying, "This is the day that the Lord has made, and we will rejoice and be glad in it."
Tucked away in the back row of the balcony, part of me wondered, "Rejoice? Right now? On this day?" I was overruled by the 500-plus crowd below, who shouted along with him.
It kept coming. Prayers thanking God for his blessings. For waking them up this morning. A reading from 1 Thessalonians: "Rejoice evermore. Pray without ceasing. In every thing give thanks: for this is the will of God in Christ Jesus concerning you" (5:16-18, KJV). They literally sounded the trumpet, making a joyful noise with praise anthems and soloists walking the aisles until the cordless mic started cutting in and out.
"Many hearts are broken and tears are still being shed, but through it all we are reminded we serve a God who still cares," Gillison told the congregation, the first of several messages coupling the tragedy with a testimony of God's faithfulness.
The Missing Nine
A black cloth shrouded the seat behind the lectern, belonging to slain pastor and state senator Clementa Pinckney. In the choir, 87-year-old soprano Susie Jackson wasn't there to take her usual front-row seat. The "Mother Emanuel Nine" and many of their family members were absent Sunday, the first time the church opened since the shooting.
Desiree Sanders—cousin of the youngest victim, 27-year-old Tywanza Sanders—spent the service praying in the basement. The place where the Bible study welcomed Dylann Roof days before. The place where he killed them. "It was surreal," said Sanders, a mix of sweat and tears on her cheeks. "But we know they're in a better place."
Outside the sanctuary, piles of flowers, balloons, crosses, and handwritten posters edged closer to the street. Early morning walkers came by with a bouquet in one hand and Starbucks in the other. Charleston natives returned to the familiar building to pay their respects. Even tourists in town for Father's Day weekend stopped by. "How could you be in Charleston today and not come?" one said to me.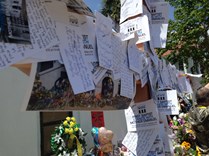 Neighboring churches, tucked between iconic pastel pink-and-blue row houses, hung banners dedicated to the victims and rang their bells for nine minutes Sunday morning—one for each who died. In front of Emanuel, non-denominational Awaken Church brought a canvas with Sharpies for scribbling tributes. First Baptist Church of Charleston partnered with two Episcopal churches to deliver a wooden cross pinned with notes from their congregants.
"My prayer this morning was just thanking God for Emanuel AME and how they've been pouring out love in their time of grief," said Emory Hiott, who works with the children's ministry at First Baptist. "This situation shows us the necessity of the gospel. We can see that in Emanuel's response, and in the family's response, and in the city's response."
Church Doors Are Still Open
By 9:30 a.m. on the first official day of summer—the longest day of the year—it was already well past 90 degrees. Paper fans and old bulletins undulated inches from sticky faces, desperate to make the temperature bearable for the 800 people in the sanctuary, balcony, and foyer. Red Cross volunteers ducked in to pass out bottles of water. There was no apologizing for the heat, though. "I'm reminded that there's a hotter place than this," said Sunday's preacher Norvel Goff.
Goff, a district AME leader, will serve as Emanuel's interim pastor after the deaths of not only its lead pastor but three other ordained ministers: DePayne Middleton Doctor, Myra Thompson, and Daniel Simmons.
He recognized guests in the crowd, including South Carolina Gov. Nikki Haley, Charleston Mayor Joe Riley, and NAACP president Cornell Williams Brooks. The New York Timesreported that GOP presidential candidate Rick Santorum was seated in the back. Russell Moore, president of the Ethics and Religious Liberty Commission (ERLC), also attended, as did John Ortberg, pastor of Menlo Park Presbyterian Church in California.
Even as police officers checked bags at the church entrance and stood as security inside, church elders shook each hand to say, "Welcome" and "We're glad you're here."
"The doors of Mother Emanuel are open this Sunday, and it sends a message to every demon on earth and in heaven," Goff said, quoting Isaiah 54:17. "No weapon formed against us shall prosper."
The AME denomination regularly uses the language of the church's open doors in weekly altar calls, and churches nationwide adopted a special litany this week, repeating, "The doors of the church are still open!" (An estimated 1,000-plus churches, including many evangelical congregations, prayed One Church Liturgy, a resource created in response to the shooting by Portland minister Leroy Barber.)
Chuck Smalls, a member of Morris Brown AME (Emanuel's "daughter" but larger congregation nearby), said he knows several relatives of the victims. He felt numb after hearing news of the shooting. "Your mind wanders," the Charleston native said. "It makes you think, 'What if…?' It could have been you."
Revisiting Confederate History
As authorities learned more about the shooting suspect's white supremacist influences, segregationist ideology, and affinity for the Confederate battle flag, Charleston's racial history emerged in the news. This is not merely a Southern city, but in some ways, the quintessential Southern town—the oldest city in South Carolina, the harbor where the first shots of the Civil War fired out in 1861.
Yet, black and white residents—at least the churchgoers I spoke with—largely defy Roof's premise, striving to come together in prayer, discussion, and action, rather than letting the deadliest hate crime in the state's history divide them further.
"I couldn't believe it happened. I couldn't believe it happened here," said Windell Lawrence, an Air Force retiree who was born and raised in downtown Charleston. "But the response has been tremendous. This is one of the best times I've seen from our city, coming together."
On Sunday evening, more than 10,000 people formed a "unity chain," spanning across Charleston's iconic cable-stayed bridge.
In Columbia this weekend, protestors returned to the South Carolina Capitol, ground zero for the state's ongoing debate over the Confederate battle flag. Republican politicians Jeb Bush and Mitt Romney have joined critics saying it's time to remove the flag from state grounds.
Two days after the Charleston shooting, the ERLC's Moore challenged Southern Baptists to rethink this popular Southern symbol. "The cross and the Confederate flag cannot co-exist without one setting the other on fire," wrote Moore, himself a descendant of Confederate veterans. "White Christians, let's listen to our African American brothers and sisters. Let's care not just about our own history, but also about our shared history with them." Evangelical Douglas Wilson declined to take a position on the issue, saying, "It is unseemly to politicize these horrors when the families are still weeping."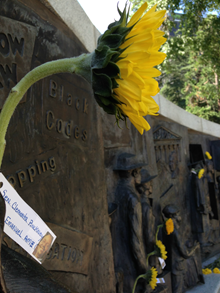 The flag flew over the Capitol dome from 1962 to 2000, when it was moved to a flagpole on the grounds. The pole—with the square flag chained to the top, unable to be lowered to half-mast—is barely beyond the line of vision from the African American history monument on the other side of the Capitol. State representatives from both parties pledged to file bills to take it down.
A few posters in front of Emanuel read, "Take Down that Flag," the debate representing one effort to extend the church attack beyond an isolated incident or lone wolf shooter to the result of deeper racial issues in America.
Roof's arrest "does not end this matter. In fact this matter makes even clearer that race is a major problem in our nation that must be dealt with," said Julius McAlister, president of the AME Church's council of bishops, in a statement. "The nation can no longer live in denial and act as if it does not exist. Every week there is some incident, which involves the negative consequences of race."
Working for Justice, Trusting God
At Mother Emanuel, Goff preached that while they will work for justice in this case and others, the priority is on the mourning families and on the Lord, who protects his people, handles their problems, and "makes a way when there is no way."
It was right there in Psalm 46: God is our refuge and strength. And in every hymn they sang out and swayed along to—"Great Is Thy Faithfulness," "I Surrender All," and "Blessed Assurance."
"We ask questions, we ask why, but through it all those of us who know Jesus … we can look through the windows of our faith, and we see hope," said Gillison. "We hear you say, 'I am with you always, until the end of days.'"
It was Sunday morning in Charleston. And with grieving hearts and the attention of the nation, Emanuel AME went on praising its Savior, all the day long.
Kate Shellnutt is editor of Her.meneutics.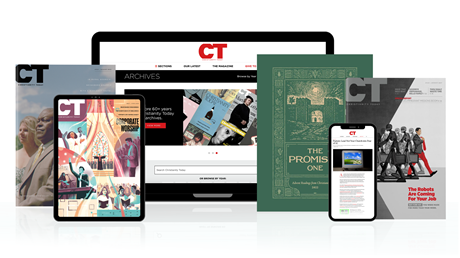 Annual & Monthly subscriptions available.
Print & Digital Issues of CT magazine
Complete access to every article on ChristianityToday.com
Unlimited access to 65+ years of CT's online archives
Member-only special issues
Subscribe
How Charleston's Emanuel AME Spent Sunday after Massacre
How Charleston's Emanuel AME Spent Sunday after Massacre