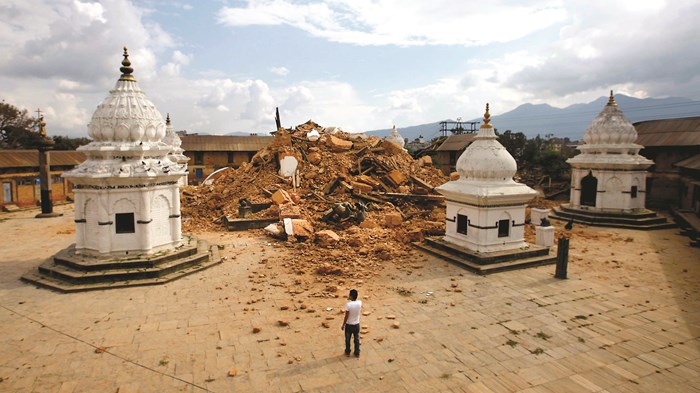 Image: Niranjan Shrestha / Aptopix / AP
Nepal: The 'Roof of the World' Collapses
Christians are a minority in Nepal but were especially affected by April's 7.8-magnitude earthquake. It struck during their main weekly services, collapsing many churches with worshipers still inside. More than 70 died at Nepali Evangelical Church near Kapan, Kathmandu; hundreds of the more than 7,300 Nepali casualties were Christians. The deaths may revive communal tensions over Christian burials, opposed by Hindu activists who favor cremation. The disaster also delays the passage of a new constitution guaranteeing long-sought religious freedoms.
Libya: ISIS makes Christian migration even deadlier
The same day England's Archbishop of Canterbury arrived in Cairo to honor the 21 Coptic Christians martyred by isis on a Mediterranean beach, the terrorist group released a second propaganda video. This one showed the orchestrated execution in Libya of 28 Christians, mostly from Ethiopia. (Their country's main Orthodox church claims descent from the eunuch baptized by Philip in Acts 8.) The new martyrs were part of a record number of Africans attempting to flee by boat to Italy, a top destination for Christian migrants from Ethiopia and other African nations. But migrant drownings are also at record highs, including more than 1,500 deaths as of April. (A 2013 shipwreck killed 250 people; most were Christians fleeing persecution.) isis may be fueling sectarianism: Italian police recently charged 15 Muslims with murder for throwing 12 Christians overboard out of "religious hatred."
Layoff of Christian college professor paused
The president of Northwest Nazarene University (NNU) apologized in April for attempting to lay off a tenured professor. ...
1