true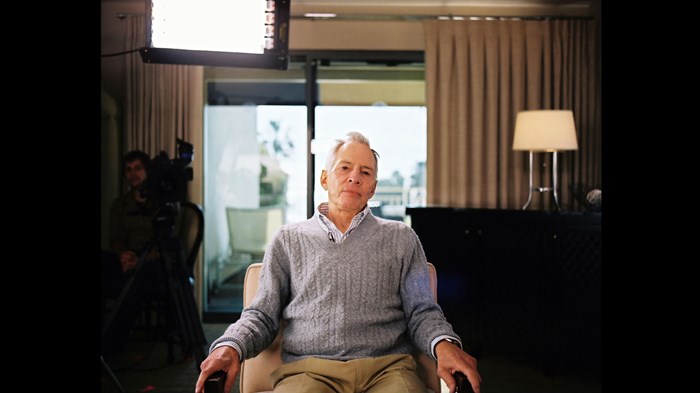 Image: HBO
HBO's documentary series The Jinx is all over the news this week following the arrest of its subject, Robert Durst, on murder charges. Durst was arrested on Saturday just before the shocking series finale, which ended with a surprise that the documentary team claimed they didn't know they'd captured for years. "There seems to be little doubt now, in the aftermath," writes Mike Hale at The New York Times, "that The Jinx played a crucial role in Mr. Durst's arrest."
The finale has sparked controversy over Durst's guilt and an even bigger controversy over the nature of true-crime dramas, the podcast Serial being the most frequent comparison. However, Slate's Cameron Tung makes a point of demonstrating how different The Jinx is from Serial: "The Jinx, though, was not ultimately a meditation on the nature of truth and fact. By the end it seemed less theoretical, more human." Tung believes this human element was what made The Jinx so "incredibly distressing" to watch, adding that the relationship between filmmaker Andrew Jarecki and his subject made the film's depiction of Durst more uncomfortable. Tung writes about the climax: "But that moment was so shocking not just because of the unbelievable revelation it seemed to contain, but because Jarecki had dramatized his own relationship with the suspect so plausibly and affectingly. The Jinx essentially presumed Durst's guilt from the beginning, but it still managed to humanize him, if uncomfortably, at every turn."
Hale agrees that Jarecki became like a second subject throughout the documentary, saying, "The episode reflected the extent to which The Jinx, especially ...
1
Watch This Way
How we watch matters at least as much as what we watch. TV and movies are more than entertainment: they teach us how to live and how to love one another, for better or worse. And they both mirror and shape our culture.
Alissa Wilkinson is Christianity Today's chief film critic and assistant professor of English and humanities at The King's College in New York City. She lives in Brooklyn.
Previous Watch This Way Columns: