true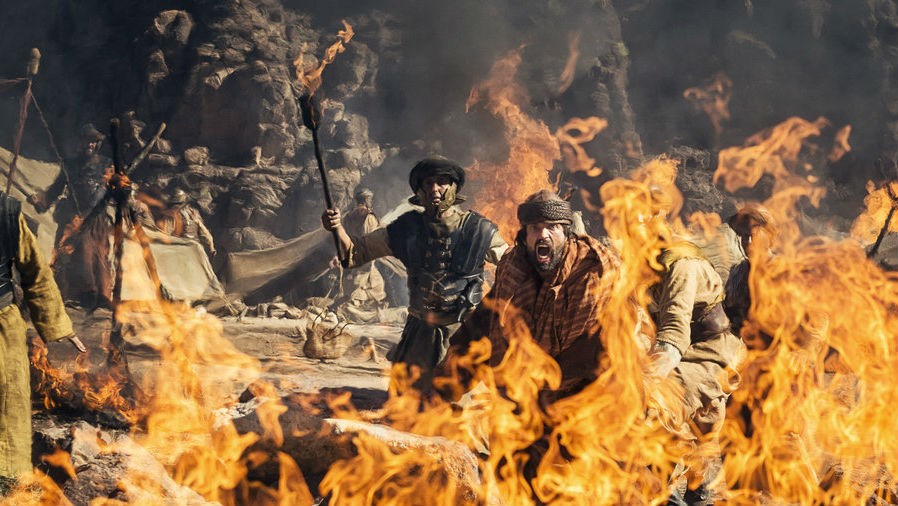 Image: NBC
Alissa's Note:A.D. The Bible Continues began airing on Easter Sunday, and during its run, Peter Chattaway recaps episodes as they air. Recaps involve spoilers, especially if you're not familiar with the Bible story.
Episode 6: 'The Persecution'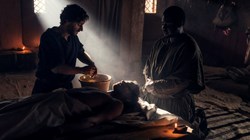 Image: NBC
The first five episodes of A.D. The Bible Continues moved through the Bible at a brisk pace, zipping through multiple chapters at a time. But the sixth episode slows things down in a big way, and with good reason: The episode as a whole covers only three verses in Acts 8, but it also introduces us to one of the most important characters in the entire New Testament, namely Saul, who will one day be known as Paul.
Those three verses from Acts tell us three things: Saul, following the martyrdom of Stephen, launched a "great persecution" against the Church in Jerusalem; godly men buried Stephen and mourned deeply for him; and most of the believers—though not, apparently, the apostles—were scattered throughout Judea and Samaria.
This episode begins with the burial of Stephen. Peter and John recite passages from the book of Isaiah as they prepare Stephen's body for burial, while other disciples wonder why God didn't raise Stephen from the dead, the way he raised Jesus and others. It's a not unreasonable question, given that no Christians have died before (apart from Ananias and Sapphira, who were struck down by the Holy Spirit two episodes ago).
The burial of Stephen is cross-cut with Saul's arrival at the Christian camp outside Jerusalem. Saul has come to argue with the Christians and establish himself as their nemesis, before he starts using more forceful methods, but it's kind of brilliant how the episode layers in all sorts of foreshadowing that point towards Saul's future conversion.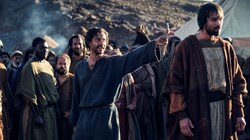 Image: NBC
For example, Saul is greeted by Philip and Barnabas, who assume at first that he is another "hungry soul" who has come to hear the gospel. Saul immediately reveals his more antagonistic intentions, but as those who have read the book of Acts know, Saul will one day become good friends with these men, embarking on a missionary journey with Barnabas (Acts 13-14) and spending some time with Philip's family (Acts 21:8-9).
Also, in his debate with Peter, Saul cites Deuteronomy 21:22-23 ("anyone who is hung on a pole is under God's curse") as a proof text demonstrating that Jesus could not have been raised by God from the dead. But after his conversion, Saul will cite this very same verse in Galatians 3:13 to show that Jesus' triumph over death was complete, precisely because he, Jesus, had suffered the worst kind of death imaginable under the law.
Finally, Peter, in one of his rejoinders to Saul, tells him that his great knowledge means nothing without love, which will of course become a big theme for Paul in 1 Corinthians 13.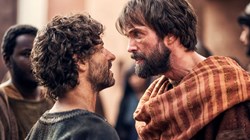 Image: NBC
The episode's development of Saul is less convincing in other ways. We do see Saul talk to Gamaliel, the respected member of the Sanhedrin who was Paul's teacher according to Acts 22:3, but Gamaliel doesn't really challenge him here the way he challenged the Sanhedrin in last week's episode. (Other films, like A.D. Anno Domini and Peter and Paul, have drawn a much sharper ideological contrast between Saul and his mentor.)
This episode also asks us to believe that Saul had difficulty getting an audience with the high priest Caiaphas. Surely Gamaliel could have made an introduction?
The political subplots are kept to a minimum this time. Caiaphas's father-in-law Annas and brother-in-law Jonathan try to persuade Herod Antipas and Pontius Pilate that Caiaphas should be replaced as high priest, but to no avail. Their efforts may, however, have persuaded Caiaphas to step up his persecution of the Christians, with Saul's help.
(Amusingly, Herod's meetings with Caiaphas take place during Purim, the Jewish festival that commemorates the events of the book of Esther—and Herod is played by James Callis, who played Haman, the villain of that story, in One Night with the King.)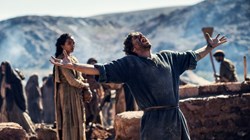 Image: NBC
There is also a weird Tears for Fears moment where Mary Magdalene tells Peter not to bottle up his emotions, so he shouts, shouts, and lets it all out—and then proceeds to preach to all the followers who have come over to see just why he was yelling like that. Well, that's one way to start a sermon, I guess.
The episode ends with the destruction of the Christian camp (including an action-movie moment in which Peter traps Saul behind a non-miraculous wall of fire) and the followers of Jesus running for their lives. Saul thinks he's stamping the movement out, but of course, he's really helping it spread, because these people will take the word with them wherever they go.
This raises an interesting question regarding the episodes to come: The bulk of Acts 8-10—the section that will be covered in the next six episodes—takes place in far-flung cities like Samaria, Damascus, Joppa and Caesarea. How will the series cover these stories while also focusing on the political goings-on in Jerusalem? We shall see.
Peter T. Chattaway writes about films in general, and Bible films in particular, at FilmChat.
Watch This Way
How we watch matters at least as much as what we watch. TV and movies are more than entertainment: they teach us how to live and how to love one another, for better or worse. And they both mirror and shape our culture.
Alissa Wilkinson is Christianity Today's chief film critic and assistant professor of English and humanities at The King's College in New York City. She lives in Brooklyn.
Previous Watch This Way Columns: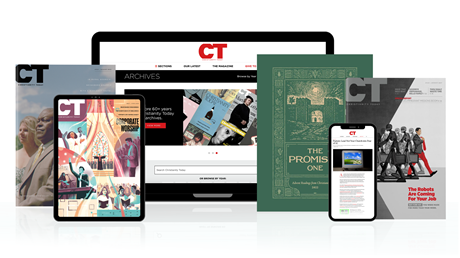 Annual & Monthly subscriptions available.
Print & Digital Issues of CT magazine
Complete access to every article on ChristianityToday.com
Unlimited access to 65+ years of CT's online archives
Member-only special issues
Subscribe
'A.D. The Bible Continues': Enter Saul
'A.D. The Bible Continues': Enter Saul