true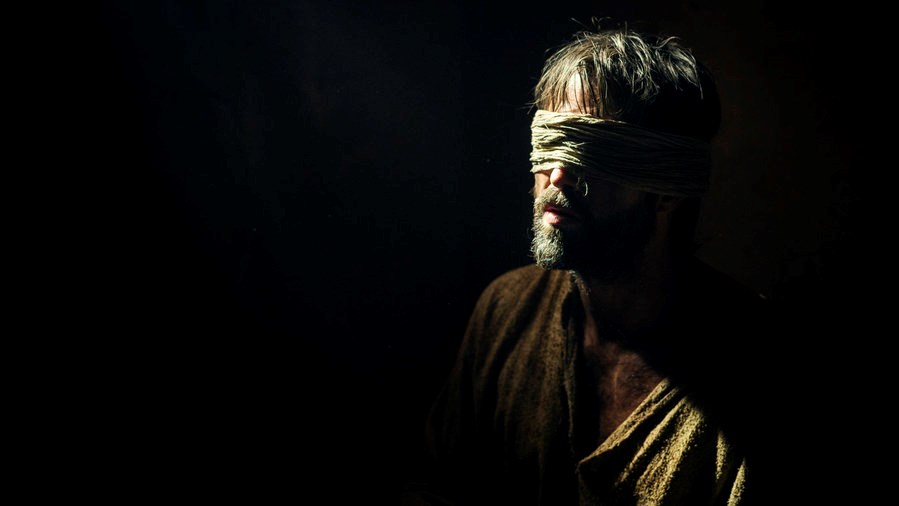 Image: NBC
Episode 8: "The Road to Damascus"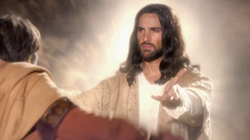 Image: NBC
There were several plot threads in this latest episode of A.D. The Bible Continues, but the biggest and most significant by far concerns Saul, the great persecutor of the Church who unexpectedly encounters Jesus on the road to Damascus and suddenly finds himself turning into one of the Church's greatest evangelists.
Emmett J. Scanlan, the actor who plays Saul, does a remarkable job of capturing how Saul's personality both changes and doesn't change after his encounter with Jesus. Before his conversion, Saul is arrogant and seething with contempt for the Church; afterwards, he's full of joy and contrition. And yet, just as he once persecuted the followers of Jesus with great zeal, he now boldly strides right into a Damascus synagogue, eager to tell everyone about the Messiah.
Some of the episode's psychologizing is a bit debatable, to say the least. Just before Saul has his vision, one of his traveling companions asks him why he hates Peter so much, and Saul's answer—which ends in mid-sentence when he realizes what he's saying—basically boils down to this: he's jealous that God might have revealed himself to a simple fisherman instead of someone educated and cultured like himself. I hate to say it, but this reminded me of how God's Not Dead insinuated that atheists really believe in God deep down but resent him for petty emotional reasons.
Meanwhile, Peter and John visit Samaria to see how Philip's evangelism is doing there, and along the way they meet Simon the (former?) magician—and the scene where Simon offers to pay for the gift of the Holy Spirit is typical of the show's strengths and weaknesses.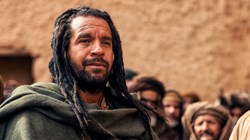 Image: NBC
At its best, A.D. puts us "in the moment" and reminds us that the people who lived through these events had no idea how their story was going to unfold. So when Simon gives all his money to Peter, Peter receives it with a smile, because he has no idea what Simon is about to ask of him. This allows us to experience Peter's disappointment when Simon asks for "a few drops" of the Holy Spirit.
But at its worst, the series lapses into pure sensationalism. So when Simon makes his request, suddenly the skies go dark, there is lightning and wind, and blood begins to flow from Simon's face just as it flowed from the faces of Ananias and Sapphira when they were struck down for lying about their money. And so a simple conversation between Peter and Simon (Acts 8:18-24) turns into a major, violent special-effects sequence.
This episode also introduces us to Joanna, a follower of Jesus who just happens to work in Herod Antipas's household.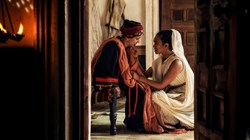 Image: NBC
Joanna is mentioned twice in the Bible—once in a list of women who supported Jesus and his followers financially (Luke 8:1-3), and once in a list of the women who discovered the empty tomb (Luke 24:9-11). But when we meet her here, Joanna has just arrived from Galilee and has no idea that Jesus came back from the dead. (Mary Magdalene is the only woman who went to the empty tomb in this series.)
I really, really like the fact that A.D. has taken an obscure character like Joanna and built her up into something more. The fact that Jesus had a patron who was intimately connected to the Herodian kings is precisely the sort of intriguing detail that dramatists ought to be playing with, though I can think of only one other film—Killing Jesus, which premiered two months ago—that has even tried to do anything with this character.
Alas, it turns out Joanna is in danger not just because her bosses might discover that she is a follower of Jesus, but because Herodias's brother Agrippa has designs on her. This builds on what we saw in last week's episode, where Agrippa and his buddy Caligula were sexually harrassing Pilate's servants—including Mary Magdalene.
Meanwhile, the emperor Tiberius frets over what to do about Caligula. In particular, he wonders how to separate Caligula from Agrippa. This whole subplot is as utterly unhistorical as the idea that Tiberius would have visited Judea in the first place. The real Tiberius threw Agrippa in prison, and there's no reason the TV Tiberius couldn't do that too.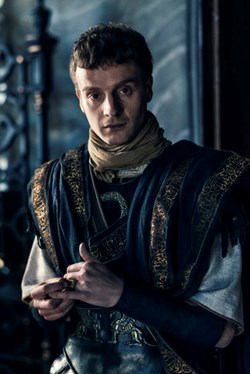 Image: NBC
Tiberius is also ready to give Pilate a promotion, to a prominent position back in Rome, but then Pilate's good fortune evaporates when Caligula murders Tiberius just so he can come back to Jerusalem to be with Agrippa again. This, too, is utterly unhistorical: while Tacitus does report that a friend of Caligula's may have had Tiberius smothered in his bed (in Italy, and nowhere near the Middle East), the real Pilate was sent back to Rome in disgrace while Tiberius was still alive, and that's the last we ever hear of him.
It's also a little weird to see Pilate treated like a sympathetic character, and to see his wife proclaim that he has done an "exemplary" job as prefect, after the first several episodes went out of their way to show how Pilate's brutality and borderline insanity (remember how he became obsessed with the ashes of his dead officer?) worried her so.
Anyway. Eight episodes down, four to go. And with Caligula in charge of the Roman Empire now—and apparently ruling it from Jerusalem? —things are going to get worse.
Peter T. Chattaway writes about films in general, and Bible films in particular, at FilmChat.
Watch This Way
How we watch matters at least as much as what we watch. TV and movies are more than entertainment: they teach us how to live and how to love one another, for better or worse. And they both mirror and shape our culture.
Alissa Wilkinson is Christianity Today's chief film critic and assistant professor of English and humanities at The King's College in New York City. She lives in Brooklyn.
Previous Watch This Way Columns: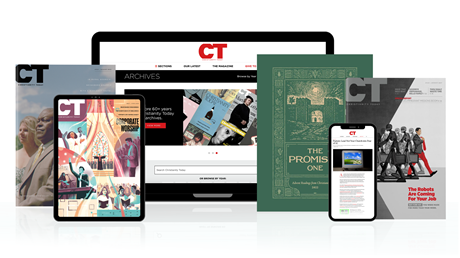 Annual & Monthly subscriptions available.
Print & Digital Issues of CT magazine
Complete access to every article on ChristianityToday.com
Unlimited access to 65+ years of CT's online archives
Member-only special issues
Subscribe
Read These Next
Trending

American Christians Should Stand with Israel under Attack

While we pray for peace, we need moral clarity about this war.

From the Magazine

God's Promises Are Clearest When We Turn Out the Lights

Christians have every reason to reduce light pollution.

Editor's Pick

Don't Miss These African Christmas Hits

Jam out this season to highlife, Afrobeats, jazz, a cappella, R & B, rap, dance, and hip-hop artists from Nigeria, South Africa, and more.
'A.D. The Bible Continues': A Magician and a Patroness
'A.D. The Bible Continues': A Magician and a Patroness