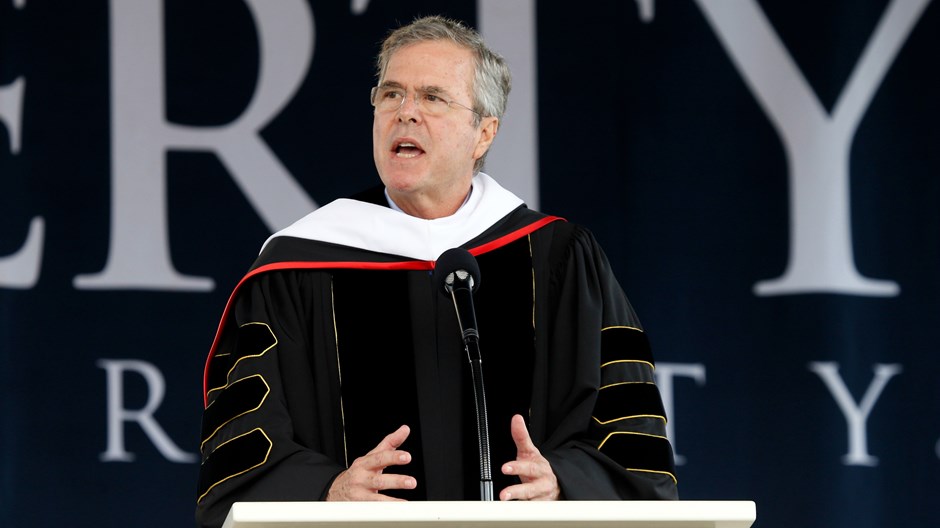 Image: Steve Helber / AP
The drive from Liberty University to Lynchburg Regional Airport takes less than 8 minutes, even amid heavy traffic from the influx of visitors in town to celebrate the university's graduation ceremonies on Saturday. These few minutes are all I have to chat with former Florida governor Jeb Bush, leaving campus in an SUV with tinted windows after delivering the commencement address to more than 34,000 people in a packed-out football stadium.
Liberty is the world's largest evangelical university, with nearly 14,000 residential students and another 95,000 students online. But while 63 percent of full-time faculty at four-year universities and colleges nationwide identify as "far left" or "liberal" and only 12 percent identify as "far right" or "conservative," Liberty University bucks the trend in attracting primarily conservative students and faculty—no surprise, having been founded by the late Jerry Falwell, Sr., of the (now defunct) Moral Majority. The school's explosive growth and strong conservative base have made it a prime venue for conservative politicians over the years.
Jeb Bush's appearance follows a long list of appearances at the school by conservative politicians: Mitt Romney, Newt Gingrich, Ron Paul, Rick Santorum, Rick Perry, Michele Bachmann, Herman Cain, Donald Trump, Mike Huckabee, Bobby Jindal, John McCain, Sarah Palin, and Rand Paul. Bush's commencement address comes 25 years after his father, George H. W. Bush, gave his own address, the only sitting president to do so.
While the majority of visiting politicians have been conservative or Republican, what many news stories fail to report is that the university invites candidates of all parties to come. As a 501(c)(3) organization, Liberty cannot endorse political candidates and must also provide equal access to candidates from all parties. University president Jerry Falwell Jr. told me, "If the university grants permission to any candidate who asks to speak there (as Ted Cruz did in April), permission will be given to any others who ask. Likewise, if the university invites one candidate to speak, all others will be invited as well."
Accordingly, in the 2012 presidential election, Barack Obama was invited but chose to send Virginia Senator Tim Kaine as his surrogate. "We have invited Democrats, and going back to Ted Kennedy, many have agreed to come," David Corry, legal advisor to the university, explained. "We, of course, can't control who will accept our invitation and despite our efforts at inclusiveness, Liberty has been less successful in attracting liberal Democrats than conservative Republicans."
Having these candidates speak, regardless of party affiliation, he added, "increases political awareness and inspires greater participation," in addition to drawing national media attention. Extensive coverage was given—much of it critical—when Ted Cruz addressed the school's mandatory convocation last month, as with Bush's commencement address this weekend.
Bush's speech focused on religious liberty and struck a strong pro-life note. Even so, given his positioning as a centrist on other key conservative issues like taxes, immigration, and gay marriage, the Catholic convert's choice to appear at Liberty University might appear counterintuitive. Yet, Liberty University is not Jerry Falwell's university any more than Jeb Bush is his father's (or his brother's) candidate.
Considering how the school has grown not only in numbers but in social maturity and cultural sophistication since its founding in 1971, it seems an apt pairing. With only 50 percent of its students identifying as white, Liberty University has the highest enrollment of minority students among the nation's top conservative colleges. The university that has in recent years seen increasing cultural, ethnic, and political diversity within its faculty and student body, and with that the contemporizing of its rules on dress code, body art, R-rated movies, warmly welcomed the man many expect to run for president and to do so as a conservative of a new generation.
Here is the conversation we had while riding across the city whose landscape bears the imprint of Jerry Falwell's conservative political legacy. Once we arrive at the airport, he offers me a fist bump, and he's off—though not yet running.
Of all the places where you might have given a commencement address, what drew you to Liberty University?
I was drawn to this campus because of the incredible success of the university and its importance in the faith community. We made this arrangement [to give the commencement address] in December. I wanted to speak about religious liberty because I think it's becoming more important as an issue in our country. And in these five months since, we've already seen that play out in a lot of ways in terms of Christians overseas being persecuted, killed, beheaded, the rising tide of anti-Semitism in Europe and here at home. The difficulty of trying to balance questions of discrimination and religious conscience was something I wanted to express my views on.
Is there any American religious liberty issue that seems particularly pressing right now?
I think it's that in our increasingly secular world, it's okay to be a person of faith so long as you don't act on it. But religious freedom is not for when faith acted on passively, but when it's acted on actively. That's when there need to be protections. The Hobby Lobby lawsuit, the Little Sisters of Charity, the baker in Washington who based on conscience refused to participate in a wedding: those things matter. These are first freedoms in our country and they need to be protected.
What role do you think institutions of higher learning have in cultivating a robust democracy and in promoting religious liberty?
Most of our universities do the exact opposite now. I think there's way too much political correctness. Like the story of the Jewish student (Rachel Beyda) who was being interviewed about joining a student government body at UCLA and she was being grilled because she was Jewish. They finally realized the craziness of the idea that you have to be either atheist or agnostic to be open-minded. I think a compelling case could be made that people of faith are more tolerant and open-minded than those that aren't. In any case, there's a lot of political correctness in our universities now. I don't know the answer to that, but it can't be ignored.
You are known—and often criticized by conservatives—for your support of the Common Core State Standards. What do you think some critics are missing on the issue of Common Core and education standards in general?
Common Core is narrower in scope than what people are told. Common Core is higher standards for reading and math and nothing more. It's not social studies. It's not curriculum. It's not politically correct content. It's none of that. It's not an imposition from up above. I do think people have a legitimate concern about the possibility of the federal government encroaching into the affairs of what should be a local and state issue. The Obama administration indirectly got involved with using standards governed by the states as part of a grading process for getting money. That was inappropriate.
The objective of Common Core is to have a set of standards that, if assessed faithfully, means that a student—after we spend more per student than almost any country—is college or career ready. Between 30 and 40 percent of our kids are not, despite all this huge spending. There should be a sense of urgency about this. This should be a national priority. Not a federal mandate but a national priority.
How has being part of a biracial family shaped you as a person and as a policy-maker?
I never thought I was in a biracial family when I fell in love. I have proudly been the husband for 41 years of Columba Garnica Gallo Bush. Our family is enriched by the combination of our cultures. Her culture is my culture, and my culture is hers. We don't think about it beyond that. My life experience leads me to believe that there are a lot of people that aspire to a better life and embrace conservative principles and haven't been asked to join our team. If we are respectful of all people who share our values, then we can win elections. I got to do that as governor: I carried a majority of the Hispanic vote.
Karen Swallow Prior is professor of English at Liberty University and a regular writer for Her.meneutics.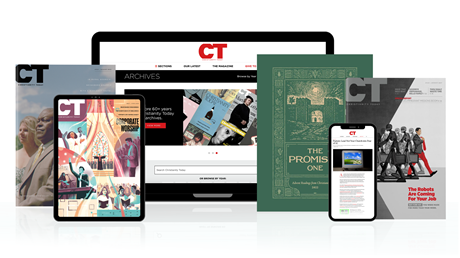 Subscribe to Christianity Today and get access to this article plus 65+ years of archives.
Home delivery of CT magazine
Complete access to articles on ChristianityToday.com
Over 120 years of magazine archives plus full access to all of CT's online archives
Subscribe Now
Q+A: Talking to Jeb Bush About Religious Freedom at Liberty
Q+A: Talking to Jeb Bush About Religious Freedom at Liberty