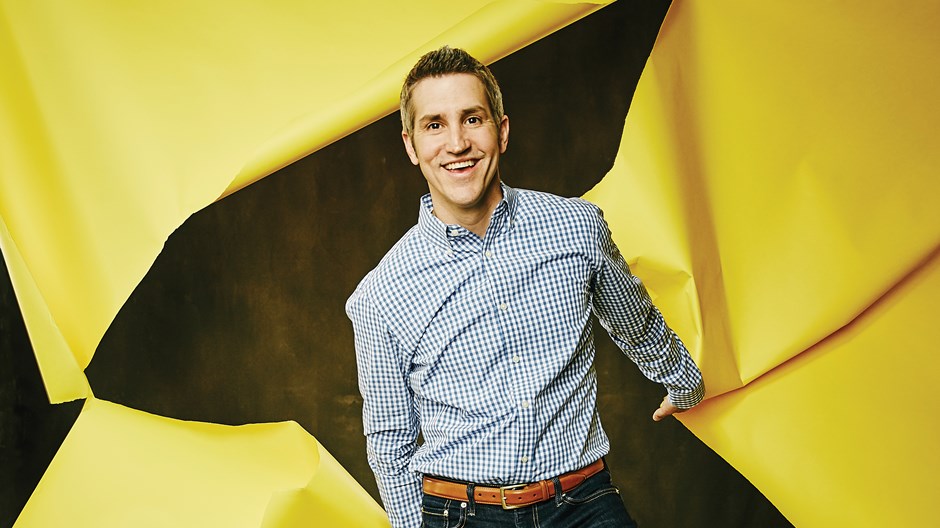 Image: Jeremy Cowart
CT is hosting a Twitter chat with Jon Acuff on Tuesday, May 19 at 10 p.m. eastern, 9 central. Tweet your questions using the hashtag #AskAcuff and follow @CTmagazine for his responses.
If you want a sense of Jon Acuff's career path, look no further than the titles of his three best-selling books. Quitter, Start, and Do Over hint at the Nashville writer's surprise resignation from financial guru Dave Ramsey's team. Now the man behind the website Stuff Christians Like is using his platform to dispense business advice infused with Christian wisdom.
From a cubicle he dreamed of escaping, Acuff watched Stuff Christians Like develop a devoted following with its spot-on satire about modest side hugs and worship leaders who wear deep V-neck tees. Seven years later, he's a nationally known author and speaker, giving readers practical steps to pursue right now the dreams they'd put off for "someday."
A smiley guy with a slight faux-hawk, the 39-year-old former ad copywriter hasn't left his comic roots. With a quarter million followers, his Twitter feed alternates between inspiration ("Beware the temptation to ask money for things it simply can't give you: an identity, a purpose, a sense of internal worth") and random one-liners ("The number of Cheetos I can eat in one sitting is exactly equal to the number of Cheetos that are within arm's reach").
Do Over: Rescue Monday, Reinvent Your Work, and Never Get Stuck, released last month by Portfolio, is Acuff's first book with a mainstream publisher. The same Penguin imprint is responsible for titles by marketing innovator Seth Godin and former Apple "chief evangelist" Guy Kawasaki. Godin himself called Acuff's Do Over "the best career book ever written."
Acuff is among a number of Christian leaders mixing professional development principles with discipleship and vocation. Former Thomas Nelson publisher Michael Hyatt, leadership coach Jenni Catron, Blue Like Jazz author Donald Miller, writer Jeff Goins, and others instruct devotees on how to set goals, market oneself, build healthy teams, network, and steward time efficiently.
"There was some hesitance to use business thinking," said Matt Perman, former director of strategy at Desiring God and author of What's Best Next. "However, we started learning from it because we saw a lot of it was speaking truthfully." Conferences such as Bill Hybels's Global Leadership Summit and Brad Lomenick's Catalyst were among the first large-scale settings to introduce such principles to evangelical leaders, said Perman.
A Southern Baptist pastor's kid, Acuff infuses his advice with his go-getter attitude. He tells readers they don't have to settle for a job they dread and offers practical steps to find passion in their daily work. His taglines include "Punch Fear in the Face" and "Build a Better Monday." He wants people to actually enjoy their jobs, for the sake of themselves, their employers, and their witness in the world of business.
In Do Over, Acuff addresses people who feel stuck in their jobs—up to 70 percent of US workers, according to recent Gallup polls. It's a message inspired by his own experience leaving Ramsey's team, a position he once called his "dream job."
Learning to Hustle
After getting a journalism degree from Samford University, Acuff spent more than a decade in advertising while blogging on the side. After Stuff Christians Like landed him a book deal and speaking gigs, he became a touring speaker with Ramsey, best known among US churchgoers for his Financial Peace University curriculum.
In 2010, Acuff moved his family—wife Jenny and daughters L. E. and McRae—from their home outside Atlanta to join Ramsey's Nashville company, the Lampo Group. Its 400 employees produce Ramsey's radio show, publish training materials, and host live events. Lampo released Quitter in 2011 and Start in 2013, reaching The Wall Street Journal and The New York Times bestseller lists.
Acuff held sold-out workshops to drive home the books' messages; he and Ramsey kicked off the tour for Start in Times Square with a giant bus branded with the book's logo.
It was Ramsey, Acuff said, who taught him how to hustle (a favorite Acuff word) and get more done in a day than he thought possible. "Hustle is doing the things you don't enjoy sometimes to earn the right to do the things you love," he wrote in Quitter.
Then, in September 2013, Acuff announced he was leaving Lampo. He said there was no instance of "moral failure" on his part, no rift with Ramsey. Nor was there a bigger, better opportunity waiting.
'Every career goes through a do-over, and a do-over isn't a bad thing. I believe we are wired for resets.' ~Jon Acuff
"I had just attended the Start conference a week or two earlier, so to hear this was a shock," said Randy Langley, one of the 11,000 members of Acuff's closed Facebook group about starting books, projects, and business ventures. "But as I observed him, I have seen the decision was made by someone who is doing exactly what he teaches."
Ramsey's team said they didn't see it coming. "This takes us as much by surprise as it does you," read a message posted on the Ramsey site immediately following the news. Acuff's speaker bio, personal site, and Stuff Christians Like—all hosted by Lampo—generated the same message. Acuff launched a new site (Acuff.me) and later resumed control of Stuff ChristiansLike.net. Ramsey still owns JonAcuff.com, which lists Acuff's three books for sale.
Lampo has repeatedly declined to speak with CT about Acuff's departure, citing a policy against commenting on former employees. Acuff said he has not spoken to Ramsey since he left.
"Everyone on the outside was saying, 'Hey, this must be the worst thing ever,'" Acuff said. "Jenny and I were feeling the opposite. Every career goes through a do-over, and a do-over isn't a bad thing. I believe we are wired for resets."
At one point in his career, Acuff says, he had gone through eight jobs in eight years. Some people would consider that a problem. Not Acuff. "Jenny pointed out, 'You've never stayed at a job longer than 3 years. Why did you think this would be 40?' " Acuff told CT. "'God didn't wire you that way. He wired you with this heart of adventure and change.'"
What's Next
Acuff continues to update Stuff Christians Like, though far less regularly than in its first three years. In those days, he added 1,000 entries to the list, including "Giving your kid a biblical name" and "Arguing about whether Chick-fil-A or In-N-Out will be served in heaven."
"It started out as this humorous take on how we do life in the Christian world, but then it became serious and really compelling," said Matthew Paul Turner, who runs the site Jesus Needs New PR. "I don't think people realize how difficult it is to be funny consistently and never use the f-word and never tell a sex joke….It's not like Jon just sits down and it flows. He's tactical. He's a planner."
Acuff considers comedy a craft, looking to Jon Stewart and Louis CK, as well as Christians such as John Crist, Sammy Rhodes, and Tripp and Tyler, for ideas. But his family remains his biggest source of inspiration for his humor—and his love for the church.
"My brother Bennett is the funniest in the family. I might be third," said Acuff. As a kid, "Jon was always saying something humorous or insightful. He was quick-witted," said Mark Acuff, Jon's father, who now pastors a nondenominational church in North Carolina.
Jon's father began a church in Massachusetts in the 1980s—something he said was unheard of at the time. "That really influenced my sense to do brave, counterintuitive stuff," said Acuff.
Acuff has coined terms like Jesus juke—when well-meaning Christians take a lighthearted topic and suddenly make it about the Lord—as well as booty, God, booty, the way believers struggle to integrate faith in their daily lives. But the last thing he's trying to do is bash the church, friends said.
"Jon has such a great way of celebrating the mess that is the church that we're a part of, in a way that's constructive," said Tim Schraeder, a social media strategist.
A self-diagnosed "What's next?" addict, the frenetic Acuff continues to blog, write, and dispense advice on everything from designing book covers to networking to facing rejection. Self-publishing, Kickstarter campaigns, and other web resources make Acuff's message seem doable for any self-starter.
"Reaching awesome used to be primarily a postmidlife accomplishment…. The path to awesome was decades long and there was little you could do to shorten it," wrote Acuff in Start. "The Internet, and especially social media, has changed that."
Between book deadlines (he's writing his second for Penguin), webinars, and YouTube videos, Acuff also consults with organizations and tours with the family ministry Orange.
"An hour with Jon around the creative table usually generates more ideas than our team would typically put on a storyboard in a day," said Reggie Joiner, Orange's CEO and one of the founding pastors of Acuff's former church, North Point Community in Alpharetta, Georgia.
Working at the intersection of business and faith lets Acuff—who now attends the Franklin campus of the nondenominational Cross Point Church—reach secular readers. "The books I write are on business shelves," he said. "I love the idea of [a reader noticing], 'When you talk about character or empathy, there's something different.' "
And when it comes to a gospel witness, it might just be Acuff's can-do message that stands out in a culture of negative headlines and loud opinions. "Anyone can be cynical," he wrote recently. "Hope takes courage."
Kate Shellnutt is CT associate editor of Her.meneutics.
Have something to add about this? See something we missed? Share your feedback here.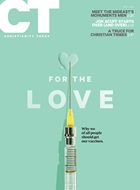 This article is from the May 2015 issue.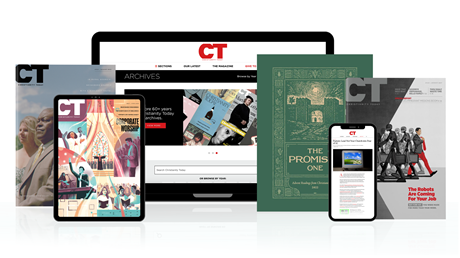 Annual & Monthly subscriptions available.
Print & Digital Issues of CT magazine
Complete access to every article on ChristianityToday.com
Unlimited access to 65+ years of CT's online archives
Member-only special issues
Subscribe
Jon Acuff Starts Over
Jon Acuff Starts Over