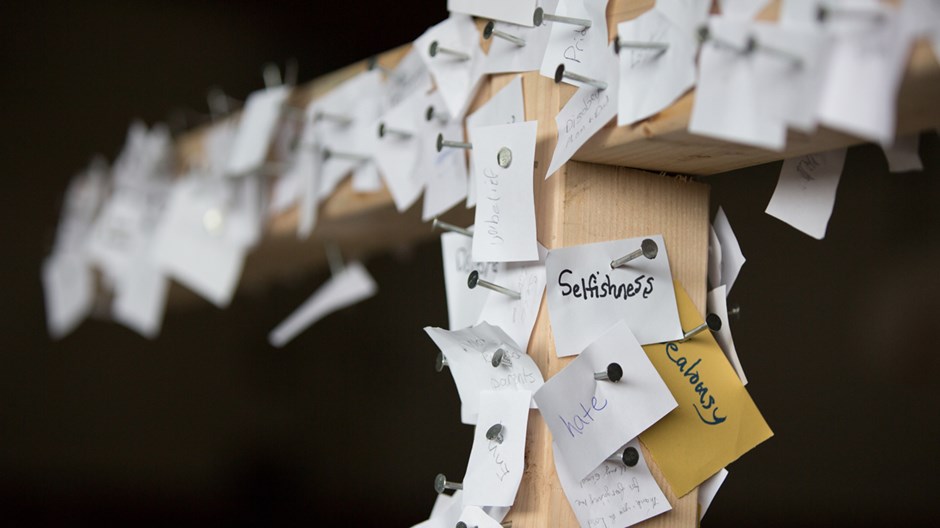 Image: TIMYCHKA / LIGHTSTOCK.COM
It was a sun-dappled afternoon at the ballpark, and I was strolling hand-in-hand with my then-three-year-old daughter. Adorably, she began singing "Jesus Loves Me," melting my heart. But when I joined her on the chorus, the mood changed.
"I sing it myself!" she stormed, batting away my hand. And then she resumed the song, shouting it in defiance. "YES, JESUS LOVES ME. THE BIBLE TELLS ME SO!"
From defiance to deception, varieties of sin abound. If we took the number of living humans and multiplied it by the number of minutes there are in a day, we might have a rough estimate of the number of different ways there are to sin. Some sins come with neon signs—adultery, theft, murder—and are easy to spot, if not always easy to resist. But there are also more subtle temptations. Jerry Bridges writes about the "respectable sins" we tolerate and sometimes even encourage: heart conditions like ingratitude, frustration, selfishness, impatience, and discontentment. The symptoms usually slip under the radar—gossip, irritability, dodgy tax returns, chronic overeating or overspending, private thought lives of lust, distrust, envy, or contempt.
Respectable Sins
In compiling a list of "respectable sins," we might include a subset of temptations specific to life as a Christian. Eugene Peterson, in his book Tell It Slant, calls these sins "eusebeigenic," a phrase he coined after picking up a staphylococcus infection in the hospital while recovering from knee surgery. The doctor told him he had an "iatrogenic illness"—a disease contracted in the course of being healed of something else. Peterson's pastoral mind linked that concept to spiritual health, and he suggested that "eusebeigenic sins" (from eusebeia—the Greek word for "godly reverence") are those sins that only beset people who have decided to follow Jesus.
Where other sins might rear their ugly heads in barrooms or brothels, eusebeigenic sins crop up in pews and prayer meetings. Often, they are rooted in self-righteousness, a stubborn weed that will plant itself in the soil of our desire for holiness any time we aren't looking. For example:
A concern over a fellow believer's poor choices morphs into impatience and judgment, eventually flowering in gossip or contempt.

A longing for meaningful worship shifts into frustration with the music team, until bitterness and cynicism make the heart resistant to any worship at all.

A motivation to live as a witness for the gospel distorts into an obsession with image management, plunging the heart into hypocrisy and self-deception.
A desire to reach out through a well-executed evangelism event subtly overtakes the planners until they begin to treat the people serving behind the scenes as nothing more than tools in their project.
It's very possible, and very tragic, to be doing "Jesus things," but not in the "Jesus way." Much like my daughter as a toddler, we march forward on our fiercely independent missions. YES, JESUS LOVES ME . . . SO THERE!
Jesus really does love us, and he's truly paid the price for our sins—be they glaring, respectable, or eusebeigenic. There's nothing we can do to make him love us more, and there's nothing we can do to make him love us less. But that doesn't mean that the way we live is of no consequence. God's love is unconditional and transforming, and it calls you and me to "throw off your old sinful nature and your former way of life, which is corrupted by lust and deception. Instead, let the Spirit renew your thoughts and attitudes. Put on your new nature, created to be like God—truly righteous and holy" (Ephesians 4:22–24).
When we say yes to Jesus, we accept his invitation not only to eternal life after death but also to abundant life now (John 10:10). We should expect progressive emancipation from distortions, appetites, and egos so that we become increasingly free to love and to live well.
So why, then, is there even such a thing as "eusebeigenic sin"? Why does the "putting on" of our new selves so often feel like a journey of two steps forward, three steps back?
The Next Opportune Time
We must remember, first, that walking in the Jesus way doesn't mean the absence of temptation. Even after Jesus rebuffed temptation in the wilderness, Satan left him only until the next "opportune time" (Luke 4:13). If Jesus experienced temptation throughout his years on earth (culminating the night before his death), we should expect—and plan for—temptation in our own lives as well. This is important because we are most vulnerable to temptation when we think we are impervious to it.
We must recognize, second, that while we can only be renewed through God's sheer gift of grace, we are invited to actively participate in receiving that gift. Early Christian writers ask us to picture ourselves as the rods of iron that blacksmiths hold in a furnace until they begin to glow—cold metal taking on the properties of fire. The staggering idea is that, if we dwell in the fire of God's love, it's actually possible for our character to increasingly "become by grace what he is by nature" as Athanasius of Alexandria explained. It is the fire alone that changes us. But there are some practical things we can do to place ourselves within that fire long enough for transformation to take place.
Get Examen-ed
One of these spiritual disciplines available to us is the Daily Examen, a regular time of prayer in which we ask God to help us review both the events of our day and the attitudes of our hearts. "Search me, O God, and know my heart; test me and know my anxious thoughts," we pray with the psalmist. "Point out anything in me that offends you, and lead me along the path of everlasting life" (Psalms 139:23–24).
A regular practice of Examen helps us detect encouraging growth, and it also roots out the sin we might otherwise overlook. Even better, it helps us catch problematic tendencies before they become fully ingrained habits. Many fitness apps ask us to log our daily food and exercise, and then calculate what we'd weigh in a month if we lived the same way every day. In a similar manner, Examen shows us the trajectory of our hearts—who we might become (good or bad) if we continue to think and act as we have in the last 24 hours.
It's important to remember that a thought is not a temptation, and a temptation is not a sin—but unchecked each one can lead to the next. Martin Luther was attributed with observing, "You cannot prevent a bird from flying over your head, but you can prevent it from building a nest in your hair." The Prayer of Examen gives us an opportunity to detect and disrupt potentially destructive thought patterns early.
Get Indirect
But what do we do if Examen reveals that a sin pattern has already become entrenched? Many Christians throughout history recommend the Principle of Indirection: Rather than trying to attack a vice directly, we can focus on a virtue that might replace it.
In his introduction to The Life with God Bible, Richard Foster offers the example of a struggle with pride as an opportunity for indirection. If we try to work directly on humility, he says, we'll just become proud of our efforts to be humble. But what we can do is focus on the discipline of service by looking for opportunities to serve other people.
"This indirect action places us . . . before God as a living sacrifice," writes Foster. "God then takes this little offering of ourselves and in his time and in his way produces in us things far greater than we could ever ask for or think of—in this case a life growing in and overflowing with the grace of humility."
Get Lost
The Prayer of Examen and the Principle of Indirection are wonderful means of grace. But we might easily distort them into our own independent program for improvement (and another cycle of self-righteous eusebeigenic sin) if we do not practice what Peterson calls the "Spirituality of Lostness." We must, Peterson urges, cultivate "an acute awareness of our lost condition in which we so desperately and at all times need a Savior."
Our transformation and renewal will always be utterly dependent on the Holy Spirit. As we mature in life with God, our great need for Jesus is something we never outgrow. In fact, our awareness of that need should only deepen so that with ever-increasing clarity we see ourselves for who we are: lost sheep who have been found, lumps of iron who now glow in a holy fire, and, yes, children whom Jesus loves.
Carolyn Arends is the Director of Education for Renovaré USA, an organization that exists to promote personal and spiritual renewal. To learn more about Renovaré resources and initiatives, including the Renovaré Institute for Christian Spiritual Formation, please visit Renovare.org. Carolyn is also a singer/songwriter who is celebrating 20 years in music. You can get to know her at CarolynArends.com.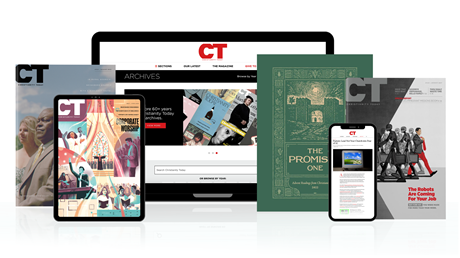 Annual & Monthly subscriptions available.
Print & Digital Issues of CT magazine
Complete access to every article on ChristianityToday.com
Unlimited access to 65+ years of CT's online archives
Member-only special issues
Subscribe
Our "Holy" Sins
Our "Holy" Sins