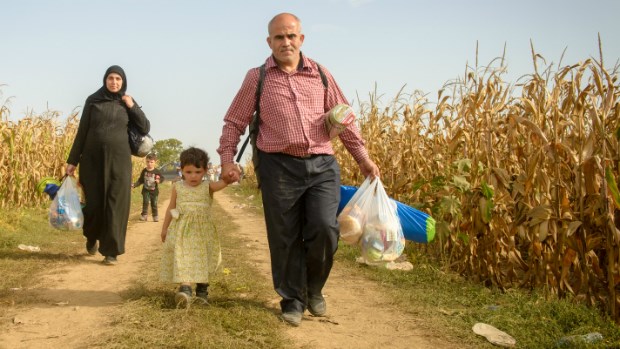 Image: Laura Reinhardt, World Vision
Since Hungary closed its border on September 15, refugees from the Middle East have surged into Croatia. Christian churches and relief groups moved to the frontlines in the region providing emergency relief, shelter, and medical aid, supplementing Red Cross and government assistance.
As of Monday, more than 27,000 people have crossed into Croatia from Serbia.
Beli Manastir, a small border town in northeast Croatia, boasts a population of less than 11,000. Over the course of last Thursday night, 8,000 refugees—many from Syria, Afghanistan, and Iraq—flooded across the border into a holding area prepared for no more than 1,000 people.
By Friday morning [Sept. 18], Beli Manastir had exploded with people, trash, and army cots scattered along the roadside and in parking lots. People huddled in the shade to escape the 97-degree heat. Many were asking two questions: "Do you have water?" and "How can we get to Zagreb?" From the Croatian capital, refugee families hope to gain access to Germany or other host nations for permanent resettlement.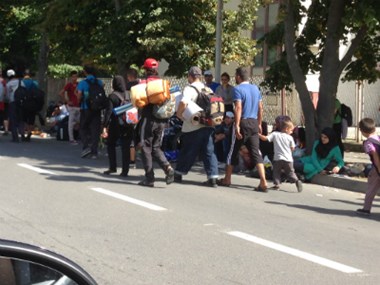 Image: Melody Wachsmuth
Other refugees in Beli Manastir, frustrated by the lack of information, set off on foot toward Osijek, a larger city 20 miles away, without knowing where it was or how to get there.
Since hundreds of land mines still litter the forest on the side of the main road into Osijek, authorities worked quickly to pick up the refugees on route. By late afternoon, police came in force to organize the response. With them came fresh supplies of food, water, and Red Cross workers.
In several cases, the Christian response to aid refugees was immediate. Remar, a Christian humanitarian aid organization, helped distribute relief supplies in Tovarnik, another border town, late afternoon Thursday and they stayed until Sunday. In Harmica, a border town between Croatia and Slovenia, Remar's rehabilitation house cared for refugees out of their facilities.
"To do good to others does not mean civilization will perish in Europe." ~ Marija Koprivnjak, refugee coordinator for the Evangelical Pentecostal Church of Croatia
Some in the Christian community expected that the government and Red Cross would handle the situation. Many were caught off guard when the chaos overwhelmed small border towns.
In some border areas, the Christian response was slow in coming. But according to Hans Mannegren, the director of European Affairs with evangelist Billy Graham, "Every day gets better."
In the first few days, the lack of accurate information was a major problem for everyone.
Domagoj Malović, director of Fokus, the Croatian branch of Cru, said things changed so rapidly that the only way to find out what was happening was to have witnesses as "eyes on the ground."
The Croatian government moved to what they termed "Plan B" and began loading up refugees on buses and sending them to the nearby Hungarian border.
Malović decided to follow the buses to the border to witness what would happen to the refugees. At the border, he found the buses stalled and people sprawled out on the asphalt, thirsty and hungry. He ran into the small shops and bought all the bottled water he could find.
"The response is much better than I expected, considering the small size of the evangelical community in Croatia," noted Željko Mraz, general secretary of the Baptist Union in Croatia. "There are many different evangelicals from different denominations involved in helping, although the media is only publishing that it is the government and Red Cross handling the situation."
Fear Remains a Factor
Despite the strong response from church and ministry leaders, grassroots Christians are less engaged and some are suspicious of refugees.
"Generally churches are cooperating well and people have a positive response, but also we see that some Protestant believers are callous toward the situation and fear the Islamization of Europe. Rumors are going around that Saudi Arabia is paying people to infiltrate," Malović said.
Some fear the economic repercussions since many in Croatia already feel bleak about their socio-economic prospects. "This incredible mass of people is daunting," notes Mannegren. Others question the refugees' motives: Are they are really fleeing for their lives or just want free handouts from Germany?
Many Christian leaders are trying to sway those church-goers who are fearful of the future.
Toma Magda, president of the Baptist Union in Croatia, preached a sermon earlier in September in response to the coffee house conversations he was hearing. "The Bible is very clear when it speaks about how to deal with foreigners—and the instruction is, without exception, to accept, care, and even love."
Mannegren notes, "People are tired of their situations in their home country, and they are not willing to put up with it. Deep down people have a lack of hope because they cannot see a future in their countries. . . .these are the people who are coming."
This kind of empathetic appeal is what Marija Koprivnjak, refugee coordinator for the Evangelical Pentecostal Church of Croatia (EPC), used on Friday during the church's annual pastors' meeting.
"We in Croatia, we were once refugees," said Koprivnjak, who lives in Vukovar, the Croatian city that fell to the Yugoslav National Army in November 1991. EPC leaders agreed to cooperate and organize toward a consistent response.
Some organizations are following the crisis as it moves from country to country, border to border. A Samaritan's Purse Disaster Assistance Response Team arrived in Hungary last week before moving to Croatia. Nazarene Compassionate Ministries (NCM) has been active in the crisis in Hungary, Serbia, and Croatia.
Calvary Chapel had a medical tent that became the hub of an evangelical organic cooperative effort—first on the Hungarian border, then on to the Serbian side when the border closed, and are now willing to offer their services to Croatia.
The political situation is growing tense between governments. On Monday, the foreign ministers of Czech Republic, Poland, Slovakia, and Hungary are expected to oppose Germany's migrant distribution proposal.
But Croatia grows better equipped by the day.
On Sunday, a tent city accommodating 5,000 refugees was built in Eastern Croatia to be a temporary registration center. Soon after refugees are registered, Croatia is bussing them to the Hungarian and Slovenian borders, where they continue to Austria, which accepted 10,000 refugees on Saturday.
As Croatia regains control of the situation, they are again restricting access—at the tent city in Eastern Croatia, NGOs need permission from the government to work with the refugees. Protestants are now taking appropriate and creative steps to gain this access. According to Vukadinović, Remar is contemplating moving operations onto the Serbian side where there is greater access.
Clouds of uncertainty are swirling around Europe's future as migrants continue to enter Serbia and then Croatia. On Monday, Serbia—already beleaguered with socio-economic difficulties— claimed severe economic repercussions from the border closures.
One thing is for sure, Christian leaders believe this situation is a long-term concern that will not be resolved overnight.
Some see this as an opening. "God's given us an amazing opportunity," Teanna Sunberg, NCM communications coordinator for Central Europe, said. "He's brought the Muslim world to our doorstep."
Chris Lewis, an NCM volunteer who has been following the crisis, notes, "In Serbia, the Syrians were quite keen to help with the volunteer effort, such as picking up trash. Walking and picking up trash with them was a great way for conversations to happen. They see that Christians are the ones helping and loving them."
Others continue to seek to diffuse the pervading currents of uncertainty and fear.
According to many Christian leaders in Croatia, it is not necessary to ascertain whether refugees are truly fleeing for their lives. "If we are Christians," Magda said, "it is on us to love and accept. It is on God to judge motives—on both sides."
Or as Koprivnjak said, "To do good to others does not mean civilization will perish in Europe."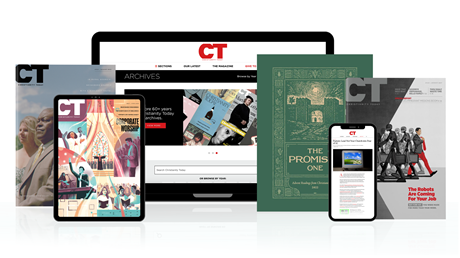 Annual & Monthly subscriptions available.
Print & Digital Issues of CT magazine
Complete access to every article on ChristianityToday.com
Unlimited access to 65+ years of CT's online archives
Member-only special issues
Subscribe
The Refugee Crisis Frontline: Croatia's Christians Lend a Hand
The Refugee Crisis Frontline: Croatia's Christians Lend a Hand