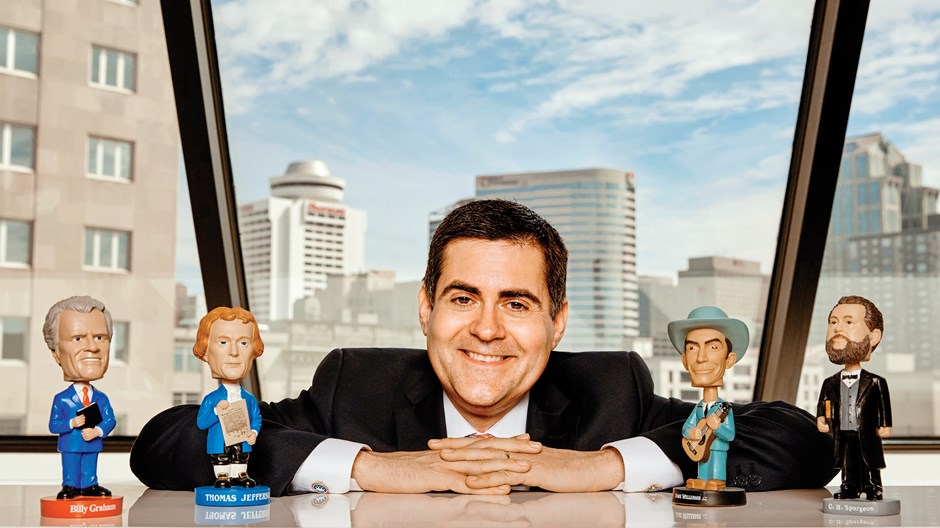 Image: Jeremy Cowart
Moore didn't expect to see female bodybuilders tanning naked across the street on a hot June day.
So the eighth president of the Ethics and Religious Liberty Commission (ERLC), the public-policy arm of the Southern Baptist Convention, took to one of his pulpits: Twitter. "These people told me we ought to keep all the neighbor kids inside while they are naked out here. Y'all have never seen me this mad," tweeted Moore, a father to five boys.
Moore chuckled recounting the story while holding his youngest during family dinner. The day after his neighbors agreed not to tan naked in their front yard, Moore tweeted, "So far today we still have our First Amendment religious freedom and everyone in my neighborhood has their clothes on outside. #winning"
Compared with today's myriad court battles in which Christian individuals and organizations worry that their religious freedoms will soon vanish, tanned bodybuilders seem like a minor threat. But the encounter epitomizes the way Moore is practicing patient pluralism—and helping a denomination of about 16 million do the same—in a time when Christianity seems to many as odd as the notion of female bodybuilders was a century ago.
"When identifying as a Christian, there's an oddness and strangeness to the claim in some places," Moore, 44, told Christianity Today. "But the conception of Christianity as a strange thing is a good thing for the gospel because it lines up with what the gospel is.
"Christians are becoming aware that there's a large portion of society who would be relieved if all the evangelicals were raptured."
While Moore's youngest son ran around the house after dinner, his shorts came off. As Maria Moore got up to retrieve the toddler, Russell pointed across the street. "They're going to say, 'Get your own house in order before you fix mine.' "
Back to Baptist Roots
In the two years since Moore, the former dean of the Southern Baptist Theological Seminary (SBTS), took to leading the ERLC, Southern Baptists have watched many of their beliefs—including, most notably, their beliefs about religious freedom—challenged in courts and by rapidly changing public opinion.
But even before the Supreme Court struck down all state bans against same-sex marriage this June, claims of being a "Moral Majority rang hollow for US Christians," Moore said in his ERLC inaugural address in 2013. For his part, he embraces the cultural margins.
"We are a prophetic minority who must speak into a world that is . . . exactly what Jesus promised us the world must be," he said.
In this way, Moore's leadership recalls "the days when Baptists were not at the center of culture but were outsiders, calling the culture into account for its failing," says Barry Hankins, coauthor of Baptists in America with fellow Baylor University historian Thomas Kidd. "That resonates with a certain part of Baptist history, but it's also quite different from the 20th century, a more triumphal approach, a more insider approach."
In 1920, Southern Baptist statesman George W. Truett gave his most famous speech, "Baptists and Religious Liberty," from the steps of the US Capitol to an estimated 10,000–15,000 attendees. He taught that Baptists and Americans had a shared goal: "Democracy is the goal toward which all feet are traveling, whether in state or in church."
By contrast, Moore spoke not at the Capitol but at Capitol Hill Baptist Church, led by senior pastor Mark Dever. There, Moore warned a modest audience of about 400 against pursuing a Christian America.
"[F]or too long we have assumed that the church is a means to an end to save America," he said. "America is important. But the end goal of the gospel is not a Christian America. The end goal of the gospel is redeemed from every tribe and tongue and nation and language. . . . We belong to another kingdom."
"Moore has an important message: How do you live when you're in exile?" says Fox News commentator Kirsten Powers. "Let's stop the pity party and instead say, 'We're in exile, and this is not the first time God's people have been in exile.' "
Alongside their Anabaptist cousins, Southern Baptists have traditionally seen themselves as on the margins of mainstream culture. Baptist teaching promotes the separation of church and state, warning that the church must maintain a healthy distance from political affairs in order to speak prophetically to political and social issues.
Alongside Puritan Roger Williams—arguably the first proponent of church-state separation in America—Southern Baptists also take cues from Isaac Backus and John Leland, 18th- and 19th-century preachers who stood against tax-supported churches in Massachusetts and Virginia. The men's legacies loom large: The ERLC's office in Washington, D.C., is named after Leland, and a portrait of Backus hangs just inside Moore's Nashville office.
"One of the things we lost in training in Baptist life is the teaching of why religious liberty is central and important in the Baptist tradition, which I see as Baptists' contribution to the larger world," Moore said. "We have to be arguing for religious liberty for everyone." This means, for example, that Moore has publicly praised court rulings that protect the freedom of Muslims to practice their religion.
After the Supreme Court ruled in 2014 that Hobby Lobby wouldn't have to cover certain forms of employees' contraception due to the for-profit owners' religious claims, Moore tweeted, "This is as close as it gets to a Southern Baptist dancing for joy. . . . The Court reaffirmed a fundamental guarantee for religious liberty for all people."
Suit-and-Tie Guy
Appearing ever ready to testify on Capitol Hill, Moore sported a red tie and ERLC-branded cufflinks the summer day I visited his Nashville office. There, Moore leads 25 employees and manages a budget of $3 million. The bobbleheads on his bookshelves include theologian C. H. Spurgeon, former president Thomas Jefferson, evangelist Billy Graham, and musician Hank Williams. Together they symbolize Moore's vision of mixing theology, religious liberty, evangelism, and culture to guide SBC public policy.
Moore says the main difference between him and his predecessor—Richard Land, who led the ERLC for 25 years, when the Religious Right enjoyed significant influence in Washington—is that he sees himself first as a preacher-evangelist, and only second as a public policy advocate.
Land left the ERLC post in 2012. Before he stepped down, he came under fire for allegations of plagiarism in his radio broadcasts, and for remarks related to the shooting death of Trayvon Martin. At 69, Land today heads the nondenominational Southern Evangelical Seminary near Charlotte, North Carolina. He still positions himself as an evangelical spokesman, sending out statements in press releases after national events as he did as president of ERLC. (Land, who agreed to an interview at the 2014 SBC convention in Baltimore, later declined through a spokesman to speak with CT.)
Land was credited alongside other conservative religious leaders for helping to ensure George W. Bush's second presidential term in 2004. In 2002, Land had sent a letter to Bush, signed by other Christian leaders, that offered moral justification for a preemptive military strike against Iraq. Toward the end of his ERLC tenure, Land became more intertwined with specific political candidates, endorsing Mitt Romney in 2012.
Moore, by comparison, has yet to align himself with a major candidate for the 2016 election and is careful about which Washington groups he partners with. And while Land had a booming radio presence, Moore finds a captive audience on social media.
"Many people assume the tone change is because I'm associated with a younger wing of evangelicalism," Moore said. "I think it's more because I grew up in an older, blue-collar revivalist church that ended every service with an invitation hymn."
Moore was raised by a Catholic mother and a Baptist father in a working-class neighborhood in Biloxi, Mississippi, a longtime hub for commercial fishing. He studied at the University of Southern Mississippi, New Orleans Baptist Seminary, and SBTS, where he earned a PhD in systematic theology. In the early 1990s, before seminary, Moore was an aide to US Congressman Gene Taylor, a Catholic pro-life Democrat from Mississippi. (Since then Moore has switched to the Republican Party.)
"I started my young adulthood working with the greatest public servant I've ever known," Moore wrote in 2006. Taylor's ability to transcend partisan politics arguably inspired Moore to do the same.
So has his family's experience adopting two boys from Russia before he and Maria went on to have three biological sons. Moore's adoption advocacy, notably in the book Adopted for Life (and a 2010 CT cover story), has given him a broadly evangelical platform that combines theological, cultural, and political engagement.
"I associate him closely with the adoption issue, which is not immediately political but creates a very personal, compassionate image," said Molly Worthen, a historian at the University of North Carolina–Chapel Hill.
"Before adopting, it wasn't that I was anti-immigrant or anti-orphan, but I didn't care about those issues the same way," Moore said. "Orphan care moved me into a place that I had intellectually but didn't have viscerally.
"The orphan care movement carries with it all of the possibilities and pitfalls of evangelical social action. In order for it to be effective, it has to work on the local church level . . . and it means the church taking on the risk of welcoming people who have the possibility of hurting them."
"Moore understands that even beneath the issues, there's a person," said Saddleback Church pastor Rick Warren after speaking on an ERLC panel at the 2014 SBC convention. "There are the theological issues and the social and political implications, but there's also a person behind every ethical and moral decision."
Moore admits he has not always seen the people behind contentious issues. In 2000, as a research assistant to SBTS president Albert Mohler Jr., he attended a gathering of the Cooperative Baptist Fellowship, mostly comprising moderate Baptists who withdrew from the SBC in the 1980s. Moore wrote a series of critical stories for Baptist Press, and Cooperative Baptists called his reporting unethical and inaccurate. Moore said what he wrote was true, but his attitude toward the Cooperative Baptists was wrong.
"I became pugnacious. I almost delighted in catching these people in their errors," Moore told CT. "It showed me a side of myself that I find forbidden in Scripture: 'The Lord's servant must not be quarrelsome' [2 Tim. 2:24]."
At least one leader compares Moore's tone to that of Jorge Mario Bergoglio, who became Pope Francis three months before Moore became head of ERLC.
Both men "have been misunderstood as though they are compromising the Christian witness on hot-button issues," said Robert George, the Catholic legal scholar at Princeton University. "They're simply proclaiming the historic Christian doctrine on sin and mercy toward the sinner. They're saying, 'Let me give you the rest of the story, which is mercy.' "
Moore got into hot water last year for criticizing Christian radio shows for lacking that mercy.
"I listened on the way back up here from my hometown to some Christian talk radio this week, against my doctor's orders," Moore said at the ERLC's 2014 Leadership Summit, in a talk titled "Walking the Line: The Gospel and Moral Purity." "Honestly, if all that I knew of Christianity was what I heard on Christian talk radio, I'd hate it, too. There are some people who believe that fidelity to the gospel simply means speaking, 'You kids get off my lawn.' "
Syndicated radio host Janet Mefferd called on Moore to apologize, saying his remarks were "over the top." She defended hosts' approach to discussing homosexuality.
Moore suggested that some commentators had been too focused on sexual immorality. "We have not been called simply to condemn," Moore said. "We have been called to reconcile."
Big-Tent Calvinist
But make no mistake: Moore is as traditional in his theology as Mohler, who led SBTS and the larger Southern Baptist world into a conservative resurgence that it enjoys to this day.
When Mohler assumed the SBTS presidency in 1993, he required new faculty to affirm the inerrancy of Scripture and oppose women's ordination. Moore rose quickly through Southern's ranks, joining the faculty in 2001 and becoming dean in 2004.
"Moore and I see eye to eye on almost all issues of significance besides the great raging debate of opera vs. country," Mohler told CT. "He's very much on the wrong side."
Moore describes himself as a four-point Calvinist (he's not on board with Limited Atonement), but a "big-tent" one who will work alongside Arminians. Today he downplays the differences between the SBC's Calvinists and non-Calvinists.
"I said I was a conscientious objector in the debates," Moore said. "Some of the perceptions are overblown, and many of them are differences between theologically oriented people and practically oriented people."
Still, Moore must be understood in the context of Southern's Reformed sensibilities, said Bill Leonard, a church historian at Wake Forest University. "Total depravity and a response to the principalities of this world are closely related in his theology," said Leonard, who taught at SBTS during its moderate days in the 1970s. "One of the responsibilities of government is to hold at bay the totally depraved multitude."
Greg Wills, dean of SBTS's school of theology, told CT, "Russell thinks it's important not to talk about the evils of gambling, but [that] these are issues in which individual human beings are suffering depravation so they are vulnerable to the enticements of state lotteries. He addresses materialism, structural social issues, while insisting on the traditional position on gambling."
Moore does not hesitate to critique theology he sees as aberrant or harmful.
"The pro-life aspect of the Religious Right saved the evangelical movement in this country," Moore said. "It alerted evangelicals that theological liberalism doesn't just kill churches. It kills people, too."
Still, he believes the Religious Right was too optimistic about political power. He openly criticized a 2010 rally that media personality Glenn Beck, who is Mormon, held with Christian Right leaders, including Land.
"Beck is not preaching the gospel," Moore told CT, recalling his outrage at the time. "But it seemed like it because he was preaching on values. In order to make ourselves a moral majority, we have deemphasized the gospel and replaced it with a vague sense of values."
Anchored by Jerry Falwell Sr.'s Moral Majority, many Christian Right groups drove agendas opposing abortion and the Equal Rights Amendment and supporting prayer in school and tuition tax credits for private religious schools. With the diminished influence of many conservative Christian institutions in Washington, today leaders like Moore are less inclined to claim a "majority" label. And though he has not publicly criticized other leaders in Washington, such as Tony Perkins of the Family Research Council, the two have not collaborated in the way Land and Perkins did.
"I don't have that relationship with Russell that I had with Richard," Perkins, who repeatedly declined CT's interview requests through a spokesman, told National Journal. "I don't know Russell that well. I think he's still trying to find his way."
Moore's path has led him away from the Family Research Council's mode of political engagement (which CT editorialized against as "caustic" in 2012). Moore's challenge is whether he can carve out middle space between the separatism of a "prophetic minority" and the guidance on key issues that many evangelicals will be looking for during an election year.
"There is reason to wonder where evangelicalism will go after taking leave of the Religious Right, whether into suspended political animation or into the sort of political activism that avoids the points of greatest tension with the ambient culture," Moore wrote for First Things in 2013. The problem for many evangelicals, says Moore, is not that the Religious Right was too conservative. It's that the Religious Right, in seeking political power or to reclaim America, sacrificed gospel distinctiveness.
"Today the center of American evangelicalism is, theologically speaking, to the right of the old Religious Right," wrote Moore. Evangelicals work on orphan care, creation care, human trafficking, racial reconciliation, prison reform, and economic inequality, as well as abortion, economic freedom, and marriage, "with decidedly conservative motivations and strategies—and theologies," he wrote.
Which is why Moore may be a fitting figurehead for evangelical public policy leading up to November 2016, during which, absent an evangelical pope, media will look to him to speak for the movement. He appears regularly on television and radio as an evangelical spokesman. As an invited guest of the White House and Congress, he shifts between prophetic dissent and hearty support, depending on the issue.
Moore has been invited to meet with President Obama five times, each on the issue of immigration, an issue the SBC has made a priority. But he also publicly disagrees with the President on abortion and same-sex marriage. An avid Wendell Berry fan, Moore advocates for creation care, though he has warned of environmentalists "sounding the alarm on global warming." He believes the death penalty is sometimes warranted.
Moore has served as board chair of the Council on Biblical Manhood and Womanhood, an organization that promotes complementarianism, believing that men and women serve different roles in the church and home. When gender informs the public discourse on abortion or contraception, Moore regularly highlights work by evangelical women. His closest advisers, however, are men, including an executive staff weighted with SBTS graduates. When it launched in 2014, the ERLC's research institute included 3 women on a staff of 70.
Moore hosts regular conference calls with SBC pastors, updating them on issues and offering guidance on public-policy questions. Always armed with a beverage before fielding questions, he says he recently switched from his usual diet soda to unsweetened iced tea. "Isn't that such a Yankee thing to do?" he lamented. On one call, a pastor asked him how to criticize the President in a way that is Christian.
"Make sure you are publicly praying for the President and honoring him in situations where you're not criticizing him," Moore said. "Some of the ways I've heard people pray for the President have been things like, 'Lord, we pray you turn his wicked heart.' "
Instead, Moore told pastors, they can suggest disappointment without passive-aggressive prayers. "Signal that you really do want the President to succeed but you're disappointed with what he's doing," he said.
Take Down That Flag
As the United States rapidly grows more diverse, Moore said that the SBC still has much work to do on race. The ERLC's summit this spring featured several plenary talks from African American leaders on why racial reconciliation remains a core gospel issue.
Next to the bobbleheads in Moore's office is a photo of black sanitation workers protesting labor conditions in 1968 Memphis. Citing years of poor treatment, unfair wages, and discrimination, some 1,300 sanitation workers walked off the job in protest. "It reminds me of human dignity," Moore told me, pointing to the photo.
The SBC originally formed in 1845 in a split from the American Baptist Convention over whether Baptists who owned slaves could also serve as missionaries. Many SBC leaders were either silent on or actively opposed the civil rights movement through the 1970s, and many congregations segregated blacks. Today about 20 percent of the 50,000 Southern Baptist congregations are predominantly nonwhite.
Moore noted the SBC's historical ties to slavery in his 2013 inaugural address. "We must be those who recognize as we speak to the outside world, and especially those of us who are a part of this great denomination, a denomination that is summed up in its very name—the fact that we were founded, at least partly, to justify man stealing, and kidnapping, and slavery, and lynching," Moore said.
Both Moore and predecessor Land nod in appreciation to Foy Valentine—a moderate who led the Southern Baptist Christian Life Commission (now the ERLC) from 1960 to 1987—on his civil rights work. While many Southern Baptist preachers attempted to remain neutral on race, Valentine urged engagement.
When Land took over the agency in 1987, he led the SBC's Racial Reconciliation Resolution of 1995 after convening eight black and eight white SBC pastors and scholars. The committee's resolution apologized for "the role that slavery played in the formation of the Southern Baptist Convention," SBC opposition to civil rights, and the exclusion of blacks from SBC churches.
But race remains a tricky issue for a denomination in which nonwhite pastors fill far fewer leadership positions. The SBC elected its first black president, Fred Luter, in 2012. As he cycled out of office last year, the SBC replaced him with Ronnie Floyd, a white pastor.
"You and I just passed the wall of SBC presidents," Moore said, referring to the portraits of all-but-one white men. "If in 10 years Fred Luter is the only person of color on that wall, that will not be progress."
Moore tried to make progress this summer by calling for the Confederate flag to be removed from atop the South Carolina Capitol. For a leader whose home state's flag features a Confederate battle flag in the upper-left corner, the statement was remarkable.
"The cross and the Confederate flag cannot co-exist without one setting the other on fire," he wrote two days after nine black churchgoers were fatally shot at Emanuel AME Church in Charleston. "White Christians, let's listen to our African American brothers and sisters. Let's care not just about our own history, but also about our shared history with them."
Moore's conviction solidified after Hurricane Katrina, when a national guardsman gave him a Mississippi flag from the wreckage of Biloxi, Moore's hometown. Moore tacked the flag on a pegboard in his basement study.
But on a day when Moore was preparing to host African American friends, he noticed the Confederate cross in the corner of the flag—and couldn't imagine trying to explain why he had the flag hanging in his home. As Moore unpinned the flag from the wall, it fell apart in his hands. The memory came roaring back after Charleston, when he decided it was time to speak publicly. Observers said it enabled political leaders to eventually pull the flag down.
"How can you address education inequities and economic inequities when we have the basic problem of imagery that divides us?" said Burns Strider, a Southern Baptist from Mississippi and a faith adviser to Democratic presidential frontrunner Hillary Clinton. "Russell's speaking out as a conservative had an immediate ripple effect."
Strangers and Exiles
As Moore and I waited for dinner, Moore's dachshund trotted over to the feet of his master, who rolled his eyes. The dog was a hasty promise Moore made when he told his boys they would be moving to Nashville and two of them began to cry. The dog's name? Waylon, after country musician Waylon Jennings.
"Country music and hip-hop are the only two popular music forms in America that have a more holistic view of a person and deal with sin," Moore said. "Both of those forms of music at their best tend to be more honest."
Moore may be uniquely equipped to speak the cultural language of two generations at once. As a member of Generation X, Moore appears ready to calm a boomer generation anxious about millennial Christians, who are generally more left-leaning politically than their parents and less likely to join a church. He occasionally meets with hip-hop artists like Lecrae, though he retains deep affinity for his Mississippi church that sang Fanny Crosby revivalist songs.
"My grandmother is in the slow process of dying," he said. "I realized I could sing to her hymns that she and I would both know and it would be meaningful. I'm not sure that would be the case for my kids. I get older Southern Baptists and I get what they see being lost.
"On the other hand, I'm encouraged that we have a millennial generation defined theologically instead of politically."
"Keep Christianity strange" is the central message of Moore's new book, Onward: Engaging the Culture without Losing the Gospel (Broadman & Holman). "The temptation is to do with America what the prosperity gospel does for the individual," Moore told CT. "If you do these things, you'll have blessings and wealth."
As he navigates the waters between Southern pulpits and Washington corridors, Moore is trying to thread the needle of leading Christians to shape public policy without being co-opted by political leaders.
Moore is the rare person in politics who tends to leave you more hopeful after you meet, said Joshua DuBois, who ran the faith-based office under President Obama. "He is resetting the boundaries of appropriate dialogue in the public square. He's trying to wake up evangelicals to the world around them."
Moore may be preparing evangelicals to be in the minority, but he has also been teaching that Christians must remain culturally engaged or risk losing their religious liberty.
"We are strangers and exiles, on our best days, but we are not orphans and wanderers," he writes. "Our strangeness is only hopeful if it is freakishly clinging to the strange, strange mission of Christ crucified and risen."
As US Christians feel more and more like exiles, Moore seems more than ready to lead them into the wilderness.
Sarah Pulliam Bailey, CT editor at large, is a religion reporter for The Washington Post, where she runs the Acts of Faith section.
Have something to add about this? See something we missed? Share your feedback here.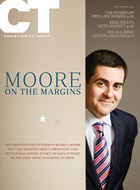 This article is from the September 2015 issue.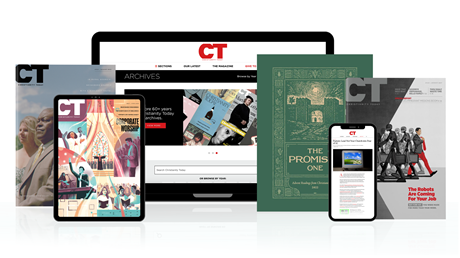 Annual & Monthly subscriptions available.
Print & Digital Issues of CT magazine
Complete access to every article on ChristianityToday.com
Unlimited access to 65+ years of CT's online archives
Member-only special issues
Subscribe
Read These Next
Trending

American Christians Should Stand with Israel under Attack

While we pray for peace, we need moral clarity about this war.

From the Magazine

Frozen Embryos Are the New Orphan Crisis

More than a million unused IVF embryos are in cryostorage. Are they the next pro-life frontier?

Português

Editor's Pick

Don't Miss These African Christmas Hits

Jam out this season to highlife, Afrobeats, jazz, a cappella, R & B, rap, dance, and hip-hop artists from Nigeria, South Africa, and more.
Russell Moore Wants to Keep Christianity Weird
Russell Moore Wants to Keep Christianity Weird