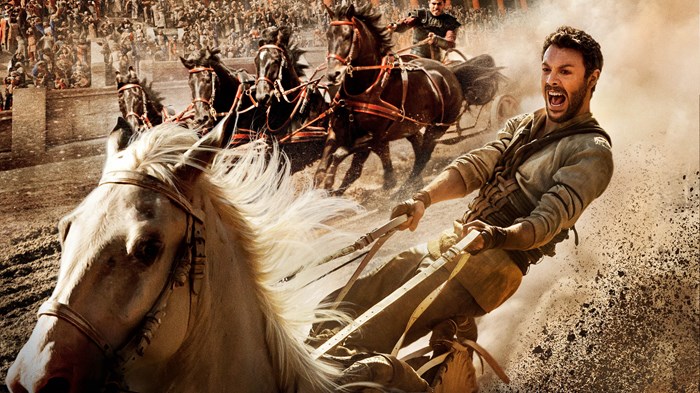 Image: Paramount Pictures
Why would anyone feel the need to make another Ben-Hur?
It's not strictly accurate to frame this film as a remake of William Wyler's 1959 classic, since that film was itself an adaptation of the 1925 silent film Ben-Hur: A Tale of the Christ, and that film was based on Lew Wallace's 1880 novel, sometimes called the "most influential Christian book of the nineteenth century." There's also the miniseries from 2010. And the animated film from 2003. (I'm probably missing some others.) But Wyler's film is the best-known version, and this new version could never hope to escape its orbit.
Then again, since the dawn of cinema, people have been making new movies about the life of Christ—including Son of God, the 2014 box-office success executive produced by Mark Burnett and Roma Downey, who serve the same role in the latest Ben-Hur. Burnett and Downey's involvement in a project usually means it's destined for the faith-based marketing niche, and certainly this Ben-Hur is settled firmly in that slot.
But just because it's done all the time doesn't mean it's okay—especially when a very memorable version of the story is still broadly watched and praised by audiences. If you're going to make a new version, you should have a good reason. (Or at least a reason.)
So last weekend, I fired up all 224 minutes of the 1959 Ben-Hur and watched a very non-Jewish-looking Charlton Heston journey, as Judah Ben-Hur, toward forgiveness and faith. Despite every story beat feeling almost too familiar by now, after years of running on TV at the holidays, the film holds up: it's a a stirring, operatic tale, and it's deeply watchable today, once you calibrate your expectations regarding ...
1