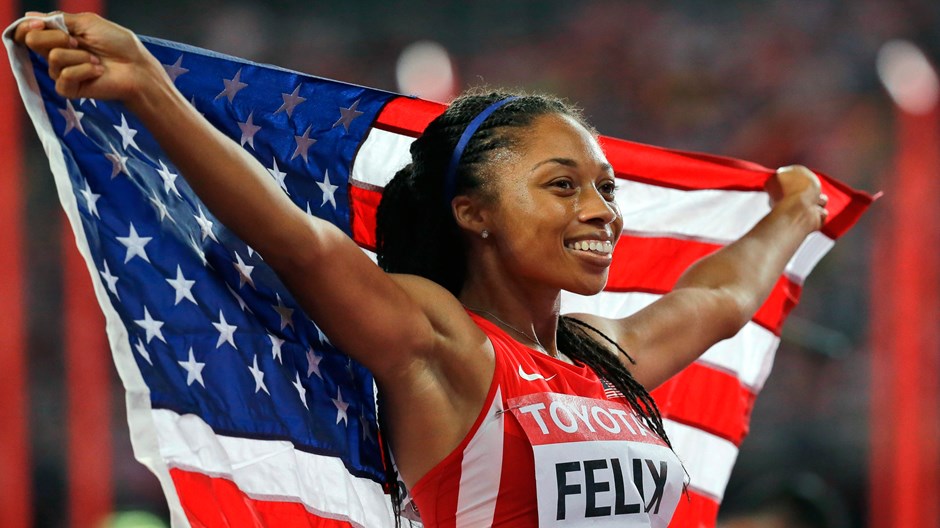 Image: David J. Phillip / AP
There's nothing like the pomp and prestige of the Olympics Games to raise the stakes for the world's top athletes. With millions of viewers watching, more than 10,000 will compete in this year's Olympics in Rio de Janeiro, Brazil.
Fans tune in not only for the physical feats, but for stories of triumph. We want to see who achieves the dream of winning gold on a global stage. Competing at this level forces participants to reckon with priorities. Some Christian athletes enter with a perspective that explicitly challenges the idea that Olympic success would be the pinnacle of their lives. Some learn that lesson as they go.
Regret over having "failed the world" with her silver medal placement in the 2008 Games eventually led gymnast Shawn Johnson to realize that even if she won "12 more Olympic gold medals…it's not my purpose in life, and he will always be my greatest reward," she said in a recent video for I Am Second.
The following Christian competitors share how faith inspires and influences their Olympic aspirations, from a shot-putter who leads the team Bible study to a synchronized diver who says God saved him from a diving accident that could have taken his life.
Maya DiRado, 23
Swimming (first-time Olympian)
@mayadirado
Swimmer Madeline (Maya) DiRado is headed to Rio knowing that this will be both her first and last Olympics. Competing in the 400-meter medley, the 200-meter medley, and the 200-meter backstroke, the 23-year-old "late bloomer" already declared her intention to retire after this summer and transition to a consulting job awaiting her.
DiRado already caught media attention for her insistence not to be defined by her swimming accomplishments. She credits her Stanford University coach for pushing her to try for the 2016 Olympic team; she was ready to move on after she missed qualifying for the 2012 games. She told Yahoo! Sports, "I don't think God really cares about my swimming very much. This is not my end purpose, to make the Olympic team."
"Knowing that I'm a child of God and that his love for me is determined by nothing I can achieve or do on my own has given me a quiet confidence," DiRado told CT (click here for our full interview with her). "My faith has helped me chart my own course and pursue my goals when people around me may be going in different directions. Jesus' love for me and all humanity is something that always helps me better love people around me when things get difficult." When asked what she thinks God does care about as she prepares for Rio, DiRado replied, "I think God cares about my soul and whether I'm bringing his love and mercy into the world. Can I be a loving, supportive teammate, and can I bless others around me in the same way God has been so generous with me?" The California native is projected to medal in at least two of her events.
Simone Manuel, 19
Swimming (first-time Olympian)
@Simone_Manuel
When three African American female swimmers finished first, second, and third at the NCAA swimming championships for the first time ever, Simone Manuel was the winner. (Another highlight: Manuel also upset Missy Franklin in the 100 free.) The Texas native will make her Olympics debut in the 50-meter and 100-meter free, part of the first US Olympic swim team to include two black women. "All glory to God. Isn't he awesome!" wrote Manuel in a note on Twitter after qualifying for the Olympics. "I am extremely blessed. A long, tough year, but may more good things to come."
Jessica Long, 24
Paralympic Swimming (previously competed in 2012 London, 2008 Beijing, 2004 Athens)
@JessicaLong
Jessica Long was just 12 years old when she competed at the Paralympics for the first time. She won 3 gold medals—the first of the current 17 medals she holds today. Now 24, Long is likely competing in her last Olympics. Long was adopted from Russia by Christian parents as a toddler and had surgery to remove her legs below her knees at age five, since she had been born without fibulas, one of the calf bones.
"I believe God had a plan for me to be adopted from Russia, to come to the United States and become a Paralympic swimmer," she told USA Swimming after the Beijing Olympics. "Part of his plan is for me to inspire people, whether they have a disability or not."
David Boudia, 27
Diving (previously competed in 2012 London, 2008 Beijing)
@davidboudia
Diving champ David Boudia almost didn't make it out of the preliminary rounds last Olympics, claiming the last qualifying spot, then going on to take home the gold for Team USA in London.
A member of Faith Church in Lafayette, Indiana, Boudia is the author of the forthcoming book Greater than Gold: From Olympic Heartbreak to Ultimate Redemption. "If I represent a good God, I need to be that visual representation of him all the time, not just when I feel like it," said Boudia, whose wife and toddler will be cheering him on in Rio. The platform diver recently partnered with Christian hip-hop outlet Reach Records to curate a playlist of pump-up music. Boudia will compete in the individual and synchronized 10-meter, along with his diving partner, Steele Johnson.
Steele Johnson, 20
Diving (first-time Olympian)
@Steele_Johnson
Steele Johnson was 12 when hit his scalp on the diving board in a tragic accident that could have taken his life. Now, Johnson will compete in his first Olympic Games, having qualified for the 10-meter and synchronized 10-meter. Johnson's synchronized partner is David Boudia, a fellow Christian and gold medalist in the 2012 London Games. God "gave me this ability to dive," Johnson said. "Yes, I had that accident. I had that injury. It happens. But I still had the ability to dive, and I still had the passion for diving. So now it's gone from a selfish desire to be like some cool story to a selfless desire, like, God kept me alive and he is still giving me the ability to do what I do." Johnson still struggles with memory loss and started a YouTube channel as a better way to record his life.
Allyson Felix, 30
Track and Field (previously competed in 2012 London, 2008 Beijing, 2004 Athens)
@allysonfelix
Allyson Felix enters competition in Rio with more medals than any other member of Team USA, and she's had her heart set on repeating in Rio the same gold medals she won in the last Olympics. Felix came from behind to win the 400-meter relay in trials, but missed her chance to defend the 200-meter by 0.01 seconds. "I never expected to be a professional athlete," Felix told Fellowship of Christian Athletes earlier this year. "I had to really trust him and his plan for my life. We always have our own idea of how our life is going to go, but we really have to follow the Lord's will. I had to trust him in regards to injuries and other life situations."
English Gardner, 24
Track and Field (first-time Olympian)
@UgHLyDuCkLiN
Within a minute after crossing the finish line for the 100-meter at the Olympic trials earlier this summer, English Gardner was down on her knees, praising Jesus and thanking him for her victory. Gardner recorded one of the fastest times for an American woman ever, leading an NBC Sports' commentator to declare that it was "one of the greatest races you'll ever see." Not bad for an athlete who in high school tore her right ACL, MCL, and lateral meniscus, leading to her lose her athletic scholarships from every school, save University of Oregon. When she took the field at the Ducks' home stadium on the day of the Olympic trials, Gardner ran with a plan to praise God. "I went in [the Olympic trials] knowing that if there was a great moment to happen…that I wouldn't waste that moment at all, that I wouldn't be ashamed of giving him glory, that I wouldn't be ashamed of calling on his name."
Jenny Simpson
Track and Field (previously competed in 2012 London, 2008 Beijing)
@trackjenny
After two Olympic trips without a podium finish, Jenny Simpson feels the pressure to perform in the 1500-meter this time. "If I am ever going to win a medal, this is probably the best year to go after that," she told the Orlando Sentinel.
"My sport is a very public thing, and I feel like the most vulnerable place for me is on the starting line of a race. You're out there, everyone's watching, and you have a lot to prove in that moment – and the race hasn't quite started yet," Simpson wrote for Beyond the Ultimate. "In contrast to that, I feel like my faith is something that is so individual, it's never measured against another human being. It's where I don't feel vulnerable. It's where a lot of my self-worth and a lot of my understanding of what is important to me, what I want to achieve in life, comes from."
Morolake Akinosun, 22
Track and Field (first-time Olympian)
@MsFastTwitch
Five years ago, Morolake Akinosun tweeted, "In 2016 I will be 22, graduated from a school I have not chosen yet, and going to the Olympics." Her prediction has mostly proven true. "It's 2016. I graduate from Texas in December. I'm going to the Olympics next week," Akinosun said as she reshared the tweet last week—with more than 200,000 retweeting her flashback.
Elsewhere on her feed, the 100-meter dash and 400-meter relay runner describes how she views Jesus as "Alpha & Omega, carpenter, Messiah, Shepherd, the I am that I am, the King of Kings, the Prince of Peace, the morning star, Rabbi, Prophet, the Son of David, the Savior, the Lamb of God, the Light of the World, the Living bread, the Redeemer. Jesus, son of Joseph. Jesus, the Nazarene. Jesus, the Son of God. Jesus Christ, our Lord & Savior."
Trayvon Bromell, 21
Track and Field (first-time Olympian)
@trayvonbromell
Even after three crazy injuries in three years, Baylor University's Trayvon Bromell is headed to Rio next week, set to compete in the 4-x-100 relay and the 100-meter dash. "It was a process," Bromell told the Baptist college's student newspaper. "It made me stronger as a person, spiritually and physically. I put my faith in God, knowing he would get me through it. Throughout the whole thing it was a struggle because, really, where I'm coming from, you don't have a lot of resources. I didn't have the resources and my family didn't either, but God got us through it and it all paid off."
Michelle Carter, 30
Track and Field (previously competed in 2012 London, 2008 Beijing)
@shotdiva
If shot-putter Michelle Carter wins an Olympic medal in her third games, she won't be the first in her family to find success in track and field. In the 1984 Los Angeles Games, Carter's father, Michael, won silver in the shot put. Carter began a Bible study with her teammates. "People notice how I am living out my faith. Sometimes it takes me by surprise how much they notice," she recently told Athletes in Action. "Even when no one is looking, the way I act is important because it is a reflection of how I walk with Christ."
Jarryd Wallace, 26
Paralympic Track and Field (previously competed in 2012 London)
@aleginfaith
Two days after Jarryd Wallace became a Christian, he learned he would lose his leg. Five years earlier, the University of Georgia–bound state champ had been diagnosed with compartment syndrome, a hereditary disease that cuts off blood from lower extremities. He continued to compete even after doctors amputated his right leg at the knee. Wallace, who has Instagrammed himself reading John Ortberg and Donald Miller, started A Leg In Faith foundation to "lead and develop the future for Paralympic sports. Our goal is to provide running prostheses and devices for amputees that don't have the resources."
He's going to get married three weeks after the games close. "There's a lot of pride in being a Paralympian and representing the United States," Wallace told UGA's student newspaper earlier this summer. "I'm blessed that through a tragedy, the Lord has brought me where I am now and have an awesome platform to do what I love and also share my story."
Gwen Jorgensen, 30
Triathlon (first-time Olympian)
@gwenjorgensen
Two-time defending triathlon world champion Gwen Jorgensen is a favorite to claim the gold again this year. Two years after the accountant began competing in the event, she had qualified for the London Olympics. (She finished 38th after getting a flat tire.) One key booster in Jorgensen's success has been her husband Patrick Lemieux, a former pro-cyclist who quit his sport to support her. Another booster: her faith. "I really think you just have to keep God as your focal point and know that he is always number one. When you do that, it will help you to gain perspective on everything in life—not just endurance sports," she told the Run for God blog last year.
Jake Dalton, 24
Gymnastics (previously competed in 2012 London)
@jake_dalton
A former baseball player turned gymnast, Jake Dalton made the Olympic team in 2012, just months after tattooing Philippians 4:13 on his side. "I wanted to have a daily reminder to do everything I could to be on that team and that it was God's plan if I made it or not," Dalton told a fitness blog in 2015. But Dalton's gymnastics career proved uneven, making his appearance on the team something of a surprise. "I think fitness and faith go hand in hand because there are going to be times where you are tested and you need to do your best to stay on track. You are going to fail but as long as you do your best to remember the end goal, you will be successful."
Gabby Douglas, 20
Gymnastics (previously competed in 2012 London)
@gabrielledoug
CT interviewed Gabby Douglas following the 2012 Olympics, when she became the first African American gymnast to win gold in the all-around competition. She discusses her career and her Christianity in the memoir Grace, Gold & Glory: My Leap of Faith. Douglas described how she keeps the faith during the Games: "I take my Bible with me, sometimes two of them, when I travel…. I always pray at every competition, when the judge's hand goes up I am praying, and there are little Scriptures I like to quote. That keeps me motivated when I am about to go out on the competition floor. I would say little short prayers, quoting Scriptures: I can do all things through Christ, don't fear, be courageous. Little things like that get me motivated."
Laurie Hernandez, 16
Gymnastics (first-time Olympian)
@lzhernandez02
Laurie Hernandez, nicknamed "the Human Emoji," is the first American-born Hispanic gymnast to qualify for the games in more than 30 years. She says she deals with the pressure by turning to prayer. "Usually, before I salute the judge I'm able to just grab the event and I pray on it and that really grounds me. For some reason, once I do that, I am able to think clearly and I'm able to calm down right before I compete."
Jordan Burroughs, 28
Wrestling (previously competed in 2012 London)
@alliseeisgold
With four world titles,129 wins, and an Olympic gold medal, Jordan Burroughs is on his way to becoming the winningest wrestler in history. One of the most popular Olympians on social media, Burroughs is quick to credit God for helping him fight the good fight. "I've been blessed with tremendous gifts, and it's my job to use those gifts to inspire others. As a man of faith, I take great responsibility in being a good steward of my talent," the father of two wrote in a blog post earlier this year. "God has created unique … avenues to allow me to glorify him."
After his gold medal win in the last Olympics, Burroughs appeared at a Fellowship of Christian Athletes wrestling camp, where he said the young athletes' faith humbled him and pointed him back to God.
Tervel Dlagnev, 30
Wrestling (previously competed in 2012 London)
@TervelDlagnev
Days before this year's Olympic trials, Tervel Dlagnev was in such intense pain he considered quitting wrestling. After ultimately qualifying for his second Olympics, Dlagnev will compete for the first American super heavyweight medal since 1996. (He lost the bronze medal match in 2012.) The son of Belarusian immigrants, Dlagnev clashed with his family as a kid and became a Christian in high school. Dlagnev offered this advice: "Trust in the Lord. I asked him not to blow out my back and I was very happy that it didn't happen."
Maya Moore, 27
Basketball (previously competed in 2012 London)
@MooreMaya
WNBA star Maya Moore was the subject of a 2012 profile in CT. She recently was among the female basketball players that faced fines for wearing Black Lives Matter T-shirts on the court. "It is time that we take a deep look at our ability to be compassionate and empathetic to those suffering from the problems that are deep within our society," said Moore, who plays for the Minnesota Lynx. She's won an NCAA title, WNBA championship, and Olympic gold. Moore signs autographs with Colossians 3:23: "Whatever you do, work at it with all your heart, as working for the Lord."
DeAndre Jordan, 28
Basketball (first-time Olympian)
@deandrejordan6
Last summer, DeAndre Jordan became one of the biggest stories of the summer when he almost left the Los Angeles Clippers for the Dallas Mavericks. After he wasn't named to the NBA All-Star game last year, Jordan processed his disappointment for the Cauldron. "You see, the most amazing thing about having faith and believing is that once you give yourself to the Lord, you are able to live freely," wrote Jordan, who has part of the Sermon on the Mount tattooed on his chest. "You no longer need to worry about what has happened, what might happen, or what you want to happen; you simply need to be a good person and work hard, because you know God has a plan for you.
Reid Priddy, 38
Volleyball (previously competed in 2012 London, 2008 Beijing, 2004 Athens)
@reidpriddy
If you Google Reid Priddy during the Olympics, you'll see a picture of him with his hands clasped in prayer and his eyes squeezed shut. "Volleyball has been a major way God communicates life lessons to me," Reid told Athletes in Action earlier this year. "They go hand-in-hand; what I'm learning on the volleyball court I am able to apply in life and vice versa." Priddy, who recently returned from a gruesome, potential career-ending knee injury to make his fourth Olympic team, will lead a team with eight newcomers. The US men's team didn't medal in 2012, but won the gold in 2008.
David Smith, 31
Volleyball (previously competed in 2012 London)
@Davidmsmith15
David Smith was born with hearing loss, a condition that's left him wearing hearing aids since age three. Despite his disability, Smith's teams have excelled with him on the court—the US men's team won the gold medal at the Worlds last year. The biggest adjustment to having a deaf player on the team? If Smith calls for the ball, the setter defers, as he can't be called off. "It's been a big thing for me to understand that my joy and my peace do not revolve around my performance or how I do compared to other people," Smith told Athletes in Action "My joy comes from the fact that I am playing a game I love and that he created me to play."
Brady Ellison, 27
Archery(previously competed in 2012 London, 2008 Beijing)
@Brady_Ellison
A third-time Olympian who overcame Perthes disease, a condition which forced him in leg braces as a child for a year, Brady Ellison is looking for his first gold medal this month. Baptized several weeks before the 2012 Games, Ellison credits his faith providing him peace. "Once I put winning in God's hands, I stopped worrying about that," he told Beliefnet. "I just went to tournaments and shot with no fear, doing only the best I can do and leaving the rest up to God." (US archery head coach Kisik Lee is also a Christian and at one time controversially led Bible studies with the American team.)
Vincent Hancock, 27
Shooting (previously competed in 2012 London, 2008 Beijing)
@vincent_hancock
Vincent Hancock became the youngest gold medalist in international skeet in the 2008 Beijing Olympics. Four years later, another win. This year, he will go for his third gold. Since the last games, Hancock joined the Army, got married, and had two little girls. "I am strong because of my faith," Hancock told Today earlier this year. "I'm a Christian. I believe everything I have is a gift and a blessing."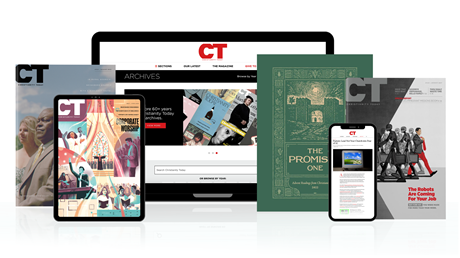 Annual & Monthly subscriptions available.
Print & Digital Issues of CT magazine
Complete access to every article on ChristianityToday.com
Unlimited access to 65+ years of CT's online archives
Member-only special issues
Subscribe
Meet the Rio Olympians Who Put God Before Gold
Meet the Rio Olympians Who Put God Before Gold