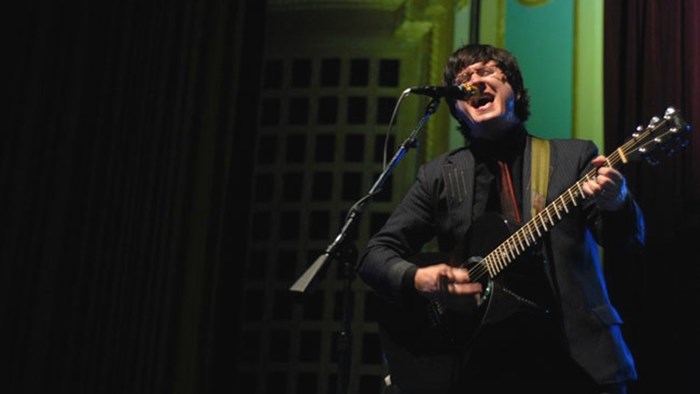 When John Darnielle sat down at the Yamaha keyboard on stage at Calvin College's auditorium last spring, his fingers began to play, "O Bless the Lord, God of Our Salvation." The lead singer of the indie rock band The Mountain Goats told the audience at the Festival of Faith and Writing, "I'm a religious obsessive, so whenever I'm in a place like this, I want to play hymns."
When Darnielle heads out on tour this month, theater and bar crowds will also get a taste of the religious themes and biblical references that pulse through his literary and often semi-autobiographical lyrics.
He reminded me twice that his 2009 release The Life of the World to Come appeared on CT's list of best albums that year. Back then, the singer referred to himself as a "Catholic atheist." These days, a 49-year-old father of two, he describes himself as a theist who prays to Jesus.
Regardless of the labels, Darnielle can quote Scripture as well as his songs would suggest (each of the dozen tracks on The Life of the World to Come had Bible citations as titles, and more than 100 songs in The Mountain Goats canon reference specific passages, creeds, hymns, and teachings), and he has an un-ironic appreciation for Christian contemporary music veteran Amy Grant and the late Rich Mullins. He said Grant's collection, available on iTunes, saved his life during a dark period several years ago.
But what makes so many Christians drawn to The Mountain Goats' music? According to reviewer Joel Heng Hartse, Darnielle brings an "unflinching gaze at truth" and a "large-hearted openness to the beauty of the world, the goodness of life and humanity" that resonate with believers ...
1