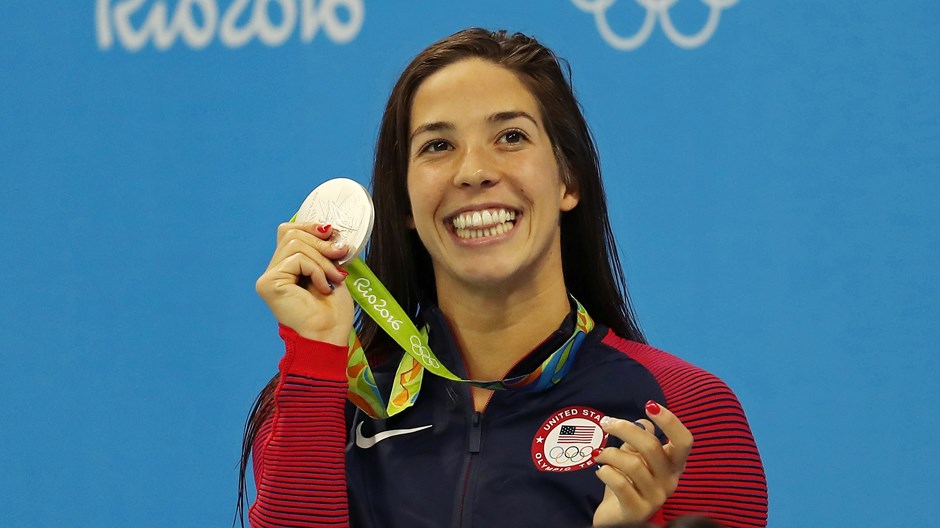 Image: Rex Features via AP Images
First-time Olympian Madeline (Maya) DiRado has already earned a trio of medals—gold, silver, and bronze—as part of the US swimming team. She says it's the "quiet confidence" of her Christian faith that allows her to be a grateful, joyful, and goal-oriented athlete, even at the highest levels of competition.
A native of Santa Rosa, California, the 23-year-old has been swimming on the world stage for five years. After she narrowly missed qualifying for the 2012 Olympics, DiRado took this year's trials by storm when she won three individual events.
Her early performances in Rio earned her a spot on a relay as well; that 4 x 200-meter freestyle relay team went on to win gold. DiRado also placed second in the 400-meter individual medley and third in the 200-meter individual medley. She competes in her final event, the 200-meter backstroke, later today.
Equally accomplished outside the pool, DiRado skipped second grade, started high school at the age of 13, and entered Stanford University at 17. After graduating with a degree in management science and engineering, she secured a consulting job that she will start soon after the Games end.
DiRado, her fellow-swimmer husband, and her parents attend The River Church Community, an Evangelical Covenant Church–affiliated congregation in the San Francisco Bay Area. A few days before leaving for Rio, she spoke with CT about her lifelong faith, its impact on her athletic career, and her unusual decision to retire from swimming after the Olympics, no matter what happens.
How did you come to know Christ?
I was raised by two strong Christians in my parents, Marit and Ruben. I always attended church growing up but started questioning my beliefs as a teenager. They were supportive of this and, through some investigating and lots of reading and talking with mentors, I came to know and follow Christ and make my faith my own. It's been a long journey since that time, but Jesus has been a constant as I grow and see him shaping me in new ways.
How has your faith shaped you and your swimming career?
Knowing that I'm a child of God and that his love for me is determined by nothing I can achieve or do on my own has given me a quiet confidence. I think that my faith has helped me chart my own course and pursue my goals when people around me may be going in different directions. Jesus' love for me and all humanity is something that always helps me better love people around me when things get difficult.
As for my swimming career, my faith has helped me remember that there are so many more important things in life worth doing. Swimming is a pretty selfish activity, and so I've always known that it can't be my whole world.
What role has your family—your parents, your sister, and your husband—played in your athletic career?
They've just been very supportive and helped me find motivation when I may have been lacking. Their biggest role was reminding me that success is whether I prepared and executed as well as I possibly could. It's never been about winning or beating other people.

What motivates you as you train and compete?
I'm motivated by seeing how good I can be. That applies not just at race time but during every practice: Am I preparing as well as I possibly can, even when we're nine months out from the big meet? I set high goals for myself and then enjoy the process of working toward them.
What helps keep you grounded as you manage all the attention and the pressure to perform in Rio?
Well, the worst part is over! There's a huge weight lifted once you've made the Olympic team. Now I'm just enjoying all the little parts of being on the team—laughing with my teammates and coaches, joking around at meals, seeing thousands of people show up to watch us practice. It's all amazing and surprising, and I'm so grateful every day that I get to do what I enjoy. It's also helpful to know that I have a great family who loves me and a new life waiting after swimming.
Your decision to retire from swimming right after the Olympics has been well publicized. Why did you make this decision, and how are you able to remain so certain of it?
Oh, this has been a long time coming. I think there's a certain freedom in knowing that this is my last time going through all of this. I've been so much more aware of all the special moments on this trip and even all the little moments this past year. It may be hard for some people to understand, but I'd rather go out on a high with this amazing experience than to continue until I hate it or I'm no longer competing at a high level. I'll end with a great taste in my mouth and absolutely no regrets about what could have been.
You told Yahoo! Sports that you don't think God really cares about your swimming that much. What, then, do you think God cares about as you go to the Olympics?
I think God cares about my soul and whether I'm bringing his love and mercy into the world. Can I be a loving, supportive teammate and can I bless others around me in the same way God has been so generous with me?
What are your greatest hopes for your time in Rio?
For my time in Rio, I hope to meet some new athletes, continue to appreciate all the little joyful moments of this trip, and do my best on the biggest stage in my sport. Of course I hope to learn new things from this experience but I don't think it will change me drastically as a person. This has been a dream of mine and of so many others, so I just want to make sure I get all the delight out of the journey as possible.
Click here to read more about the dozens of Christian athletes on Team USA.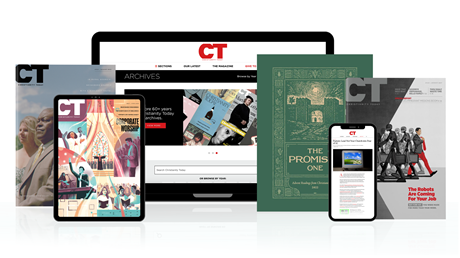 Annual & Monthly subscriptions available.
Print & Digital Issues of CT magazine
Complete access to every article on ChristianityToday.com
Unlimited access to 65+ years of CT's online archives
Member-only special issues
Subscribe
Medal-Winning Swimmer Maya DiRado: My Faith Frees Me to Dream Big
Medal-Winning Swimmer Maya DiRado: My Faith Frees Me to Dream Big